---
The most decorated female student athlete to play at BYU, Dylann Duncan Ceriani is still bringing home honors 25 years later.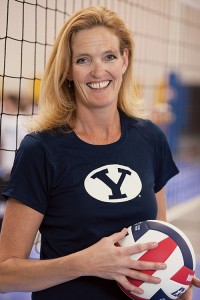 No one who watched Dylann Duncan play high school basketball was surprised when 50 colleges and universities tried to recruit the 6-foot-3 star athlete. But when she played in Utah's high school play-offs her senior year, she received a black eye, a chipped tooth, an elbow to the stomach, and a sprained ankle.
"I started thinking more seriously about volleyball," she says. "I wanted something with a net to avoid the people who wanted to kill me. I'm more of a skills player, not an aggressive one, and the action under the hoops was getting increasingly ugly."
With the decision to switch sports, Duncan attended BYU and became its most decorated female student athlete, amassing awards as she rewrote school and NCAA volleyball records. The two-time All-American also played for the U.S. women's national volleyball team after graduation. Her latest honor came in January 2013 when the NCAA honored her and five other former student athletes nationwide with Silver Anniversary Awards. With some 400,000 eligible athletes, the distinction is given to only a handful on the 25th anniversary of the end of their collegiate athletic careers; the award recognizes both their accomplishments as student athletes and their career success since graduation.
In receiving the award, Duncan—now Dylann Duncan Ceriani (BS '89)—joins an elite group of BYU athletes that includes Larry J. Echohawk (BS '70), S. Gifford Nielsen (BA '77), Danny R. Ainge (BA '92), and Steve Young (BA'84, JD '94).
"Dylann absolutely charmed us all," says BYU athletics director Tom A. Holmoe (BS '83, MS '95), who attended the awards ceremony. "She came in high heels—she must have been about 6-foot-8—and did a little whirl. When asked about it she said, 'Oh, isn't this the bathing suit portion of the event?' She enchanted the emcee, who asked the other recipients a question or two, but kept talking to Dylann. The emcee ended the interview asking her what she was going to do for the talent competition. Not missing a beat, she said, 'I'll use Hula-Hoops while singing the national anthem.' Dylann sparkles, and admirably represented BYU. She is the whole package."
Ceriani says she could not have predicted her success because in high school she was "awkward" and did not consider herself particularly gifted. "But one high school volleyball game where I played out of my head changed my life," she explains. "It was the Utah state volleyball championship, and I could not believe how well I was playing. I killed everything that night. Maybe it was divine providence, but it certainly was a turning point in my life."
Legendary BYU volleyball coach Elaine Michaelis (BS '60, MS '62) was in the audience and saw real possibilities in the young player. "I could see Dylann had desirable qualities beyond her height," Michaelis says. "She is well coordinated, a natural leader, and a great team player. She is the kind of person you want on your team."
Ceriani says much of her success came from the faith Michaelis and others put in her. "I'm thrilled they gave me great opportunities and helped someone who was not a natural athlete in volleyball," Ceriani adds. "I know there were others with more inherent gifts in the sport, but I worked really hard. . . . I put everything I had into the practices. I believe you do not have to be the best—you just have to be good enough and then put in the work."
That Ceriani even played at BYU surprised her family, because they lived in Salt Lake City and were all devoted University of Utah fans. "I grew up singing the Ute fight song," she says. "But because I decided my focus would be volleyball, not basketball, I received only three scholarship offers: one from Oregon, a partial scholarship from the U of U, and a full scholarship from the Y. I chose the Y, and it was great. I ended up loving BYU. You can't go there without falling in love with it."
In time her parents came around and cheered the BYU team. One of her two brothers, however, only stepped on the BYU campus once. "He came to watch us play Stanford in the quarterfinals," Ceriani says. "He cheered for me because he loves me, but he also cheered for Stanford. My whole family came when I was inducted into the Utah Hall of Fame, and when we marched in, I made that brother carry my BYU flag for me."
In addition to volleyball honors, Ceriani received a bachelor's degree in electrical engineering from BYU and later earned a master's degree in biochemical engineering from the University of California, Berkeley. "I knew what it was like to experience pain from a sport, which made me interested in medicine," she explains. "I decided to blend medicine with engineering and create orthopedic rehabilitation products. I design equipment that helps get an athlete back on the field or prevent game injuries."
She says she is fortunate to have a husband who stayed home with their five children—all volleyball players—so she could travel and work directly with athletes: "I could evaluate first-hand what worked and what did not work as well and reengineer products to make them more effective."
As a senior engineer in orthopedic products, Ceriani has five patents for medical devices, including knee braces for arthritis, athletic, and post-surgery patients. She also spent two years in a children's hospital in San Diego where she studied the gait of children with cerebral palsy in the motion-analysis lab as part of a strategy to get the children mobile. "By reconstructing the biomechanics of their gait, we could pinpoint what specifically is going wrong and design surgeries in the correct locations to lengthen their muscles," she says.
Ceriani still plays volleyball recreationally and coaches fifth- and sixth-graders at a volleyball club. "This is the perfect age to get them started," she says. "They are young, willing to learn, and usually come with no attitude. Here they get a microcosm of everything they are going to experience in life. It's a great social way to get valuable life experiences through team play." Through her coaching, Ceriani can now offer to others the same kind of support and mentoring she received at BYU. "It makes me so happy to see children who are timid or seem to lack self-esteem blossom during a season of volleyball," she says.
The Hall of Fame of a Hall of Famer
Dylann Duncan arrived on BYU campus in 1984 as a high school All-American, the Utah State High School Female Athlete of the Year, a BYU trustees scholar, and the state 4A MVP in basketball. Then the awards really began to pile up, including these highlights.
◉ NCAA career kill record: 2,188 kills
◉ Six still-standing BYU career records: kills (2,188), kills per game (4.02), service aces (233), block assists (733), block solos (155), total blocks (888)
◉ All-American (twice)
◉ Academic All-American (three times)
◉ NCAA Top Six Award
◉ NCAA Postgraduate Scholarship
◉ BYU Hall of Fame
◉ Academic All-American Hall of Fame
◉ NCAA Silver Anniversary Award
— Charlene Renberg Winters (BA '73, MA '96)