---
It's been 14 years since Napoleon Dynamite launched the careers of the key BYU students and alumni involved. See what the writers and some of the BYU alumni cast and crew members are up to now.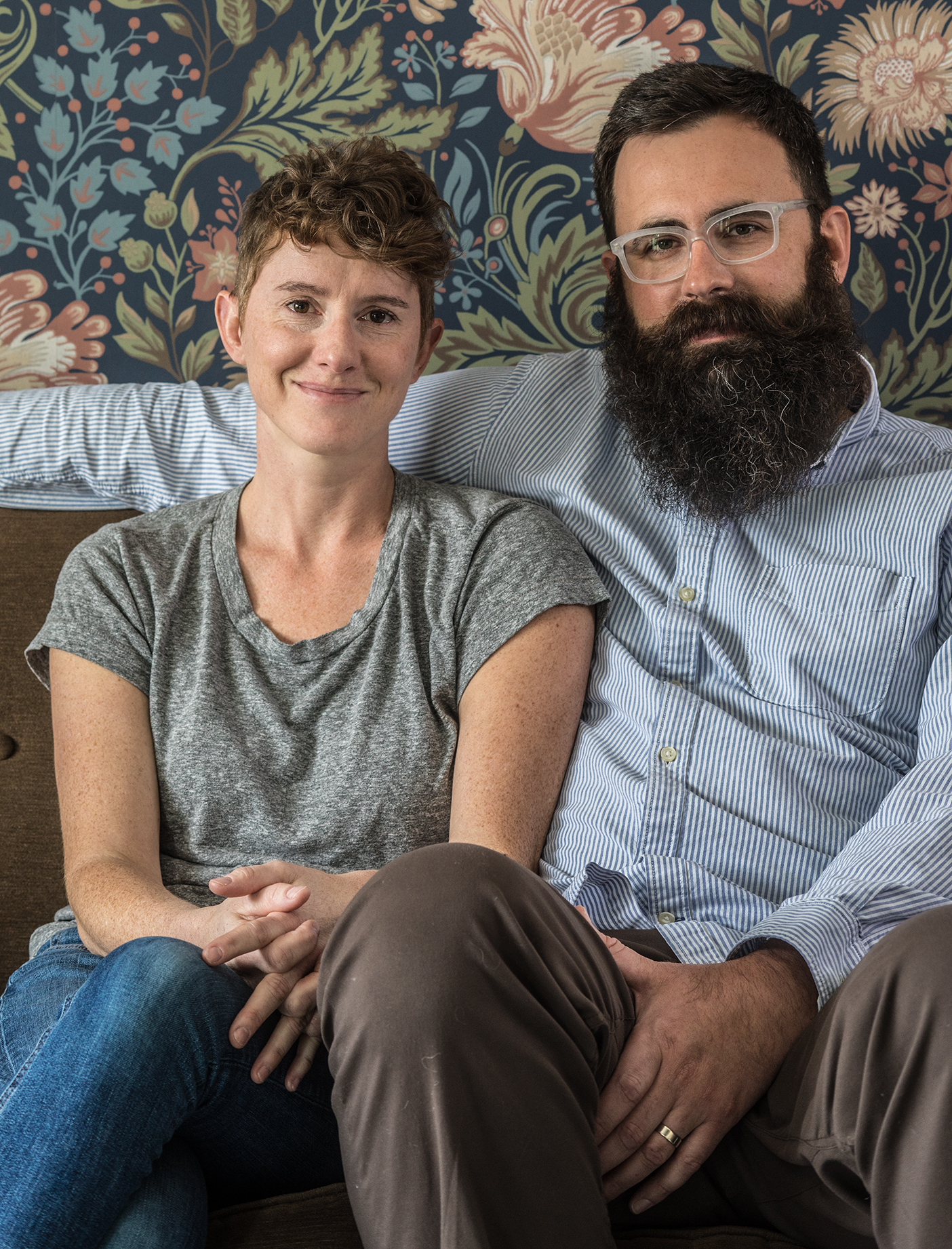 Jared L. Hess ('02), cowriter and director, and Jerusha Demke Hess (BA '10), cowriter and costume designer
Jared and Jerusha Hess, the writers of Napoleon Dynamite, went on to cowrite three more films—Nacho Libre (2006), Gentlemen Broncos (2009), and Don Verdean (2015)—and are presently cowriting a Nicktoons film for Nickelodeon that revives characters from Doug, Rugrats, and other throwback cartoons. Their films feature some repeat actors: Jemaine Clement, Sam Rockwell, and Jack Black—the actor they dreamed of nabbing to play Uncle Rico in Napoleon.
Independently, Jerusha directed Austenland (2013), which she cowrote with LDS author Shannon Hale. Among Jared's plethora of individual credits are directing gigs on everything from music videos (for The Killers and The Postal Service) to commercials to TV series (like The Last Man on Earth [2016–17]) to films (like Masterminds [2016]). And of course, he wrote and directed the Napoleon Dynamite animated TV series (2012), which aired on Fox.
The Hesses visit campus annually to put on workshops and talk to BYU students and have even mentored student projects, like Redemption: For Robbing the Dead (2011). They're also very involved in the Sundance Film Festival and Utah film communities; Jared and actor Jack Black teamed up recently to create a documentary on DIY Utah filmmaker Stephen Groo.
Jonathan J. Heder (BA '10), Napoleon
After his role as Napoleon Dynamite won him the MTV Movie Awards for Best Breakthrough Performance and Best Musical Performance, Jon Heder went on to host Saturday Night Live, reunite with Efren Ramirez (Pedro) in commercials, and costar in films with famous comedians like David Spade (The Benchwarmers [2006]) and Will Ferrell (Blades of Glory [2007]). He has been in films and TV series and even done voice acting—catch him as the voice of Pickle in Disney XD's Pickle and Peanut cartoon. He also does voice work in Netflix's new Stretch Armstrong & the Flex Fighters, an animated series written by his Napoleon BYU buddy Christopher "Doc" A. Wyatt (BA '99). Heder's latest films—all indie flicks—include The Tiger Hunter (2017), Killing Winston Jones (2018), and When Jeff Tried to Save the World (2017). Last Halloween he dressed up as Kip, and his wife dressed up as Pedro.
Aaron Ruell (BA '01), Kip
Aaron Ruell had two short films (Everything's Gone Green [2005] and Mary [2005]) premiere at Sundance, after which he got signed as a commercial director. He's since directed spots for Coke, Target, Burger King, and more. Ruell is also an accomplished photographer, offsetting commercial work, like Old Spice ads, with personal projects, like books and gallery exhibits of his photography. For the 10-year anniversary of Napoleon Dynamite, Nazraeli Press published a collection of shots he took during the making of Napoleon—and there is some serene Uncle Rico in the mix.
Jeremy R. Coon (BA '02, MBA '09), producer and editor
Following Napoleon, Jeremy R. Coon (BA '02, MBA '09) returned to teen comedy with The Sasquatch Gang (2006), which picked up accolades at the Slamdance Film Festival. Coon has produced and edited a spate of other film and TV projects since—including the Napoleon Dynamite animated TV series. His recent years have taken a turn toward documentary work: Raiders! The Story of the Greatest Fan Film Ever Made (2015), which Coon codirected with Napoleon assistant director Timothy M. Skousen (BA '01)), tells the story of three 11-year-olds who remade the original Raiders of the Lost Ark movie, scene for scene, back in the '80s. The documentary premiered at the 2016 SXSW Film Festival. Coon's most recent venture, the September Club, offers editing services to documentary makers. Coon also helped launch MovieClips.com and found TEDxBYU, and he has served as a jury member at Slamdance.
Munn K. Powell (BA '97), cinematographer
At the Sundance Film Festival where Napoleon premiered, Moxie Pictures, a commercial production company, scooped up Jared Hess as one of its represented directors, and Munn Powell—the man behind the Napoleon camera—shot many of the commercials Hess directed for Moxie. Powell's portfolio features spots for Cheetos, Samsung, Toyota, and more—his Holiday Inn Express spot stars Jim Gaffigan. Powell also holds a list of documentary and short-film credits and even had a directing stint on a TV episode of The Aquabats! Super Show! And it goes without saying, but Napoleon ties run deep. Powell directed photography for The Sasquatch Gang (2006) and for Gentlemen Broncos (2009), films made with his BYU Napoleon buddies.
Christopher "Doc" A. Wyatt (BA '99), producer
"Doc" Wyatt was in grad school at USC when he got roped into Napoleon and says his work on the movie "has done nothing but open doors." His world is now one of Marvel superheroes and Teenage Mutant Ninja Turtles—Wyatt has been the writer or producer (sometimes both) on a slew of animated TV series starring heroes from Iron Man to Spider-Man, Batman to the Transformers. And randomly, he wrote some My Little Pony episodes in the mix. One of his latest projects, for which he is the executive producer and a writer, is the new Netflix animated series Stretch Armstrong & the Flex Fighters, which will take on a choose-your-our-adventure twist. He also writes a Stretch Armstrong comic book.
Cory M. Lorenzen (BA '03), production designer
An original VCR. Rotary phones. Fanny packs. Sounds like the stuff of Napoleon Dynamite, but it's the type of thing Cory Lorenzen rounds up as production designer on the ABC sitcom The Goldbergs—a gig he's had now for six seasons of the show. His budget is a bit higher too. "I think I had $5,000 for set design for the whole of Napoleon," he says. "On The Goldbergs, I spend over $100,000 an episode." He has a lengthy résumé, including production design for TV series for Fox and ABC Family and feature films Fanboys (2009) and Over Her Dead Body (2008). He also joined members of the Napoleon team on The Sasquatch Gang (2006), Everything's Gone Green (2005), and Mary (2005). He's even designed sets for Disneyland and Universal Studios. "I owe my entire career to Napoleon," says Lorenzen. "Without that movie's success, there's no way I'd be doing what I'm doing now."
Emily Kennard Dunn (BFA '05), Trisha
A BYU Young Ambassador, ballroom dancer, and illustration major, Emily Dunn was the perfect fit for her role as a lead designer on Disney's Hannah Montana: Spotlight World Tour video game, played with a Wii Remote. Dunn worked 10 years for Disney's Avalanche Software as a video game artist and manager, meanwhile playing a few minor roles in films shot in Utah (like Forever Strong [2008] and My Girlfriend's Boyfriend [2010]). Now she happily fills her days primarily as a mother of four. Dunn kept in touch with Haylie Duff, who played Summer Wheatley in Napoleon—her character's BFF in the movie—describing her as "a lot like one of my roommates and best friends from BYU." And she still gets Trisha illustrations passed to her all the time. "I moved recently and got a drawing of Trisha on my doorstep with a note, 'There's more where that came from if we see you at church on Sunday.'"