A presidential love story rings true for BYU.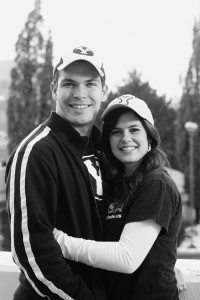 After months of campaigning, BYUSA presidential hopeful Christopher J. Peterson ('13) and his vice president Sterling J. May ('12) awaited the verdict at the Wilk Terrace. BYUSA president Elise May ('11) had the election results.
Elise—Sterling's sister and Chris' ex-girlfriend—was so opaque that Chris and Sterling were convinced they had lost. Their somber faces brightened only with hers as she announced them the winners. The next day the Daily Universe remarked that Elise and Sterling were the first siblings to serve consecutively in BYUSA presidencies.
What wasn't anticipated was that five months later, Elise and Chris would be the first BYUSA presidents to marry. "There are lifelong friends [made in] BYUSA," says Janet S. Scharman, vice president of Student Life. She adds with a smile, "This one went a little further."
On their first date, sorting items at Deseret Industries, Elise told Chris that she was running for BYUSA president. "I assumed it was something to do with student government just because it had USA at the end," says Chris, who agreed to help in any way. "I was like, 'I'm in love—I'll do whatever you tell me to.'" Elise says she thought, "Oh, he seems like a hard worker."
Chris liked Elise for months as she campaigned for and won the 2009–10 BYUSA presidency. Meanwhile she was going on dates with her vice president. Chris was ecstatic when she finally asked him out, until he learned it was because the VP couldn't go and she "needed a really good friend to go with." "All I heard in my mind was 'friend, friend, friend,'" says Chris. "I lost all hope on that date."
But Elise was thinking the opposite. "I remember he touched my shoulder," she says. "I was like, 'Oh, maybe he likes me.'"
Elise and Chris were also in the same singles ward, where it seemed that the ward leadership was conspiring to get them together. They were called to team-teach gospel doctrine, and Chris was Elise's home teacher.
Along the way Chris learned about BYUSA and served as an officer. "Some people think we just hand out free hot dogs," says Elise, explaining that the student service association does much more, from running clubs to serving as the student voice to BYU administration. And, she acknowledges, "We do hand out free hot dogs."
Appropriately, this true blue pair started officially dating during Homecoming week in 2009. As Chris watched Elise at a rehearsal for opening ceremonies, BYU's director of public affairs and guest relations, Ronald J. Clark (BA '72), told Chris, "If you don't marry this young lady, I'm going to think there's something wrong with you."
But in January Elise broke up with Chris. "I was heartbroken," he says. She needed time to think. In the next three months, Chris and Sterling ran for and won the presidency. Then one day Chris went out with another girl. "I cried for hours," says Elise. That was all it took. Chris and Elise were dating again in two days.
When they announced their engagement a month and a half later, family members, ward members, BYUSA volunteers, and BYU administrators were overjoyed—and claimed a share of the credit. "I did everything I could to shoot cupid arrows," says Sterling. They were married just a few days before Chris began his first full semester as president.
"I think they are darling," says Vice President Scharman, one of their biggest supporters. "Neither of them tries to outshine the other."