A National Black MBA scholar learns, excels, and helps others succeed.
Archimedes had a theory that if you gave him a long enough lever and a place to stand, he could literally move the world." As she says this, Jamila A. Cutliff, '05, illustrates the theory with her hands—a flattened palm for the lever and a fist for the fulcrum, the piece that makes everything possible.
Cutliff, a second-year MBA student, used Archimedes' theory in her essay, "What Does a Mechanical Theory and African-American Retention Have in Common?" This essay helped earn her the title of National Black MBA Scholar, a recognition given to only 25 students throughout the country. While this award has placed the spotlight on Cutliff, she already had her lever in place to move the world.
After graduating from Cornell in 1999 with a degree in engineering, Cutliff was recruited to work for Proctor and Gamble. "Working there I realized that I didn't have a lot of the business skills and knowledge that I wanted and needed to succeed," she explains, "so I started thinking about getting an MBA."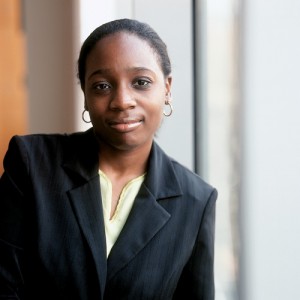 First Cutliff served a mission to Hawaii. While there, she met Ned C. Hill, dean of BYU's Marriott School of Management. "I told him I wanted to get an MBA, and he said, 'Well, it's your lucky day. I'm the dean. You should come to BYU.' I had never heard of BYU's MBA program before. He gave me his card, and I put it in my pocket and just went on." Later that same week Cutliff met several other people associated with the Marriott School, including W. Gibb Dyer, '77, a professor of organizational leadership. "The sealer was a mission president's interview the following week. I told him how I had these unusual encounters with people from the Marriot School. His response was, 'Really. I used to teach at the Marriot School.'"
Cutliff entered the MBA program in 2003 and immediately made her mark. Curtis D. LeBaron, '89, an associate professor in organizational leadership and strategy, recalls, "Jamila quickly emerged as a bright and hard-working student." LeBaron petitioned the MBA program to allow him to hire Cutliff as a research assistant—first-year MBA students are not usually permitted to work. Their research together has produced a paper that will soon be published and another two in production stages.
Between MBA classes and research, one would assume that Cutliff's time is completely absorbed. Even if it is, she still finds time to keep learning in other areas of her life. "She is very driven, not just to improve but to always learn," says classmate Katie M. Bench, '05. "She learns the MBA skills, but she also looks to improve herself outside of her business self."
Cutliff is also dedicated to helping others learn. "I'm concerned about our educational standards for underprivileged youth in the areas of math and science," she explains. Eight years ago, Cutliff formed a grassroots organization called Dynamic Achievement, which pairs engineering students with inner-city or rural teachers. The students go into classrooms to teach interactive math and science projects. Now a national organization, Dynamic Achievement is working to develop kits that teachers can use in their classrooms to teach math and science principles.
There's no question, says LeBaron, that Cutliff will continue to move the world. "She's not just smart in the MBA program. She's smart across different areas of her life and has a lot of energy in a lot of areas that help her to be balanced and interesting. There's a cross-fertilization of thinking and activity that helps her to excel in all areas. She's able to pull from different areas of her life where she excels. And the cross-fertilization helps her all the more."