---
Hollywood probably wouldn't have touched this unlikely script with a 10-foot 9-iron.
A boy growing up in Canada, like almost every other boy in the country, dreams of becoming a hockey player. He realizes he's too small for hockey and focuses on golf instead, trading slap shots for chip shots.
Since he hits the ball left-handed, he wonders if he should switch to playing right-handed, like the vast majority of successful golfers. So, at age 13, he writes a letter to the legendary Jack Nicklaus, who advises him to stick with his natural swing. He attends BYU, where he stars on the golf team, and later spends several years playing professionally overseas. Then, five years after toiling through the PGA Tour qualifying school, he wins the Masters and becomes an overnight sensation.
Too improbable? Well, this is no script. This is the real life of Michael R. Weir, '93.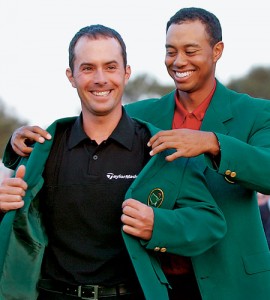 In a dramatic final day at Augusta National in April, the 32-year-old Weir rallied to force a playoff with Len Mattiace, then captured the prestigious Masters Tournament on the first extra hole with a tap-in for bogey. The 5-foot-9-inch 155-pounder became the champion thanks to his short game on a course that tends to favor long hitters (see Tiger Woods). Weir won it with his wedge and putter.
As he donned the fabled green jacket, Weir became the first native of Canada (Clearwater, Ontario) to win a major championship and the first lefthander to do so in 40 years. He was also the first golfer with BYU ties to win a major since Johnny Miller (1976 British Open) and the first to claim the Masters title.
Not even Weir's former golf coach at BYU, Karl L. Tucker, '52, saw this coming. "Was I a genius when I recruited him? No, I wasn't," says Tucker, who coached Weir from 1989 to 1992. "He fit the mold of the type of player that we wanted at BYU perfectly. The rest he did himself."
Still, Tucker witnessed a glimpse of Weir's potential years earlier at BYU.
"When Mike was a senior, we had an 11-shot lead in Fresno," Tucker recalls. "Then disaster struck. We lost that lead in eight holes. I told Mike we were in trouble and that we needed him to birdie on the last hole. He birdied and we won the tournament. When the chips are down, you call on the guys who can do something special. It's one of those things you look for in a player."
Not surprisingly, Tucker was one of the first people Weir called after his Masters victory.
Current BYU golf coach Bruce R. Brockbank, '90, who was an assistant when Weir played for the Cougars, didn't predict Weir's rise to prominence. But he says he noticed something special about him. "Did we think he'd win a major?" Brockbank asks. "You can never measure the heart of a champion. That's what he has."
Naturally, Brockbank watched Weir win the Masters on television. "I was gritting my teeth and my palms were sweating," Brockbank says. "I couldn't have been more happy for Mike. It was great for the BYU golf program and great for the university."
Weir has been supportive of BYU golf with both his time and his money over the years, for which Brockbank is grateful.
Weir's Utah ties are strong. He met his wife, Bricia, at BYU and the couple resides in Draper, Utah, with their two daughters.
Tucker was impressed when he first saw Weir, then in high school, playing at a junior nationals event in Colorado. BYU already had a reputation of recruiting Canadian players, a fact that enticed Weir to check out the Cougar golf program.
Weir enjoyed a stellar career at BYU, earning second-team All-America honors in 1992 and leading the Cougars to three Western Athletic Conference championships. After finishing school, he played on the European and Asian tours for five years before qualifying for the PGA.
Who would have guessed he would one day be a Masters champion? Perhaps only one person—Weir himself. "Growing up," he has said, "I started my golf season on the putting green of Huron Park (in Canada), sinking a putt to win the Masters."
Years later, Mike Weir did just that, just as he had scripted as a youngster. Indeed, truth is weirder than fiction.
2002 champion Tiger Woods helps Mike Weir don the traditional green jacket after the Canadian won the 2003 Masters, at the Augusta National Golf Club in Augusta, Ga., April 13.