Family lessons have taught Chris Miles that his time at BYU is about more than basketball.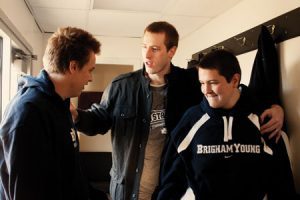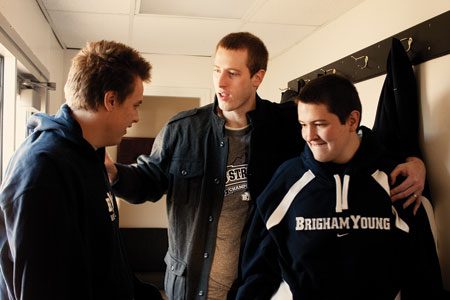 Chris Miles ('10), a forward on BYU's basketball team, and his older brothers grew up playing Junior Jazz basketball and learning basketball tricks from their dad. But his two younger brothers, though they topped out at 6-foot-5 and 6-foot-3, could never enter the game. Ryan and Joey, Miles' younger brothers, are autistic.
"When we were younger, we would have friends over all the time," Miles says. But children with special needs require adaptations for the whole family. "As [Ryan and Joey] got bigger and had more needs, there was more of a focus on them and less of a focus on friends."
Miles spent afternoons cooking meals or taking his brothers to the park to help out. His mom tried to attend his Timpview High School basketball games whenever possible, with Ryan and Joey walking around the track behind the Timpview stands while Chris played.
Once weighing more than 300 pounds each, Ryan and Joey are big young men, but their communicative abilities remain at a 2- or 3-year-old's level.
"They can tell you if they're hungry, if they need to go to the restroom," Miles says. "The kind of essentials that they have to learn they learn, but they still struggle with some of those essentials." Instead, the burden of communication falls on Ryan and Joey's family and caretakers, and much of it isn't verbal.
"You become familiar with their habits and their likes and dislikes," Miles says. "You can tell what they like because they try to be around it." Ryan, 20, is gregarious and loves to swim, go to the grocery store, and ride roller coasters. Joey, 18, also enjoys roller coasters, but prefers solitude, watching movies, and staying home.
Dealing with his family challenges has helped Miles develop positive attributes, say those who know him.
"Chris has never been given anything," Coach Dave Rose says. "He's seen the difficult times and can help others relate."
Much is expected of Miles, a starter on the team. At 6-foot-11, he has a strong defensive presence, and he wants to play professionally—a goal that drives him through practice and games, plus his own personal workouts. However, he realizes that his time at BYU is about more than just basketball.
Miles, who is studying psychology, would like to become a marriage and family therapist after his basketball career. He has seen the importance of communication in families on his mission, in his own family growing up, and now as a husband. He says observing family challenges has helped his marriage. "Every family wants to be happy. It's just hard."
Miles still makes time for Ryan and Joey every week, whether it's stopping by their apartment, taking them to a gas station to get drinks, or enjoying a family picnic at the park. He finds joy in his brothers' excitement.
"I don't think [my life] was harder than anybody else's," Miles says. "Those are just little things that I learned I had to adjust to or work with. That's a part of life."