---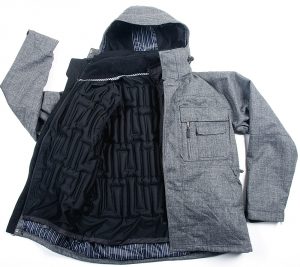 Business student R. Nathan Alder ('10) snowboards in a jacket that weighs little more than a windbreaker, but he doesn't complain about the cold or bundle up with cumbersome layers. Carving the slopes, he simply turns a small dial on the front of the jacket, and a canister "about the size of a tube of lipstick," as he describes it, fills the liner with eco-friendly argon gas. That gas, one of the heaviest on the periodic table, keeps his body heat from escaping easily and makes his jacket up to five times warmer than normal winter coats.
The unusual jacket Alder sports is made by Klymit, the company he founded in 2007. Since its inception, Klymit has raked in more than $200,000 in prize money and won first or second place in 11 business and innovation competitions, including second place at the Austin, Texas, Moot Corporation Contest, dubbed "the Super Bowl of international business competitions."
Major outdoor companies have also warmed up to Alder's idea for gas-insulated outerwear. Klymit is conducting a beta test of its technology this winter with a number of the world's largest outerwear brands.
Alder's invention was inspired when, scuba diving off the Brazilian coast, he learned that deep-sea divers use noble gases to insulate their dry suits. As a snowboard instructor in Utah, he enlisted the help of business student Nicolas R. Sorensen (BS '08) and engineering PhD candidate Brady Woolford (BS '04) to transplant this technology from the seas to the slopes. Tom Berry, former president of Salomon, calls Klymit's technology "the holy grail of insulation."
Alder hopes that his technology, which should hit stores by 2010, will revolutionize the outdoor industry the way the iPod has the portable music industry. "Like Velcro," he says, "it's a simple solution to a big problem."