---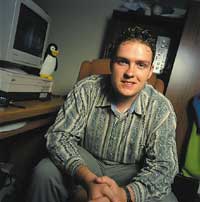 By Elyssa Renee Madsen
He's a deejay, the president of a BYUSA club, and a partner in a computer consulting firm, and he thinks digging through trash is fun. Matthew J. Probst, a junior majoring in computer science, is also one of BYU's brilliant technical minds: As a freshman in 1994, he created one of the university's first Internet home pages, and since then he has helped every BYUSA club post their own Web page. This year Probst designed programs that let students trade text books and vote in student body elections online.
His goal is simple yet ambitious–he wants BYU students to have every technological advantage available. To accomplish this he acts as a student liaison to two technology committees for BYU's Information Technology Resource Committee, and he "practically badgers" clubs to take advantage of BYUSA's Internet resources.
"I try to be proactive with technology. By allowing individual clubs to have better communication with their members, we can put technology more in the hands of the students," says Probst, himself the president of an on-campus technology club, The Unix Users Group.
Probst's work to make more technology available to students prompted BYUSA to honor him with a 1999 Brigham Award for outstanding service. "What impresses me most about Matt is his attitude toward service. He's always willing to serve, asking 'What can I do next?' to help the students," says Ryan Baxter, BYUSA's vice president for administration.
Probst says his work with BYUSA is the perfect way to serve while doing something he loves. And he loves computer programming. As a seventh grade student in Vienna, Va., he was turned on to computers while tinkering with an Atari joystick, which he realized he could take apart and wire to a computer. A few weeks later his math class was playing a Jeopardy-like game, complete with buzzers connected to Probst's Atari.
"With computer programming, I finally felt like I had something I could call my own. I could create things," he says.
In high school Probst turned his creativity toward "dumpster hopping"–digging through trash bins at technology stores to salvage parts for his computer. He was also programming computers for the Naval Surface Warfare Center and teaching employees of the Department of Education how to use the Internet. While serving an LDS mission in Antofagasta, Chile, he developed a computerized convert-retention program that today is used throughout the South America South and Chile Areas.
Now 24, Probst runs a mini-empire of technology from his Provo apartment. Using a network of six computers stored in nearly every room of the apartment, he provides Internet access to surrounding housing complexes. In his closet, half-buried by plaid shirts and khaki pants, lies a 220-volt uninterruptable power supply which, in the event of a blackout, will continue to supply power to the computers that feed from it.
Ever the entrepreneur, he uses these computers to work on four computer-related business ventures. He writes programs for Smartstocks.com, a student-run Internet company that gives users $100,000 in virtual money to practice stock market investing online, and for Ivie Consulting, which is run by Dr. Evan Ivie. (Ivie is an emeritus professor of BYU's Computer Science Department and the chief expert witness for Caldera in Caldera v. Microsoft.) Also a partner in an Internet consulting firm, Pensol Consulting Group, and a Web page design company, Starizon.com., Probst has his hand, or keyboard, in a little of everything.
"If something new comes along that he hasn't tried, he will invest in it, learn how to do it, and do it well," said Mark C. Mason, who is Probst's partner in his one non-computer-related venture, deejaying.
A self-proclaimed "techno-geek" by day, at night Probst crosses over into the world of hip-hop and urban street music to run Mad Hatters, a deejay business that services local parties, BYU dances, and grade school dances in the area. But Probst's musical palate is not limited to hip-hop. For four years he has sung with BYU's prestigious Men's Chorus.
Music is a means of escape for Probst, as are outdoor activities. Things like fly fishing in the Uintas or off-roading in his beat-up '75 Suburban help him escape the urgency of technology. "I love the beauty of nature, the quietness, the non-hustle-and-bustle of it all. It's important to take time out and reflect on things. There is a lot of peace from that," he says.
But he readily admits he can't stay away from computers for very long. For Probst, technology is a way of serving others and shaping the future. "Technology is here to stay," he says. "It has so much potential for improving the BYU experience. We should press forward, not fearing technology but embracing it."