---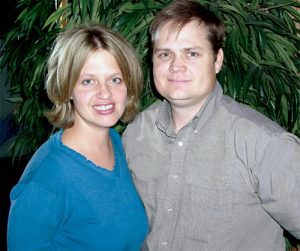 Some 1,600 miles away from BYU lies the bustling Federal District of Mexico, most commonly known at Mexico City. Home to more than 20 million people and covering an area of approximately 600 square miles, it is one of the largest cities in the world. Though it's easy to get lost there, BYU alumni in the city have found a way to stay connected to each other and their alma mater.
The Mexico City chapter of the Alumni Association provides opportunities for BYU alumni to meet together and provide service. One of the services the chapter provides for its members is assistance in finding employment. "Mexican alumni face the challenge of locating employment that pays well for their academic level," says J. Kevin Wagner, '03, who, until recently, cochaired the chapter with his wife, Kimberly Jacobs Wagner, '90.
"I feel very strongly that for the Church to grow in this country, well-educated Saints will need to rise to levels of influence and even prominence," says Kim. The chapter's dedication to the Perpetual Education Fund (PEF) goes hand in hand with its focus on career services.
The chapter's first event was a community meeting featuring Stephen R. Covey, '76. Covey, who volunteered his time, spoke about seven habits of effective families. "It provided a forum to both teach family values, which we feel so strongly about, and raise money to help the PEF," Kim says. Attended by about 800 people, the event raised several thousand dollars for the PEF.
Another chapter activity was a meeting for the Worldwide Alumni Gathering in November 2003.
Due to a job-related relocation, the Wagners have stepped down as chapter chairs. Karen Gilchrist Layton, '80, is the new chapter chair.