Through BYU Alumni chapters, you can bless the life of a student or an alum—or yourself.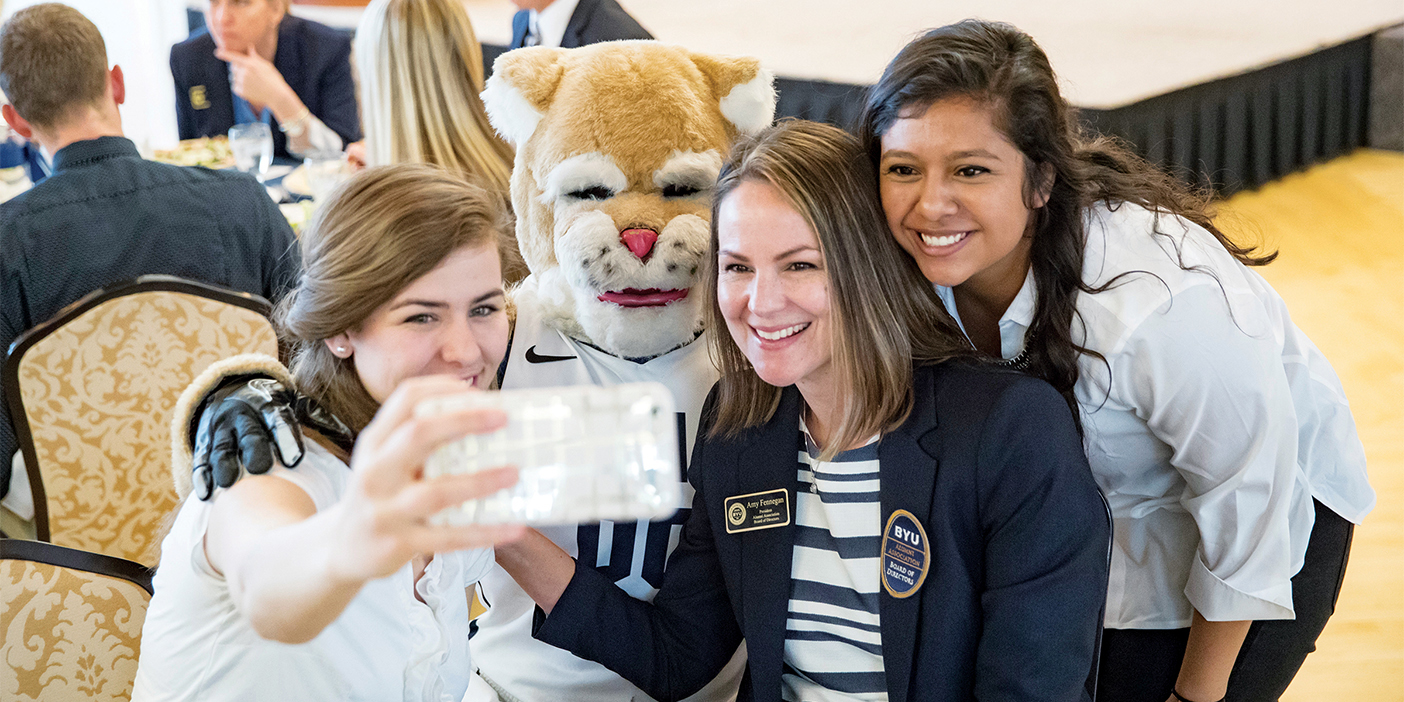 Within weeks of graduating from BYU, I got married, moved to Dallas, and started my first real public-relations job. Everything was exciting and new, but not necessarily perfect.
Summer in Dallas is hot and humid. Everything is bigger in Texas, including the bugs. More important, I'd unknowingly signed on with a boss who churned through associates faster than mosquitos bite on a hot summer's eve. Fortunately, within days of starting my job, I received a knock on my office door. A lovely colleague introduced herself as a fellow BYU alum. She'd been in the public-relations business for several years and became a wonderful mentor and dear friend. She helped me to navigate the first few months of a tough boss and ultimately to become successful in my job.
This and other similar experiences showed me the value of an alumni network, and I was drawn to the BYU Alumni chapter in my area. I soon learned that thousands of BYU alumni across the country give time, talents, and money to local BYU Alumni chapters to help ensure that the BYU experience doesn't end at graduation and that others have the same opportunities they had.
These alumni understand President Spencer W. Kimball's words to students in 1975: "As the Church grows . . . a smaller and smaller percentage of all our LDS college-age students will attend BYU. . . . Those who do come here have an even greater follow-through responsibility to make certain that the Church's investment in them provides dividends through service and dedication to others."
Stated another way, "For unto whomsoever much is given, of him shall be much required" (Luke 12:48).
Through years of service in my local chapter and on the national Alumni Association board, I've met many alumni who give generously of their money to BYU. But I've also found that gifts of time—through participation in chapter activities—are no less needed.
The first step in supporting your BYU Alumni chapter is simply to stay connected. Update your information at alumni.byu.edu so you can receive university and chapter news. You can also find your chapter on the alumni website's chapter map.
For those with a desire to do more, chapter volunteer opportunities are plentiful. More than 100 regional and professional chapters across the country host BYU athletic teams, performing groups, and speakers. Chapters organize events to mentor and network with young alumni and current students as well as to coordinate fun runs, golf tournaments, and other fundraisers.
Proceeds from such events fund needs-based replenishment grants for BYU students. As I have helped to select replenishment grant recipients, I have been inspired by BYU students like Paulina M. Bongay (BS '11), the daughter of immigrants from Sierra Leone, who went to church on her own from the time she was a young girl. Although she was an excellent student, as the time for college approached, Paulina felt limited in her choices. Then BYU alumni in her ward introduced Paulina to the Summer of Academic Refinement (SOAR) program at BYU, where she realized that the opportunity to attend the university was not out of reach. With the help of a chapter replenishment grant, Paulina attended and graduated from BYU. She went on to earn a master's degree and now touches many lives as a social worker.
Reading about the struggles and triumphs of current BYU students reminds me of the blessing it was for me to attend BYU and of the obligation I have to help others do the same.
As you support your local chapter, you'll enjoy the spirit and association of other BYU alumni, you'll be able to mentor young graduates, and you'll help students in real need. You may also walk away with a new friend, a valuable contact, and a little bit of the feeling you had as a BYU student. Participating in your alumni chapter is a vital way you can stay connected to BYU for good.
---
Amy Fennegan is the outgoing president of the BYU Alumni Association.