---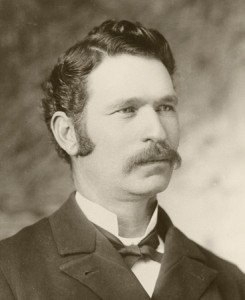 125 
years ago: Benjamin Cluff Jr. takes a leave of absence from his teaching responsibilities at Brigham Young Academy to study pedagogy and mathematics at the University of Michigan. He would graduate in 1890 with a bachelor's degree and return to BYA, becoming assistant principal in 1891 and principal in 1892.
100 
years ago: The first BYU Invitational Track and Field Meet attracts high school athletes from all over the state to compete at the old grandstand (located where the Benson Building is now).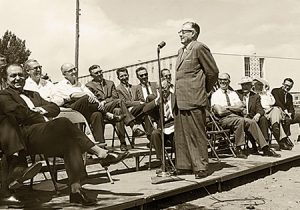 75 
years ago: Rudyard Kipling, who had recently passed away, 
is honored at a campus forum. Parley A. Christensen (1910), 
head of the English Department, speaks about Kipling, and 
a number of Kipling's works are read.
50 
years ago: Church president Harold B. Lee speaks at the groundbreaking for the Ernest L. Wilkinson Center on Aug. 23.
25 
years ago: Comedian Bob Hope and former U.S. president Gerald R. Ford golf in the Great American Indian Shootout to benefit BYU's American Indian Services program.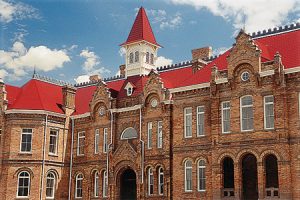 10 
years ago: Reconstruction of the Brigham Young Academy Building is completed, and the building becomes the new home of the Provo City Library.
5 
years ago: The BYU Bookstore begins to offer textbooks in PDF 
format as an alternative to print books.
Web: Read more about BYU's history on the University Archives blog at lib.byu.edu/sites/byuhistory.