---
125 years ago: 
Eight years after the founding of Brigham Young Academy, the school's library collection has grown to 496 volumes and 2,082 periodicals.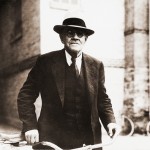 100 years ago:
BYU employee Brigham T. Higgs persuades BYU president George H. Brimhall to hire student employees as janitors.
75 years ago
Elwood S. Romney (BS '33), BYU's first All-American basketball player, helps the Cougars beat the University of Wyoming for the conference championship.
50 years ago:
To start the school year, the university holds a Sunday-night fireside—the model for later firesides, which would be held on the first Sunday of each month and draw more than two-thirds of the university's faculty and student body.
25 years ago:
In a much-hyped game, BYU defeats the University of Utah 55-7 at Cougar Stadium.
10 years ago:
The Eyring Science Center reopens after two years of renovations. The upgraded building features an additional 5,000 square feet and includes new labs, offices, equipment, and a restaurant.
5 years ago:
President Merrill J. Bateman concludes his seven-year tenure as president of BYU and is reassigned to serve as one of the Presidents of the Seventy; Elder Cecil O. Samuelson of the Seventy succeeds Bateman as the new president of BYU.