---
When they attended BYU together and were members of the Cougar golf team, Scott, Andy, and Todd Miller shared a condo off campus. It was the ultimate Mormon bachelor's pad. A pinball machine sat in one corner, near a dartboard. The television, naturally, was tuned to ESPN. When they weren't in class or studying or golfing, that's where they hung out—shoeless, hats turned backward, trying to beat each other in games of skill, and chatting up a storm.
"We were just an average group of college guys," Scott says. "We talked a lot about sports and girlfriends." And after their golf tournaments, they spent innumerable hours discussing and analyzing their performances, match by match, round by round, hole by hole, shot by shot.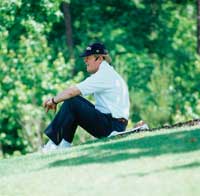 Not unlike many sets of brothers separated by only four years, the Millers are ultra-competitive. Ever since they were knee-high to a putter, it's been that way. Whether it has been basketball, soccer, fishing, video games, pinball, hunting, or darts, they've always wanted to outdo each other and win. Badly. "It's amazing we didn't kill each other," Scott says.
"I've never seen kids burn with competitiveness like that," says BYU coach Bruce Brockbank. "Motivating them isn't something I had to worry about. Their work ethic rubs off on the rest of the team. One of the first comments Andy made to me was, 'I want to win tournaments.' It's an exciting thing to hear that come out of the mouth of a freshman. When they were young they got a taste of it from their dad."
That would be Johnny Miller, who starred at BYU in the late 1960s before becoming a Hall-of-Famer on the PGA Tour. "Johnny came in and gave the program a facelift," says Brockbank. "And his sons have done the same thing."
All for One

For two seasons together, the sons formed an imposing triple threat for the Cougars on the golf course. This summer the reign ended when Andy graduated and Todd prepared to leave on an LDS mission. Only Scott remains, but BYU's golf program has been the happy beneficiary of this intense case of sibling rivalry, and just in time.
The Cougars went through a spell that saw them slip from the list of the nation's elite teams. But something gradually changed—the Millers arrived on the scene, one right after another. It was no small coincidence that the Cougars qualified in 1999 for the NCAA Tournament for the first time in six years and wound up placing seventh. It was their best finish since 1991, when they were fifth, and it marked the 18th time in school history that they had ended in the NCAA top 10. In 2000 the Cougars were ranked in the top 10 in the country and led the nation in tournament wins. But after finishing second at the NCAA regionals, the Cougars were eliminated in the early rounds of the NCAA tournament in June.
The Millers are eager to point out they haven't turned around Cougar golf by themselves. BYU coaches assembled, top to bottom, an incredibly strong roster, including Jose Garrido, who finished his eligibility along with Andy this summer; senior Billy Harvey; and junior Manuel Merizalde. Even though not all of them carry the surname Miller, the golfers say they feel like a family. Merizalde, who, like Garrido, is from Colombia, even spent one summer living with the Millers in California when he had trouble returning home. Talent-wise, the Cougars have been so good that Todd, as a freshman and then a sophomore, didn't even make the cut to travel with the team to the NCAA championships in 1999 or 2000.
"They're all like brothers. They're all close," Linda Miller, mother of Scott, Andy, and Todd, says of the BYU team. "My boys feel a little guilty with all the publicity they've received. They wouldn't have been there without the rest of the team."
Clearly, though, the Miller brothers have made their mark.
Inter-Generational Links

In northern California five decades ago, Larry Miller (not related to the Utah Jazz owner by the same name) was a decent amateur golfer who wanted to teach his young son, Johnny, the game. In the basement of his home Larry set up a driving range. The 5-year-old was a natural, and those lessons Larry gave Johnny opened the door to generations of greatness. Grandpa Miller, now 85, was instrumental in his grandsons' development, too.
Johnny enrolled at BYU in 1965 and earned honorable mention All-America recognition as a sophomore, then first-team All-America honors as a junior and senior. He also helped guide the Cougars to back-to-back Western Athletic Conference titles. In 1969 he turned pro and went on to win 24 PGA Tour events, including the U.S. Open in 1973 and the British Open in 1976. As Johnny was becoming one of the best golfers in the world, his wife, Linda, was busy with their children, shuttling the boys to golf practice and tournaments. She was the disciplinarian, the one who helped them with their homework. Scott, Andy, and Todd say they are grateful for her presence. "Mom was always around," Andy says. "She loves to come out to our events. She knows exactly what's going on."
The Millers lived in Springville, Utah, and then Salt Lake City from 1980 until 1988, when they relocated to Napa, Calif., where the boys could devote more time to playing golf. But don't get the idea that Johnny and Linda foisted the game on their kids in order to live vicariously through them. The Miller sons say their father presented the opportunity for them to play and they simply took advantage of it. "My dad's never put pressure on me," says Todd. "He just lets us play."
"Nobody forced the kids to practice," Linda said. "John wanted them to play. But when they said, 'I quit,' we said, 'That's fine.' It has to come from inside."
Still, the boys practically grew up on golf courses, though they learned that life is more than golf. There's fishing and hunting, too. But golf was always around them, and Johnny taught them to think like golfers while Grandpa Miller filled them with confidence."My dad doesn't hold back on us. He tells us what's wrong," Todd says. "My grandpa is the exact opposite. He tells us how great we are. He makes you play the game at a higher level. It's a good combination."
"With my grandpa, you feel you can win the U.S. Open the next day," Andy says. "He was always there to teach us when Dad was on tour."
Like Johnny did, the sons harbor aspirations of joining the PGA Tour. "When we look at what our dad has done, we feel like we have to live up to that reputation," Todd says. They don't, however, tire of the comparisons to their father, nor do they wish they had a different surname to escape the long shadow Johnny casts. "If I play well, I'll be recognized as my own player, not just one of the Miller boys," Todd says. "I'm proud to be associated with them."
"It's been an incredible benefit to have him as a father," says Scott. "He teaches us the game and the right fundamentals."
While Scott, Andy, and Todd hope to play professionally, Johnny knows how difficult that is. "I've always had confidence in them, and I hope they will make it on the pro tour. I would be surprised if one or two don't make it," he says. "They've always been put on a pedestal and faced the pressure of being Johnny Miller's sons. A lot of kids would run away from that, but they haven't. That's what I'm most proud of them for."
Today Johnny is a golf commentator for NBC, which has him traveling all over the country covering tournaments. But with the help of their private jet, he and Linda have been able to attend almost all the Cougar tournaments in recent years. "It's a once-in-a-lifetime treat for us as parents," Johnny says of watching his sons compete. "It's enough to give us gray hair, but it's more enjoyable than stressful. "Linda agrees about the stress. "It sounds almost ridiculous," she says, "but it's been tougher for me to watch my boys than it was to watch Johnny play. And if Johnny didn't play well, our livelihood was at stake."
Oh, Brother

OK, so it doesn't hurt to possess Johnny Miller's genes, but that doesn't guarantee success, nor does the sibling rivalry. But every little bit helps.
"They have that built-in competition," Johnny says. "They've always tried to beat me and each other. The toughest competition they've had has been in their own household." When they were younger, participating in junior golf events in different age divisions, Johnny would tell them that if one of them won a tournament, he would give them each a dollar. "They would check to see how the others were doing," says Linda. "They learned to pull for each other."
As Scott puts it, "We had three chances to win a tournament—Andy, Todd, or me. We were pulling for ourselves and our teammates." At BYU the brotherly encouragement continued. Scott, 24, the biggest and strongest of the trio, contributed to the Cougars' WAC crown in 1995 before leaving on a mission to Kentucky. Though the two-year layoff required some recovery time, it didn't seem to hurt his game in the long run. "It took eight or nine months to get back to where I was, where I could start playing for BYU," he says.
"He's the dramatic one of the three," Linda says of Scott, a communications major. "He has always been really fun. He's a little more opinionated and outspoken about things."
Andy, 22, who studied geography at BYU, is ambidextrous, the artist of the family, and the most accomplished of the brothers in golf. He won the WAC title as a freshman, was a third-team All-American as a freshman and sophomore, and was named second-team All-America as a junior. In November 1999 he finished second to Georgia Tech's Matt Kuchar, the 1997 U.S. Amateur champion, at the College All-American Golf Classic at El Paso Country Club. Kuchar survived a duel with Miller on a third-hole playoff. Past winners of that tournament include PGA stars like Davis Love III, David Duval, and, yes, Tiger Woods.
"Andy's done things similar to what his dad did. He's raised the level of expectations," Brockbank says. "The day he stepped foot on campus, he raised the expectations. He set the standard. He leaves a pretty good legacy."
Andy could pass as a clone for his dad, when compared to college photos of Johnny. Linda has compared his personality to Fonzie and Clint Eastwood. "He doesn't say a lot," she says, "but everybody gravitates toward him."
Bringing up the rear is Todd, 20, who looks like his mother. "He's a very caring and emotional person," Linda says. "He loves people and is aware of their needs." On the golf course, she says, "He guts it out, every single shot. He grinds all the time–very meticulous."
Perhaps by nature of being the youngest, Todd may also be the most competitive. John Jr., the oldest Miller son, recalls beating his little brother by a stroke recently, and Todd didn't talk to him in the car for 15 minutes. Johnny believes Todd has the potential to be the best golfer of the bunch someday because of the intense competition he grew up with.
In addition to four sons, Johnny and Linda have two daughters, Casie and Kelly, who are both married and, no, they aren't golfers. While they exhibit undying support for their dad and brothers, the sport is not their favorite topic of conversation when they all congregate around the dinner table. "They say, 'Let's see if we can go through one meal without talking about golf,'" Linda says with a laugh. "It's become the family joke."
Three Chip Shots off the Old Block

It's almost as if history has repeated itself, times three. The sons followed the father's footsteps to BYU.
After leading BYU to golf prominence three decades ago, Johnny adores the school, and he wanted his sons to have the same kind of positive experience he enjoyed during his time in Provo. But when it came to choosing which college to attend, he gave his boys space and allowed them to make their own decisions.
John Jr. selected San Jose State about 10 years ago but did not have a positive experience there. He left after one year and turned pro.
Johnny did not interfere in his younger sons' choices either. "He was semi-neutral," Andy says. "He said he would like us to go to BYU but would be supportive of wherever we went. He got what he wanted."
Scott, the oldest of the three, wasn't highly recruited, and when he chose BYU it made the decision easier for his brothers. Andy was the most sought-after Miller boy, receiving scholarship offers from a bevy of perennial golf powers like Arizona and Stanford before selecting BYU. When it came right down to it, family mattered most. "The deciding factor was the chance to play with my brothers," Andy says.
It didn't take Todd, the youngest, long to make up his mind about where to enroll. Minutes into his recruiting trip to Provo, he told Brockbank that he was coming to BYU. "I wanted to play with my brothers," he says. In fact, Todd delayed his LDS mission for one year to have the opportunity to play with Scott and Andy. He is set to serve a mission this fall.
"When Scott and Andy decided to go here, along with the other players BYU got, I knew we'd have a great team," Todd says. "Not very many people even get the chance to play with their brothers."
Of course, dear ol' dad couldn't be prouder. "Having three sons on a team at the same time has never happened before to my knowledge," Johnny says. "It was a rare thing."
The Millers will long be remembered for their roles in helping restore the Cougars' golf glory. They pushed each other to be better and, in turn, helped carry BYU back into the national limelight, just like their dad did more than 30 years ago. But the story doesn't end here. Don't be surprised if all three brothers continue to make noise in the future on the PGA Tour. Just like Dad.?