---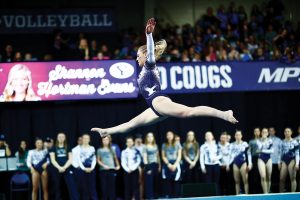 Look who's back in the NCAA top 20. BYU gymnastics went on a tear this year, notching its highest individual and all-around scores in 13 years. The top marks of the season came at a February home meet against Denver, where Shannon Hortman Evans ('20), pictured, put down a floor routine that earned a 10 from one judge—a feat few gymnasts ever achieve.
Evans went on to qualify for nationals—the first Cougar in 14 years to represent BYU at the NCAA National Gymnastics Championship. She will compete as a bars specialist at the championships, which take place April 20 and 21 in St. Louis.
"It's been what I could consider a magical season," says head coach Guard W. Young (BA '02), the BYU Hall of Famer and Olympic medalist who took the helm in 2015. After missing the top 20 since 2005, the revitalized program peaked at no. 16, posted its highest score at regionals in program history, and set a new gymnastics attendance record. And BYU's competition-day lineup—the starters, so to speak—spanned from freshmen to seniors, portending good things to come.