After competing in the Summer Games, more than a dozen Cougar athletes now bear the enduring title of Olympian.
Of the current and former BYU athletes who competed in Athens, two brought medals home, and three others finished in the top 10 in their events.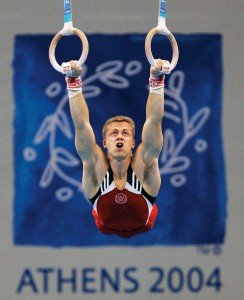 Gymnastics
Pressed into action on the pommel horse after teammate Blaine Wilson bowed out with a back injury, former BYU gymnast Guard W. Young, '02, helped his team advance to the medal round. There he earned an impressive 9.7 for his floor exercise, and the men eventually took second place behind Japan.
"This medal is the second-most beautiful thing I have ever seen, after my wife and son. They have been my inspiration," Young said after the competition. "When I wore the medal around my neck, I stopped for a minute and thought about what I had to do in my life to get her. Ten years of training." Young is in his fifth year as assistant coach for the University of Oklahoma men's gymnastics team.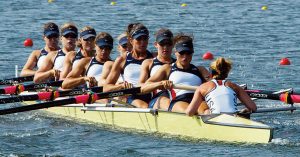 Rowing
Silver also shone for BYU on water. Megan D. Dirkmaat, '97, and the other eight members of the women's eight won their preliminary heat, setting the world's best time. They later rowed their way to a silver medal, less than 2 seconds behind Romania. Dirkmaat attended BYU before transferring to UC–Berkeley.
Men's Volleyball
Two-time Olympian Ryan M. Millar, '03, played for the United States team, which lost its first game to Italy. The men rallied to win four of their next six matches before Russia disappointed them in the bronze-medal game. The men improved from their 11th-place finish in Sydney four years ago.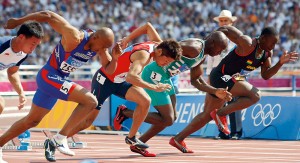 Track and Field
Representing Namibia, BYU-record-holder Frank Fredericks, '91, made another run for gold in the 200-meter final. But a solid win by a trio of Americans put the Olympic veteran just beyond the medals by 0.11 second.
"I'm just a little emotional and a little sad really," Fredericks said. "Obviously, I wanted to go out with a medal, but I just have to be happy with fourth."
In the closing ceremonies of the Games, Fredericks found some solace in wearing a medal of a different sort when his peers in the Olympic Village elected him and three other athletes to eight-year terms with the International Olympic Committee's Athletes' Commission.
Diving
Another bright spot at the Games, Rachelle Smith Kunkel, '02, finished ninth, the only diver from the United States to make it into the women's 3-meter springboard finals. Kunkel took time off from her work as a labor-and-delivery nurse in Los Angeles to compete in Athens.
Visit magazine.byu.edu/athens for a complete list of BYU's Olympic athletes, competition results, and links to media coverage.