---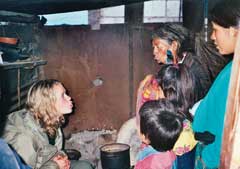 Anthropology major Amy Alexander learns from Sebastiana, a native Guatemalan. This photo won the Kennedy Center's 1999-2000 photo contest.
By Whitney Archibald
The children in the crowded kitchen giggled as Amy Alexander, a senior majoring in anthropology (Bountiful, Utah), tried to imitate the words of Sebastiana, a Guatemalan, in the South American Indian language K'iche. Last summer, Amy documented the daily life of this 4-foot-tall, 71-year-old widow as part of her field study project, an examination of women's roles in Guatemalan culture. The two women developed a close relationship during their two and a half months together, and Amy admired Sebastiana's strength. "She's a very tough woman. She does everything by herself. She'd go up into the mountains to chop wood and carry it home on her back."
Student Malcolm M. Botto-Wilson (Buenos Aires, Argentina) was doing his own field study in the same village, and he captured this relationship on film from the doorway of Sebastiana's kitchen. A senior majoring in linguistics and anthropology, Botto-Wilson won first place for this photo in the first annual David M. Kennedy Center Photo Contest. According to J. Lee Simons, publications coordinator for the Kennedy Center for International Studies, contest planners hoped to receive pictures that reflected the diversity of BYU students' international experiences and their interaction with other cultures. When the contest was announced, photographs flooded in from students who studied abroad during the 1999-2000 school year, depicting scenes and people from all over the world.
Second place was shared by Kevin V. Croxall, a double major in astronomy and physics (Redlands, Calif.), for his photograph of a smiling Senegalese woman at a festival, and Jacob G. Ball, a global trade major (Boise, Idaho), for a twilight street scene in Madrid. Twelve students received honorable mention. Winning photographs are displayed online (https://kennedy.byu.edu/photo).