With adult children, coordinating a photo shoot should be easy, right?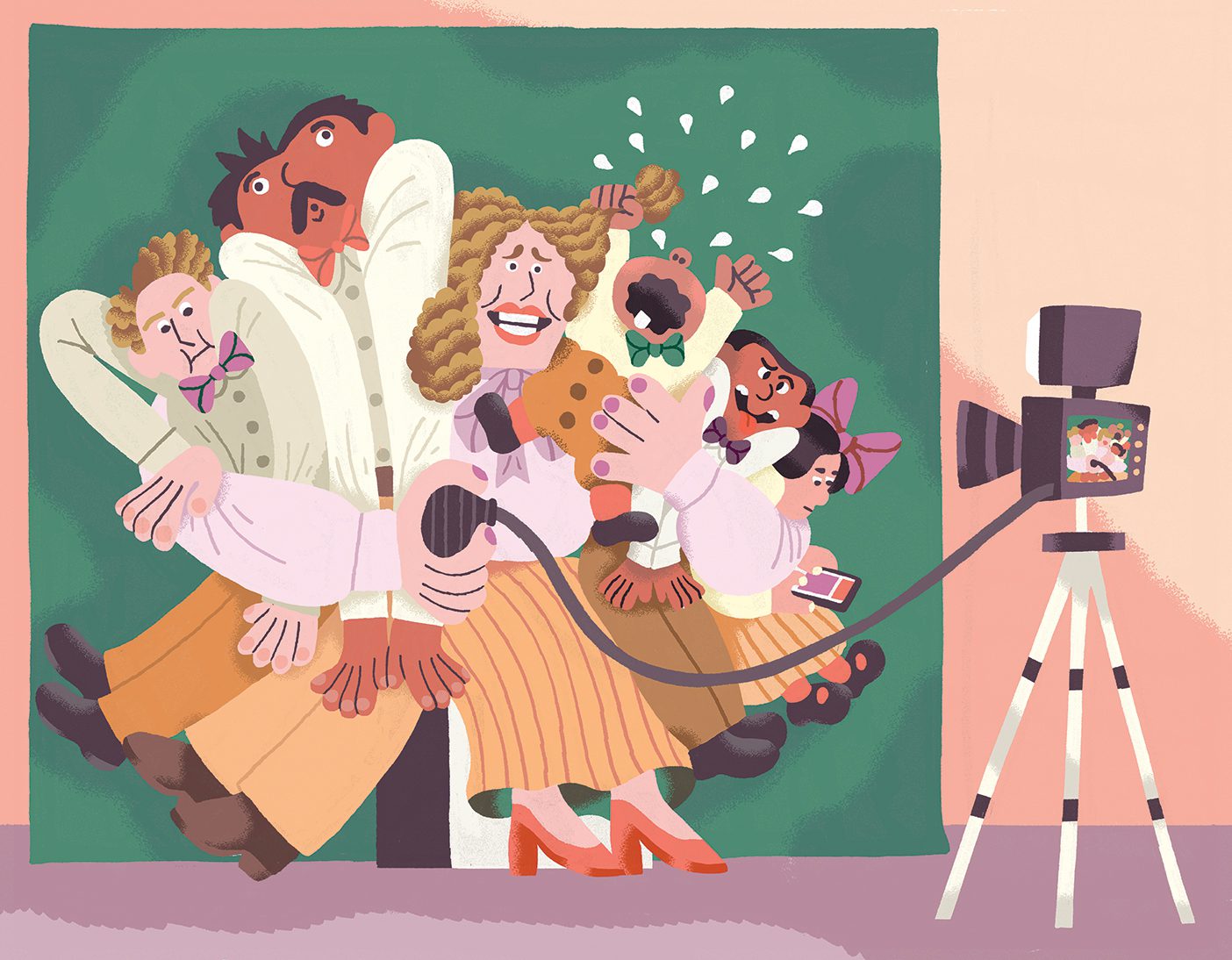 Unfortunately, nothing strikes utter loathing and dread into the hearts of my children more than taking family pictures. I'm not exactly sure why. Maybe it's all of that standing close, smiling, acting-like-we like-each-other kind of thing that really gets to them. Who can say?
Our oldest son, in particular, can think of no greater agonizing activity than to take this picture. When he was a teenager, all I had to say was, "If you are late for your curfew tonight, we will be taking family pictures tomorrow. I'm coordinating our outfits in my mind right now." Worked like a charm. 
Mothers get zero credit for their efforts to make this monumental undertaking happen. The early years were fraught with mishaps that involved last-minute juice spills, messed up hairdos, diaper explosions, and missed nap times. Along with puffy red eyes from crying (sometimes the kids got those too), no one could sit still, look in the same place, smile, or cooperate. We always showed up late, tired, disheveled, cranky, hungry, and stressed out. Then we were expected to smile and look perfectly happy. I inflicted this insanity on my family year after year. I am in serious need of therapy.
"That's it!" I cried. "I give up! We are through!"
Once the children grew up, I foolishly thought this year's picture taking would be different. Certainly seven adult-ish type people could get together and take a picture. Yeah, right. . . . "Hello, I'd like to schedule a family sitting though we can't do it between 8:00 a.m. and 9:00 p.m. on the weekdays because of work and school schedules. Saturday won't work either due to Scout camp, flag football, and a tennis tournament. Sunday is also full with church meetings, company for dinner, and a fireside. I guess we could do it anytime between 3:00 a.m. and 5:00 a.m., although it will be dark outside, and I really do want those fall colors in the background."
Then there was the shopping (ka-ching): it took over a week of purchasing, returning, and exchanging to find outfits that coordinated perfectly in that casual, effortless kind of way (of which nothing was casual or effortless). I could see us now in our beautiful new clothes poised perfectly in front of a picturesque mountain vista, the fall colors gloriously radiating their beauty, while puppies and bunnies bounced playfully in the surrounding meadow. But I'm getting ahead of myself.
After shopping, rescheduling three times, and threatening every family member within an inch of their life to come together for these two hours, the fateful family sitting day finally arrived. Then, five minutes before we were leaving, a homeless man wandered in through our front door and sat on the couch. On second glance, I realized that it was actually my oldest son. "Um . . . what's with the beard?" I asked.
"Oh, I don't know. I just thought I would try to grow an ugly beard," he replied.
"Well, if this is some kind of contest you've entered, I'm pretty sure you won."
I thought, "How do I handle this diplomatically?" Do I suppress my control-freak streak and allow him to express his individuality? No—duh!! Grabbing an electric razor and some hair gel, I got him whipped into a presentable shape in three minutes flat, just in time for the sitting.
You would think that a basically good-looking family in a picturesque landscape with a professional photographer could get one picture that would work. Just one—out of 350 pictures taken. Please have mercy on my soul and just give me ONE! Apparently, this was asking for one too many. I'm still not sure how this was possible, but the photographer took our beautiful little family and turned us into some grossly hideous frog-like creatures that had just crawled out from the crypt. "That's it!" I cried. "I give up! We are through! That is the last family picture that we are ever taking for the remainder of our mortal lives!" (Everyone cheered.)
The threat didn't last long, though, because I love my family and I want to remember every moment with them. To me, the family picture is a tangible representation of a binding love that lasts forever. Just think, Kids: we will be taking family pictures for eternity! "Say 'cheese'!"
Andrea Burns, an RN from Lindon, Utah, loves tennis more than family history.
---
Share a Family Story: In Letters from Home BYU Magazine publishes essays by alumni about family-life experiences—as parents, spouses, grandparents, children. Essays should be 700 words and written in first-person voice. BYU Magazine will pay $350 for essays published in Letters from Home. Send submissions to lettersfromhome@byu.edu.