---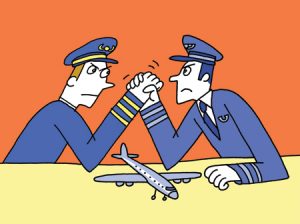 What do you do when your company is comfortably selling a product and then a competitor suddenly starts offering a similar one for free? If you're like two-thirds of the companies in a new study, you'll get it wrong.
Over five years BYU Marriott School faculty David J. Bryce (BS '91), Jeffrey H. Dyer (BS '82), and Nile W. Hatch (BS '88) examined 26 different markets, researching scenarios posed by companies like Ryanair, the European airline that offers some free flights and now has a market share exceeding that of Air France. They share their observations of how to compete against free in the June 2011 issue of the Harvard Business Review.
"Some of the companies that got this wrong panicked and offered a free product too fast, instead of waiting for the new competitor to self-destruct or for the structure of the market to play out a little more," says Bryce, lead author on the piece. Even more companies erred by doing nothing, he says. Based on their findings, the researchers established a formula businesses can follow.
If the new competitor is stealing less than 5 percent of your customers a year and is growing less than 40 percent a year, don't worry too much. It will probably flame out. But if more than 5 percent of your customers are defecting and the competitor is growing faster than 40 percent, your very existence is threatened.
The BYU authors also give advice on possible responses. For instance, a traditional radio or satellite company, says Bryce, should have acquired Pandora—the free Internet radio firm—before it went public because it could displace them. But acquisition isn't the only strategy.
Craigslist, which offers free online classifieds, gutted the newspaper classified business in all of the top 50 U.S. metropolitan areas except one: Salt Lake City. There, Deseret Media Company, which owns the Deseret News, KSL TV, and KSL NewsRadio, launched its own free classified site on ksl.com.
The authors also recommend that firms think about and manage revenues independent of costs. A separate team, they say, should be responsible for generating revenues, not just from the product's price, but from upselling or cross-selling other products, third-party advertising, or bundling the free product with paid offerings. "A traditional business, built on the prospect of a product that gets revenue directly through price, often has a very difficult time changing over," says Bryce.