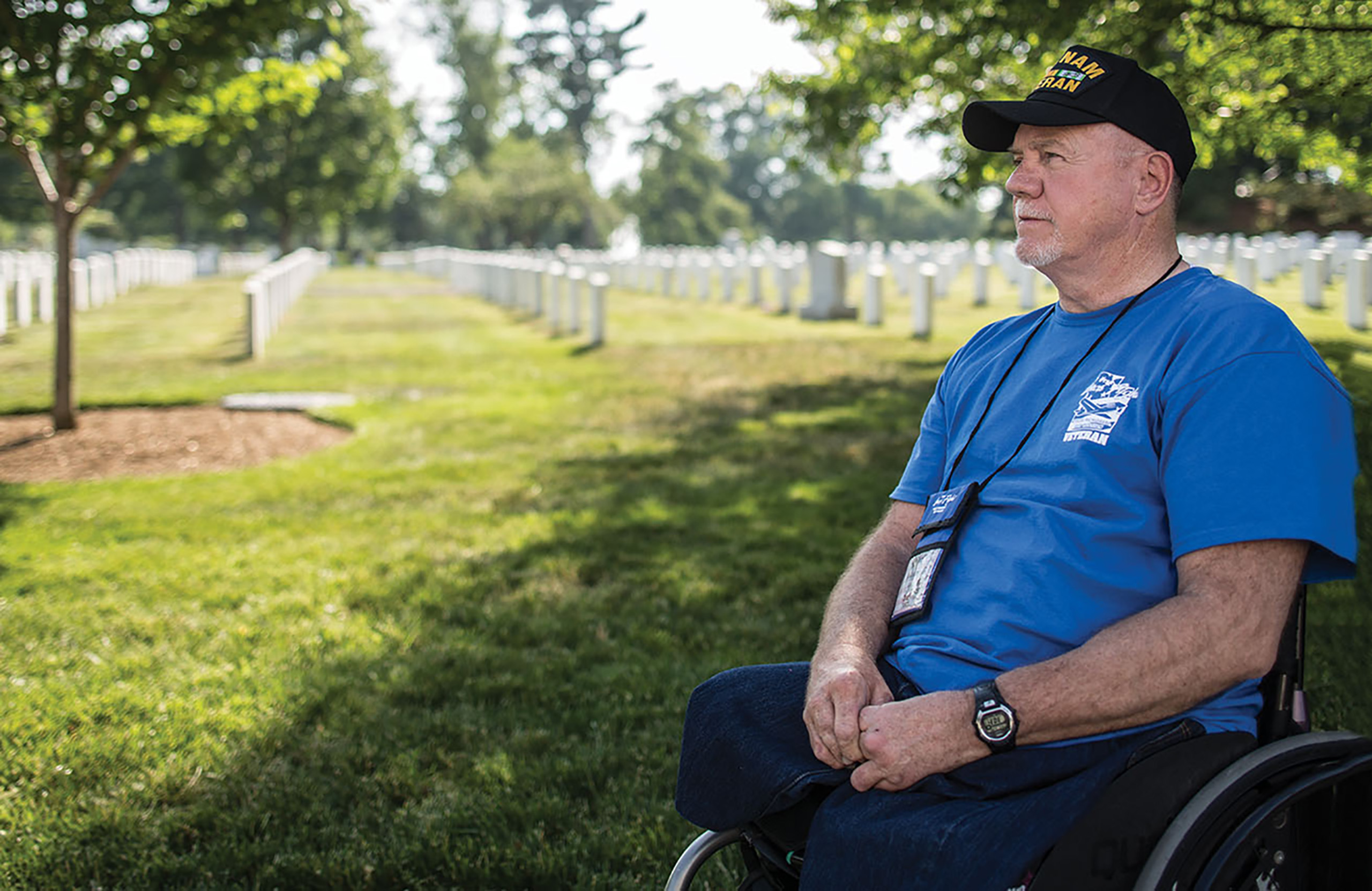 A Flight to Remember
BYU's College of Nursing adopted the national Honor Flight program—and 17 war heroes—to better train students in veteran care.
---
By Brittany Karford Rogers (BA '07) in the Fall 2015 Issue
Photography by Bradley H. Slade (BA '94)
After snaking through security at the Salt Lake City International Airport, the group pools for a head count, and every head in the airport turns. It is a conspicuous band of travelers: 46 people pushing 46 wheelchairs carrying mostly elderly occupants, all in matching blue t-shirts, led by a band of bagpipers.
It's just like they say in the military," says Marshall Brenden, 83, his black hat bearing "Korea" in bright yellow letters: "Hurry up and wait!" With the count taken, the pipers strike up a regimental tune, the convoy falls into single file, and down the ramp they go.
One onlooker becomes the catalyst: she pulls her rollaway up close and starts clapping.
Soon half the airport halts. People line the walls, creating a hall of applause, taking photos and video on smartphones. Children, nudged by parents, and janitors join in. Travelers on moving walkways are swept in the opposite direction, clapping. The procession from security to gate has turned parade.
It happens every time, "gratefully," says Mike Turner, director of Utah Honor Flight. This will be his ninth such flight since starting the Utah hub of the Honor Flight Network, a national nonprofit organization that takes veterans to the nation's capitol to see the memorials erected in their honor.
Most in this group have never been, and for many—like World War II veteran Francis Simmons, who will celebrate his 97th birthday during the trip—time is short.
Today Simmons is spirited, flashing a gap-toothed grin. Behind him, rounding a corner, Vietnam veteran and Paralympic gold medalist Michael R. Johnson (BS '80) pops a wheelie in his wheelchair. Others salute and wave to the crowd.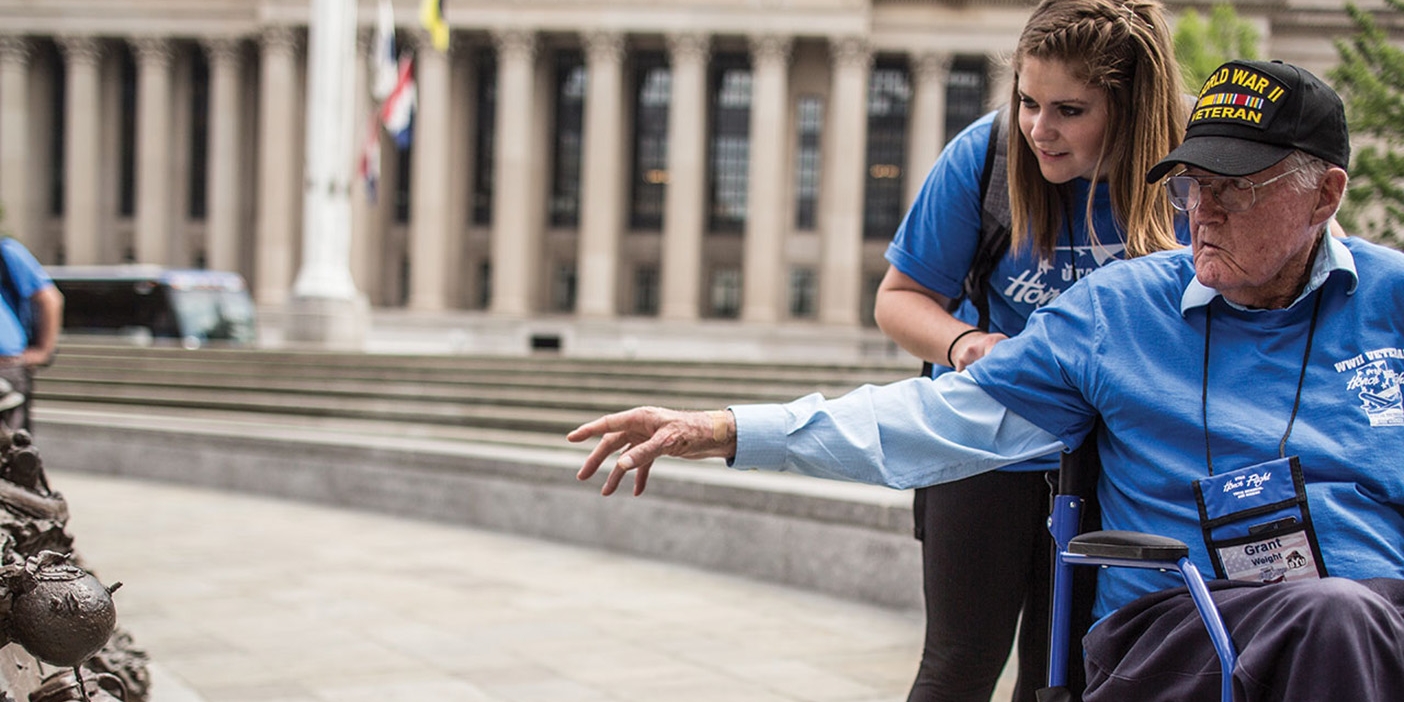 "Will you take our picture?" asks BYU nursing student Torrie L. Robinson ('15), surrendering her iPhone to a fellow traveler, then crouching next to her veteran, Virgil N. Kovalenko (BA '62). They are paired for the weekend; each Honor Flight veteran has an assigned "guardian," a travel companion to assist with medical and transit needs. Guardians are usually family members, but on this trip, a cadre of students and professors from BYU's College of Nursing perform the role.
The students are enrolled in a class focused exclusively on veteran care—the first of its kind in the country—started by BYU nursing professors Kent D. Blad (MS '99) and Ron S. Ulberg (BS '76), both veterans themselves. The class, launched in 2005, has since been modeled by a handful of universities. Blad joined his first Honor Flight last year, as a flight medic, and returned touched. The experience, he thought, could change his students.
It costs $900 a head, veteran or guardian. BYU is sponsoring 17 of the 46 veterans with a grant Blad received from the Office of Research and Creative Activities. College of Nursing donors, including many veterans, covered the expense for the students.
"To know them is to care for them better," goes the class motto, and this 72-hour trip is a relationship incubator—a way to expedite deep and meaningful student-veteran interaction. "Because of their experiences, veterans are a different breed," says Blad.
The BYU bunch includes vets spanning three conflicts, two grandfathers of nursing students, and even a retired four-star general. And their impact on the students is already evident just hours into the experience.
As the parade halts again for a restroom pit stop, handfuls of civilians approach to shake veterans' hands, the students standing by, beaming as they share their veterans' stories—like how Brenden snuck into the service at 15, pretending to shave his whiskerless baby face every day so no one would be the wiser. Or how Kovalenko helped found the Veterans Association for Service Activities Abroad, which would help hundreds of Vietnamese emigrate after the war. Or how Simmons helped liberate the concentration camp in Pilsen, Czechoslovakia.
"My favorite story," says nursing student Deven R. Jennings ('15), assisting Simmons to his chair, "is Normandy." Jennings is one of few to hear it; it was 70 years before Simmons could talk about his service years.
"These stories," says Blad, "affect these students."
Liberating Europe
Normandy's Utah Beach was a luckier draw than Omaha. Francis Simmons had that advantage. Still, he waded through bodies to get to shore.
He was part of the second wave of the Allied invasion, on a team of army engineers sent to deactivate the mines that German general Erwin Rommel had ordered to be "sown like grass seed" on the French coast.
"They had mines on the beaches, and we had to dig down to get the detonators out of the bombs," Simmons explains. A wrong move could cost a limb—at least.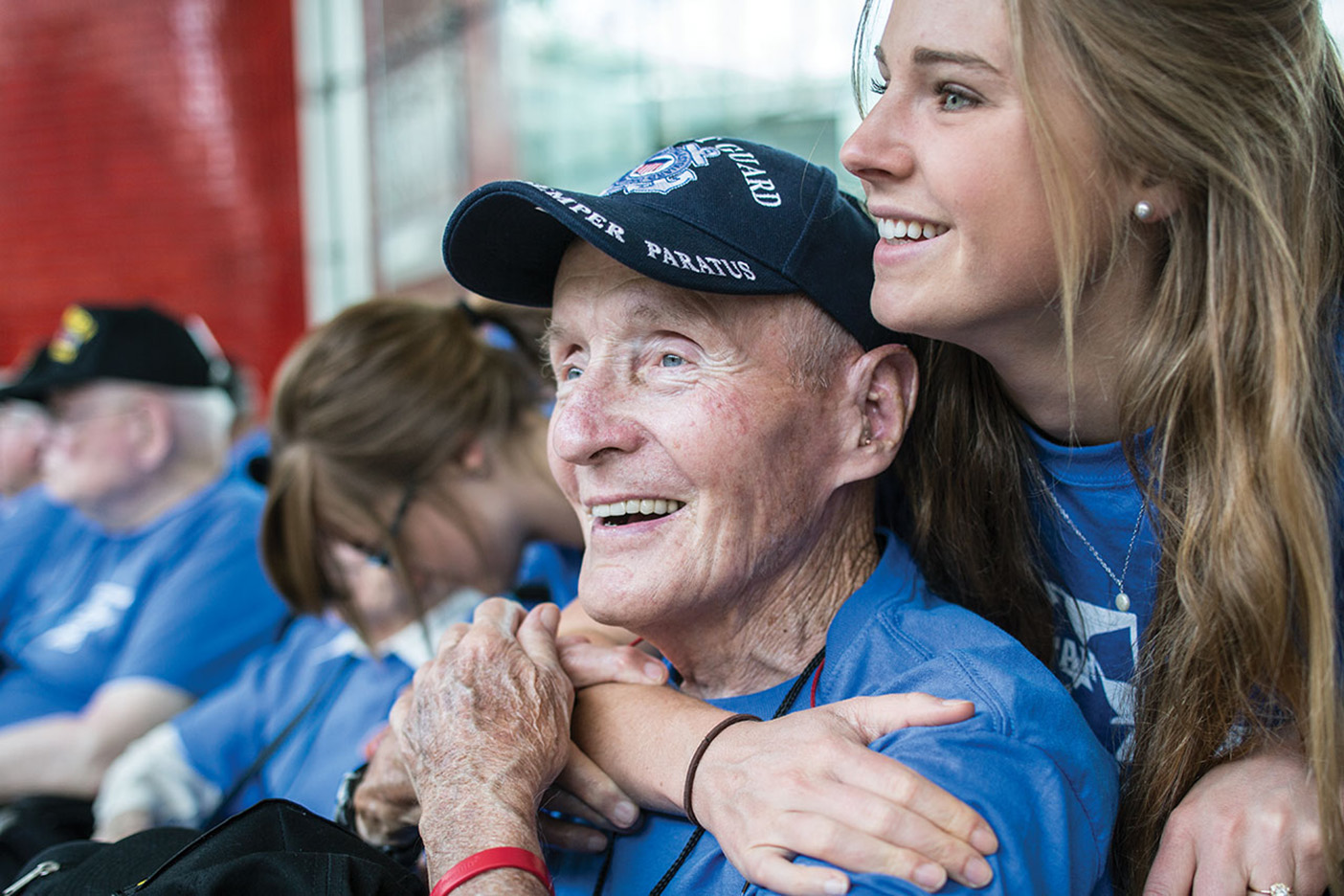 Simmons would make his way across Europe, carrying his banjo on his back. "When I was in a foxhole," he says, "I'd get it out and practice." Part of an army band, he'd play a host of instruments during the war—and for a host of audiences, even over the BBC and in front of Winston Churchill. "The best day was when we played these square dances in Bedford, England," says Simmons. "The English people were curious what square dancing was all about—it was all new to them. They'd crowd in, even sit in the aisles."
A few memories come up again and again, as if on repeat—one, when he and the band took to the streets, playing music to quell the nerves of civilians, who were preparing to flee their Belgian town, long enough for the army to have clear roads to move supplies through. And another, coming with his unit upon a burning warehouse: "We get up there, and they had these Polish Jews in there," Simmons chokes out. "They put them in a warehouse and had straw in there. And the Nazis set it on fire and then fled. We had to rescue them, the Polish Jews. Some of them were still alive."
Mail Call
The Honor Flight group, boarding first, fills more than half of a commercial flight bound for Baltimore. The rest of the passengers have no idea what's in store—an emcee, tears, cheering, patriotic songs. By the end of the flight the entire plane will be belting out "God Bless America."
And there will be mail call—an Honor Flight tradition. The guardians have solicited letters from the veterans' loved ones, and the BYU students have written letters to their veterans too.
Halfway into the four-hour flight, the Honor Flight staff distributes the letters, bound in bundles or in manila envelopes, a pile in every lap. The veterans open each one reverentially.
For those overseas at war, letters always arrived in such batches—stacks at a time for Ora Mae Sorensen Hyatt (BS '52). Her future husband of 71 years and fellow Honor Flight participant, E. Preston Hyatt ('57), saw her off to her first hospital assignment with the promise that he would write. His orders would take him to the India-Burma Theater with the Army Corps of Engineers, hers to Okinawa with the Army Nurse Corps. "Pres," as she calls him, "wrote every day."
Now the pair sits together on the flight in a deluge of letters from family—today 129 great-grandchildren strong. Some notes are typed, some handwritten, some brief, some lengthy. There are crayon drawings of American flags and tanks under bright-yellow suns. Ora Mae, blue eyes sparkling, declares, "It's like we're going to heaven!"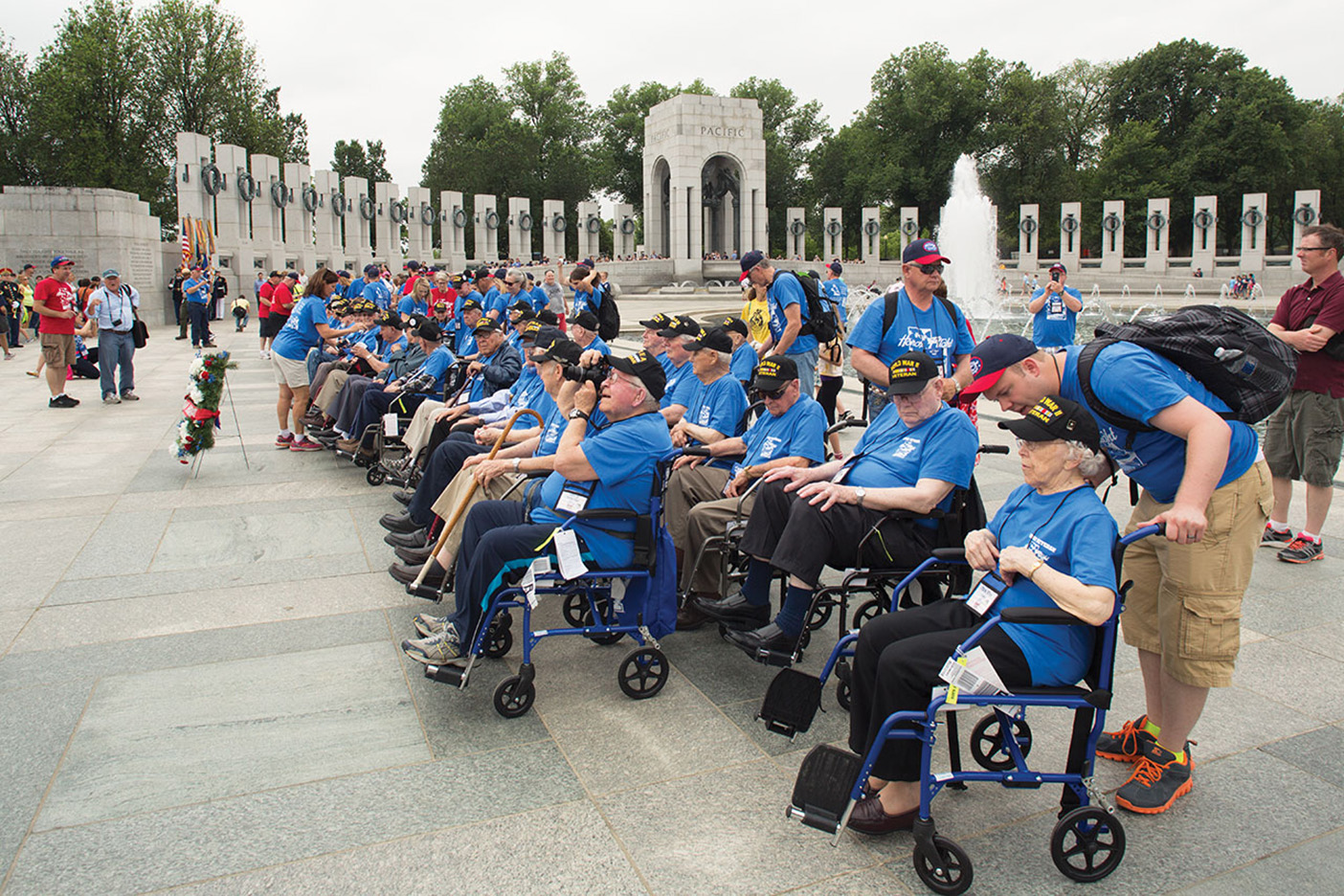 On the Okinawa Front
In 1945 Ora Mae caused a multi-truck pileup. A fellow nurse on Okinawa was being sent home, and the chief nurse invited Ora Mae to steal away with her for the trip to the airport. While waiting at the airport, Ora Mae spotted some beautiful flowers and strolled down a jungle road. Along came a convoy of U.S. Army vehicles—"and so I waved," she says. Needless to say, an American girl on the side of the road in Okinawa caught the drivers' attention. The first slowed, the second slammed into him, the third slammed into the second—"It was a chain reaction of collisions!" giggles Ora Mae, who got back to the chief nurse as fast as she could.
The bloodiest of the Pacific battles was still raging when she arrived in Okinawa. Soon after, four nurses were needed at the front lines, and just as they had volunteered for the army the second they graduated from nursing school, Ora Mae and her best friend from Salt Lake City eagerly stepped forward.
Rain turned the dirt floors of the field-hospital tent into mud a foot deep. "It was impossible for us to wear our skirts," says Ora Mae, who donned fatigues and combat boots in the slog, making rounds tent to tent with an armed guard at her side. Japanese snipers were in the area.
Ora Mae attended to many patients in Japan, but the POWs, the survivors of the Bataan Death March and forced-labor camps, are unforgettable to her. "None were quite like these who had been in prison. They were like skeletons, they were so thin. . . . They couldn't lift a spoon to feed themselves. And it wasn't only physical sickness. They had forgotten what kindness and concern felt like. Tears would run down their cheeks when we would give them a spoonful of food. The tears would roll down their cheeks," she remembers.
"I'm glad I was there, that I could help in some way."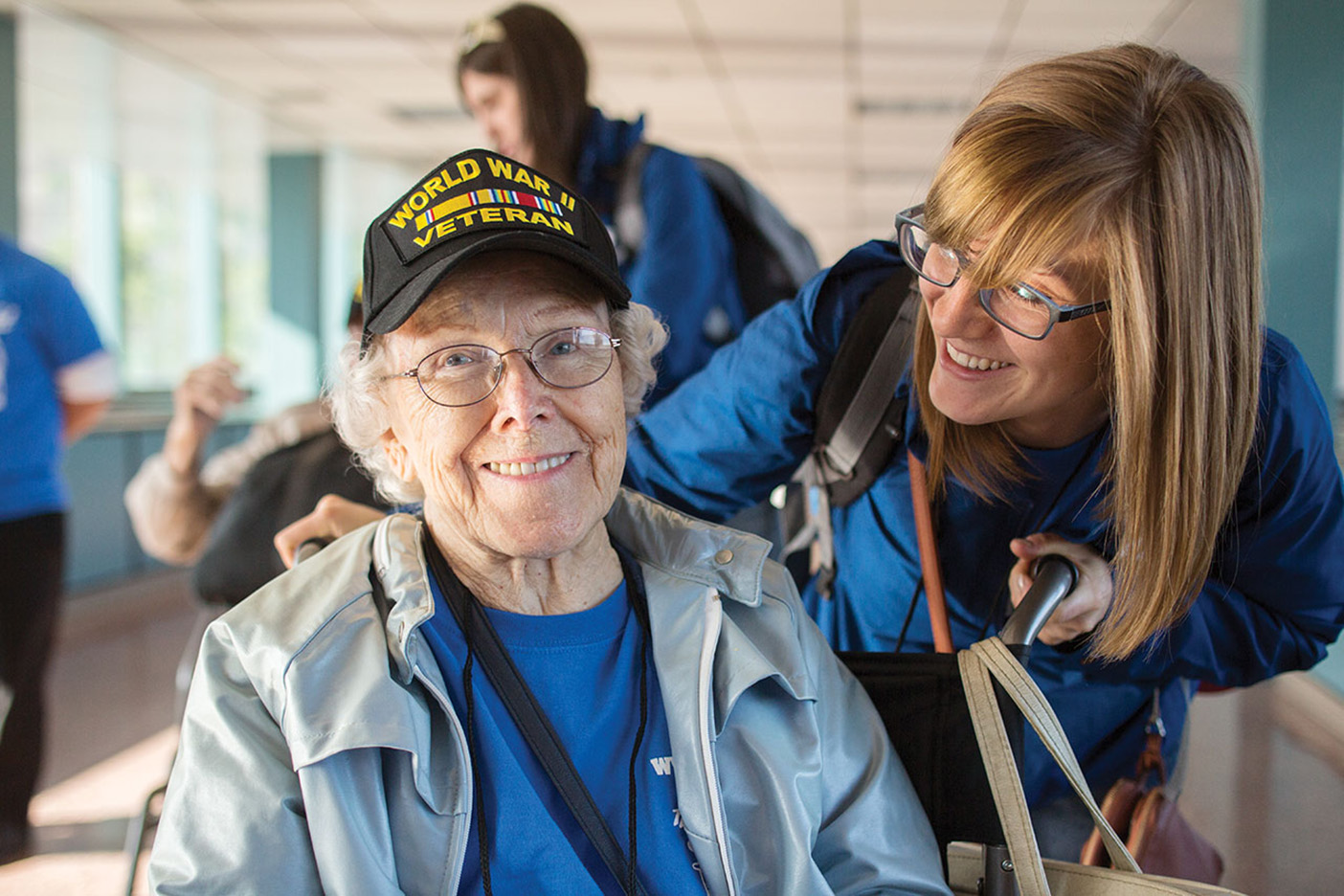 Sacred Sites
First up in Washington, D.C.: the National World War II Memorial. The group enters the giant circle of granite through the triumphal Pacific Theater arch. Tourists at the site part to make way, then look on as the veterans gather for the trip's main photo op—in front of the memorial's reflection pool, with the Washington Monument towering before them, the Lincoln Memorial a distant silhouette behind.
Many are here today thanks to "miracles" and "luck"—which, for WWII navy vet Grant Weight, took the form of jungle rot. The malady landed him in a hospital just before his ship took a torpedo. Sidney Smith, a WWII coast guard vet, simply got the better end of a head count—118 men were needed in the formation of a new company; he and a buddy were 119 and 120. All 118 were lost.
Those who didn't make it home from WWII are honored on the memorial's Freedom Wall, where each gold star represents 100 of the more than 400,000 Americans lost in WWII. The BYU students take time to point out such features, having visited and studied the memorials just a few weeks before. The class has long included a D.C. trip to visit memorials and to observe and interact with patients at Walter Reed National Military Medical Center. "That trip was cool, but this trip is cooler because it's a lot more personal . . . to actually be with a veteran and build a really neat relationship," says BYU nursing student Christi Coats Swenson ('15).
"Right, Bill? You gained some family on this trip?" she jokes with her veteran, 93-year-old William Turner, who was a WWII airplane mechanic.
"Yeah, forever," Turner smiles. "And it's a good trade because for me forever isn't that far out!"
Taking the Honor Flight in the final weeks of class, says Coats, "really puts it all together—everything we've learned the whole semester."
Coats and Turner and the other pairs wind through the Vietnam and Korean Veterans Memorials before reconvening at the buses. Up next are the Roosevelt, Navy, Air Force, and Marine Corps Memorials, the long day of bus loading and unloading ending at Arlington National Cemetery.
At the Tomb of the Unknown Soldier, the Utah Honor Flight group forms a semicircle in the viewing area. As the commander and the new tomb-guarding sentinel arrive for the changing of the guard, they cross directly in front of the group, the sound of metal dragging on stone breaking the silence. Blad whispers that they are purposefully scraping their shoes as a nonverbal acknowledgement of the veterans present.
It seems every one of the veterans knows someone buried here. While the group takes in an expansive cemetery view, Vietnam veteran Mike Johnson nods his guardian, Victoria Fisher Jergensen ('15), across the street to snap a few pictures of him, endless rows of white headstones dissecting the background. "I don't feel like I did what these guys did," he says, referring to his WWII–veteran company. "I'm just a guy who joined the military and served his country. I didn't do anything special." His story, however, is one every student in the BYU veteran class gets to hear each year.
Polaroids
"I always say I remember flying," Mike Johnson says of the explosion. But, he adds that it's hard to parse his memories from the retellings of others.
It was Jan. 30, 1968—the first day, he would later learn, of the North Vietnamese Tet Offensive. His unit was on patrol in an unfamiliar area.
Despite the foreign territory, patrol had become routine: "wake up, have some kind of horrible canned meal," load flak jackets with ammunition "galore," and go for long walks. Nights were different. "You would darken your face," he says, stake out a piece of the jungle, and wait. "The tension level was so high. . . . It's so Polaroided in my head—I can see people coming out of the fog." Johnson recalls one night watching the shapes emerge, mere feet away, his finger on the trigger. "And then one of them whispers, 'Johnson?'" he says. "It was my own men."
There are other Polaroids too. "When I close my eyes I see villagers lying on the side of the road, I see guys in my company who had their throats cut. I see them just as clear as crystal."
His memories of Jan. 30, if piecemeal, are just as visceral. That day a member of Johnson's unit tripped a booby-trapped shell directly underneath him. He recalls lying in the crater, realizing his left leg was gone, his right severely bent. Someone stanched the bleeding, another had him reciting the Lord's Prayer. He woke up under a bright hospital light, someone operating on his hand. Then there was shooting—"people running, everyone had helmets on." Johnson couldn't be moved, so they gave him a shot and hid him under the hospital bed. He came to again in a cargo plane lined with stretchers.
His recovery would eventually lead him to the Boston Marathon, the Paralympics, and a second shot at BYU. (He had attended before joining the service, but he spent more time in the mountains than in class and "got invited by BYU to go home.") But Johnson couldn't see that future at first. "You just are making it from day to day to day, pain shot to pain shot, operation to operation," he says. To stretch the skin to cover his amputations, doctors attached lines with weights that would hang off the bed—weights that caused excruciating pain anytime anyone so much as nudged the bed. "I'd scream every time they did," says Johnson. "[The weights] were so heavy that they dragged me down in the bed. . . . The corpsman would have to come in and move me back up to the pillow."
He is grateful for the support of his family and his beliefs. "At the rock bottom, when you get to the very base of your life, you believe you're going to be resurrected or you don't," he says. "I think that kind of belief keeps some people going."
The Heroes' Homecoming
After Arlington, the dress code for the evening's Heroes Banquet invites service regalia, and Ora Mae Hyatt proudly dons her full nursing uniform, General Robert C. Oaks his Vietnam flight suit.
The general, a former General Authority, will regale the crowd with a tale of being shot down over Vietnam—on a flight that wasn't even his. "I was the designated flyer," he says, the go-to when peers overestimated their drinking ability. He notched 188 combat missions in Southeast Asia alone. "I loved it because I loved to fly."
Following his remarks, BYU students help bestow belated Victory Medals on the WWII vets, most of whom never received the original medal at the end of the war. The group then retires for some much-needed sleep before tomorrow's long journey home.
Again, the airport makes an impact—on the vets and on bystanders. After a sweet send-off in Baltimore, General Oaks finds Utah Honor Flight director Mike Turner on the plane. "The most touching thing about this was going through the airports and having people clap," General Oaks tells him. "It's not just good for the veterans, it's good for the people of this country—to see these veterans in wheelchairs and know that they served. This is a great endeavor."
The group is greeted by bandanas and leather in Salt Lake City: Freedom Riders on Harleys provide a motorcade back to the Utah State Fair Park, where the trip began. There, a throng of family and friends is waiting, at least 1,000 strong, ready to rush their vets as they get off the bus. At least four generations are in the building. There are handmade signs crafted in red, white, and blue; the bagpipes are blaring; and a color guard is waiting in the wings.
The BYU students, embraced by the veterans' families, blend into the fanfare like relatives.
By now, it's practically official for Emily Henderson Ingersoll ('16), Grant Weight's guardian. "He actually told me he would adopt me as one of his daughters," she says.
Ingersoll will encounter veterans anywhere she lands as a nurse—one in 10 Americans living today has served. Because of this class, this trip, she says, she feels better prepared to work with them. "I can't fully understand the things they've gone through," says Ingersoll, "but I feel like I have an idea. I know a little bit better how to communicate with them, and I've come to really value them—and I think that's the most important thing."
---