---
On a picturesque seaside knoll, a peaceful dragon is mowing his lawn when Vikings arrive in the bay below. Eager to greet them, the monster brings homemade cookies. But his new neighbors aren't having it. So begins the 8-minute BYU student animation Grendel, which won gold at the 46th Annual Student Academy Awards. Here student director Kalee S. McCollaum (BA '18) shares the backstory.
How did the story of Grendel get chosen?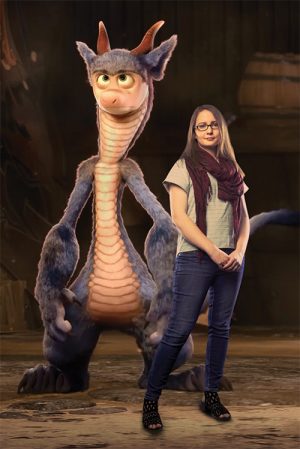 Grendel, a twist on the Beowulf legend, was originally pitched in storyboard form by animation student Erik K. Hansen (BA '18). As he went through the slides and added explanations to the visuals, we were all laughing and felt the idea had a good amount of heart and potential.
What was your role as director?
My job was to have the overall vision of where we wanted to take Grendel, what we wanted the film to say, and what we wanted it to look like. I would ask other people to carry out that vision so that the film would stay cohesive. If we didn't have a director, then everyone would have their different ideas and it would end up getting really muddled.
What was the most difficult challenge your team faced?
The ocean was the biggest problem because it took ages to simulate and render out the final shot. Light bounces through water, so the computer must detect where the light is bouncing and compute that into the color that the pixels render out. Also, the hair was difficult because it was hundreds, if not thousands, of individual strands for each character. This all adds computing time using simulations that often break and have to be redone.
Any hidden Easter eggs to look for?
There is one! In the Viking's mead hall, there is a hammock made out of the robe of Jampa, the older monk in Taijitu, a film made by BYU animation students in 2017.