---
With a UN estimate of more than 65 million forcibly displaced people worldwide and another 42,500 people fleeing conflict each day, serving refugees can feel like a monumental task, says Robert D. Hokanson (BA '93, MA '96, MOB '97), manager of the refugee initiative for LDS Charities. "The solutions require more than what one organization or institution can muster. It's going to take millions of individuals throughout the world to be a part of these solutions."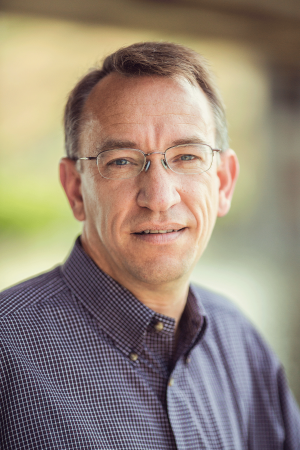 Q: Where is LDS Charities focused?
A: The problems refugees face are so acute, so intense. These threaten their very survival, their basic human rights and dignity. LDS Charities works with partnering institutions to first provide immediate life-sustaining support—food, water, clothing, shelter. But these individuals and families are displaced on average for 17 years, so we also address longer-term needs, including education, employment, and access to reliable health care. Sending children to school or helping women produce something to provide for their family gives them something they can control when everything around them is outside of their control.
Q: What can the average BYU alum do?
A: Relationships are critical. We need to be careful not to let the stuff we're giving get in the way of relationships, which is where real influence takes place. What someone in Detroit does to meet the needs that exist there will be very different from what a family in Germany might do for immigrants or what a group of neighbors in Uganda can do for families escaping conflict in another country. The common thread is for individuals to prayerfully seek out opportunities to serve where they are and with the resources they have.
Q: Where have you seen refugee outreach work well?
A: In Rwanda I was impressed with how generous people are to refugees. Many have been refugees themselves—they know what it's like. So now they're opening their arms and their land, not only for camps and shelters but for farming so that refugees can provide for themselves. They welcome kids into their schools and provide the uniform so the children don't feel out of place.
Q: What do you say to those who worry refugees will become a threat?
A: As we show forth Christlike love, we have the opportunity to welcome strangers into our communities and to help them see, experience, and learn the best of our heritage and our culture. This isn't to persuade them to become like us, but to show them that we are not a threat and that we love and respect them. In return, they'll do the same.
Q: Is there value in expanding our idea of what it means to be a refugee?
A: Absolutely. There are people all around us who are displaced socially or emotionally, displaced from employment, or displaced in other ways. We have a tremendous opportunity to reach out and help anyone who is marginalized become part of our community.