---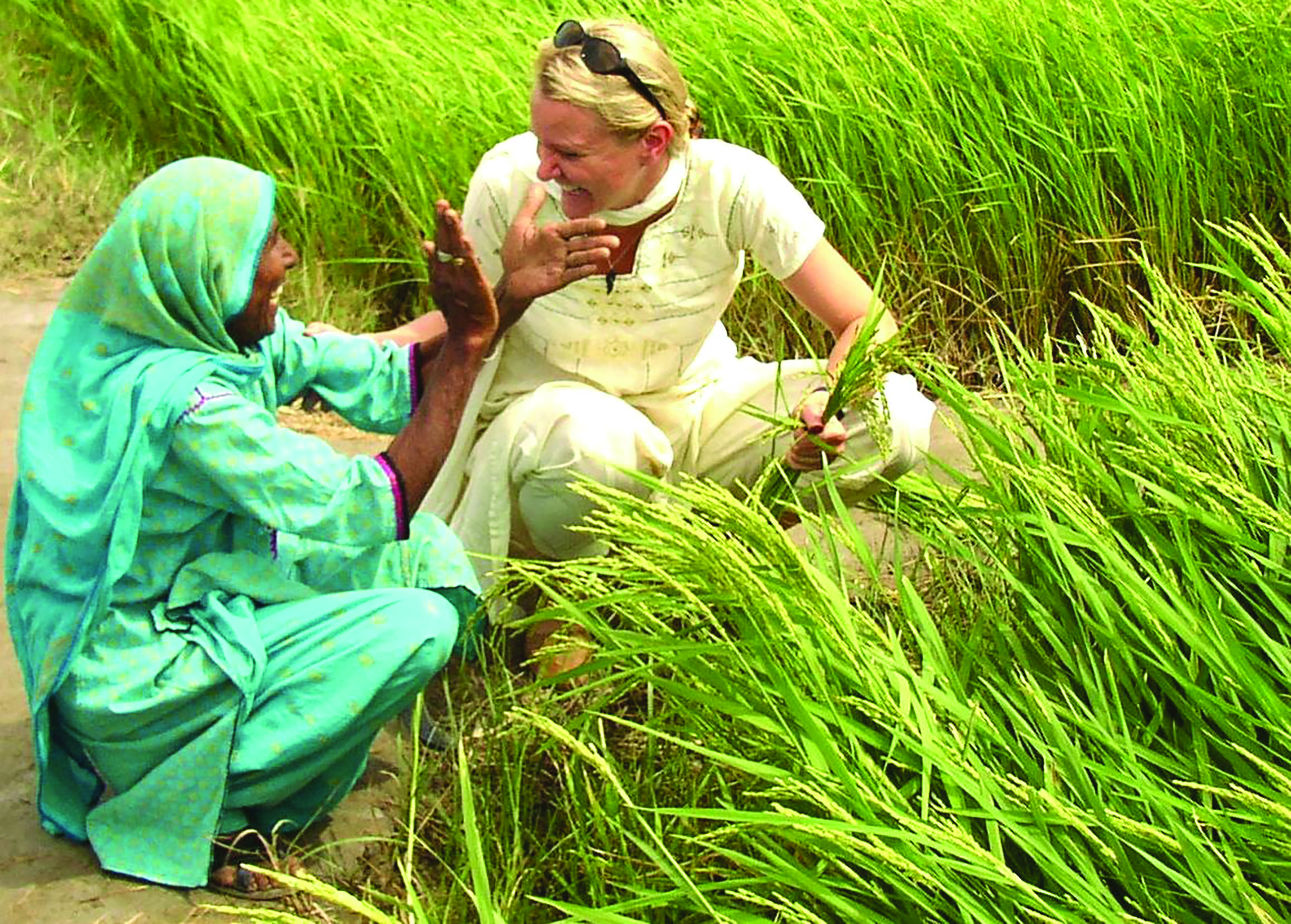 A Labor of Love and Literacy
An alumna sees dignity and divinity in people everywhere.
By Avery J. Dustin (BS '22)
Yellow wallpaper. That was the topic for Tiffany Ivins Spence's (BA '99, PhD '11) 25-page paper in an English class after her mission. "Surely this can't be it," Spence thought to herself as she apathetically researched the topic and drafted the paper. "I began to feel really selfish because I had left a lot of friends in my mission to the Philippines who were very smart and capable. They'd gone back to poverty and were writing me asking me if I could help contribute to a loan to buy pigs for their piggery business," recalls Spence. "I had a front-row seat to their post-mission life juxtaposed against my post-mission life. That led to my commitment from then on to use my education to be involved in things that were beyond the 'yellow-wallpaper' scope."
Spence's commitment led her on to three separate trips to Africa with BYU's Kennedy Center doing work related to adult literacy and an internship with ProLiteracy International that sent her to Thailand, Nepal, Zimbabwe, and South Africa. She eventually formed her own NGO called the Community Development Network while in graduate school at Oxford University.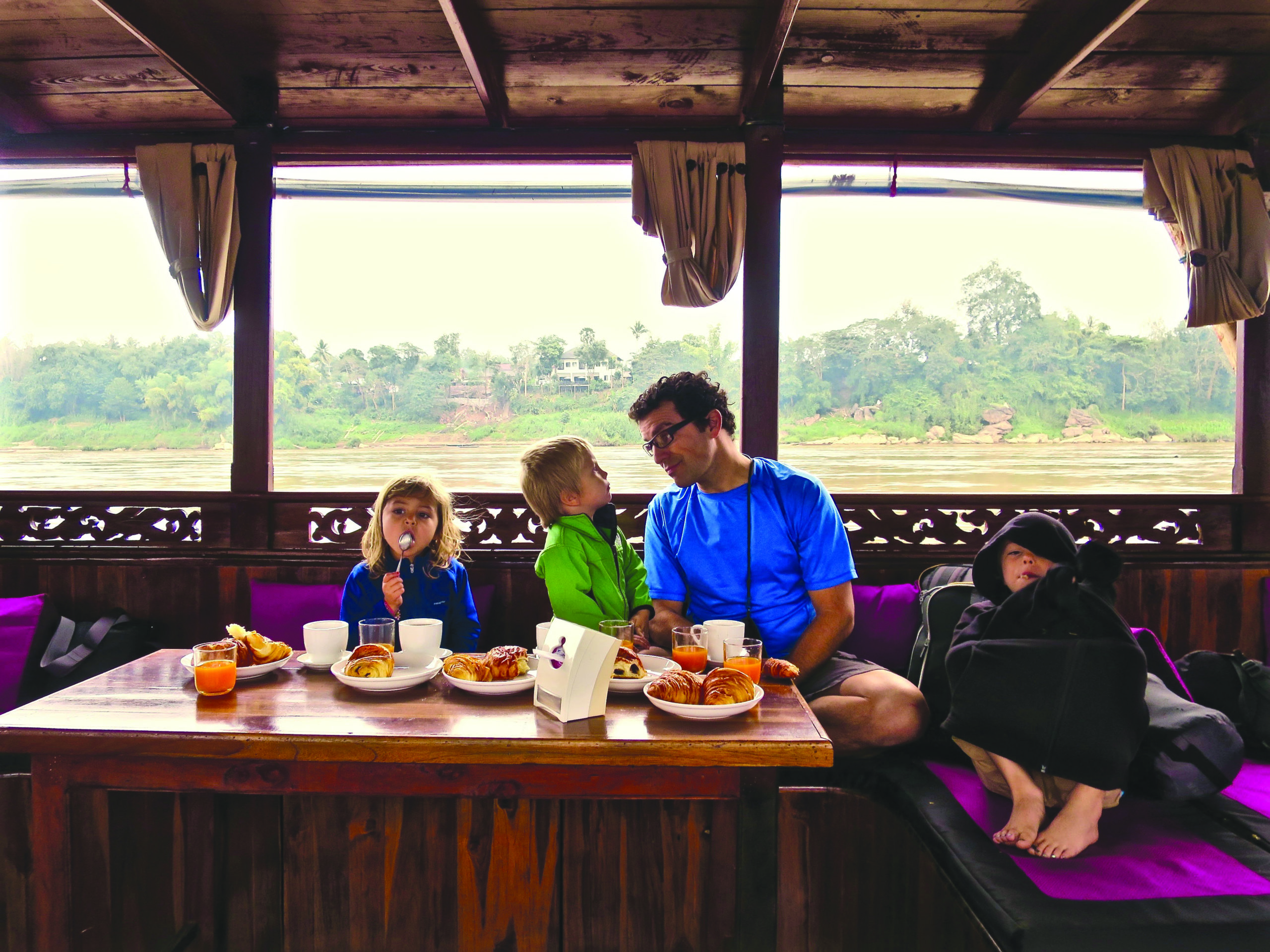 Her goal for every place she visits? To deliver resources to locals in a way that allows community members to establish priorities based on their unique culture. "There is no steamrolling or pushing of any agenda," Spence explains. "Our goal is to figure out how to empower and mobilize locals to take literacy and education in their own hands and run with it."
Though Spence has seen countless locals embrace the resources she brings, one individual stands out in her mind. "A life-changing opportunity for me was meeting a 16-year-old Pakistani girl named Tanzeela, who was the only girl in her family that was allowed to go to school, despite strong government opposition to educating women and girls," relates Spence. "One day Tanzeela led me toward her nearby home. Her father and mother met me at the door, and they were just beaming. They were so proud of Tanzeela. She brought me inside and showed me the tiny library she had made with stories she had written about their family."
After an interpreter explained the situation to Spence, she learned that Tanzeela had been trained by Spence's program to use a computer. Her father, because of cultural norms, believed that a man could not learn from a woman, but he allowed Tanzeela to teach the rest of the family. So she taught her mother, her sister, and her little brother how to read and write by using the computer to craft a workbook for each family member. Spence relates, "One night [Tanzeela's father] leaned over to his wife, who was practicing her reading by candlelight, and said, 'Will you also teach me how to read?'"
"I learned that youth can be powerful mobilizers, that technology can instantly make so many resources accessible, and that personalized curriculum is key," says Spence. These are ideas she refers to every day as she volunteers for the Literacy Working Group of The Church of Jesus Christ of Latter-day Saints in its pilot phase. The group hopes to improve access to education, especially in developing countries, for Church members and communities worldwide. In their research, the group has found that roughly 50 percent of Church membership has less than a fifth-grade reading level, whereas most content published by the Church is at a 12th- to 14th-grade reading level.
While the group is still just beginning, Spence believes deeply in the work being done. She says a quote by BYU emeritus law professor W. Cole Durham Jr. sums it up for her: "True reverence is openness. And that openness is being willing to see the dignity and divinity in each person. It is honoring our Creator by respecting the Creator's creations."
Making a Space for Music
A grad has been filling Utah stages for 15 years.
By Avery J. Dustin (BS '22)
"We started out on the streets of Paris, and we ended up on a concert tour of Switzerland," says Jeff K. Whiteley (BA '77, MA '94). When he and a brother arrived in Europe in 1980, they had a place to stay but no money. So they took their guitars and began playing in the streets. "In France, people stop for the quality of the performance, even in a metro tunnel."
Whiteley has repeated his European musical adventure four times—each time making his way from the streets to high-end restaurants, concert halls, and music festivals. He says that's hard to replicate in the United States, where locals don't readily recognize and appreciate musical talent. "In France we got pretty far with nothing but audacity, vocals, and an acoustic guitar," he says. "When the same musicians returned to Utah, nothing happened." Whiteley—who now performs with his wife, Lori Decker, and others in the acoustic band Lark & Spur—set out to give local musicians more opportunities, founding the nonprofit Excellence in the Community in 2005.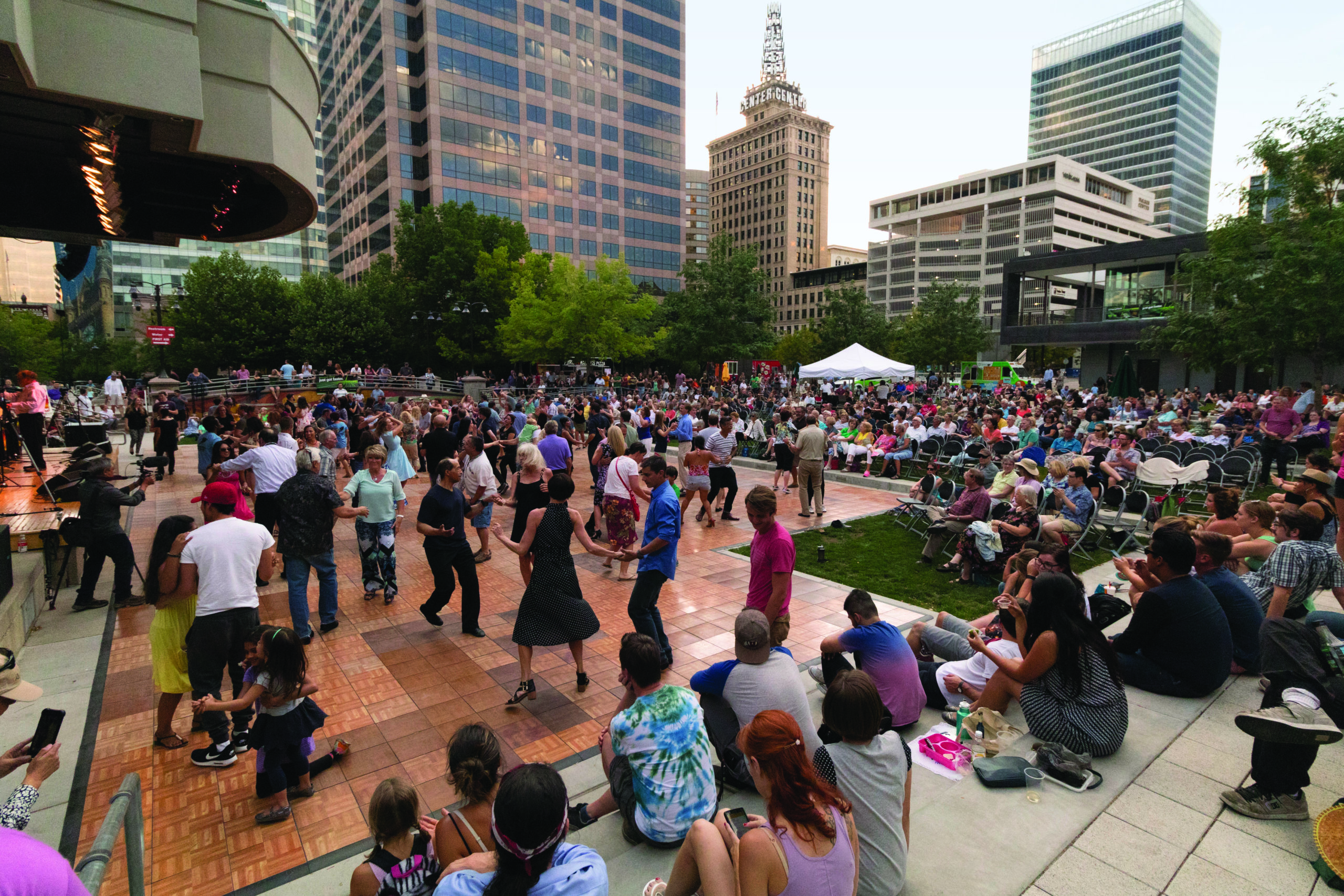 "How do we get Utah's best musicians out of the background-music business and onto concert stages?"Whiteley asked. In the early years, Excellence in the Community struggled to put on a concert a month, bouncing from venue to venue. That changed when Salt Lake City mayor Ralph Becker invited Whiteley to be part of the city's Culture Core Initiative. Whiteley's idea to "just put Utah musicians in cool venues downtown, where people can find them," resonated with Talitha Day of the Gallivan Center, who teamed up with Whiteley and began putting on free concerts, including big-band swing dances in the summer months. Since then, Excellence in the Community has put on 900 free concerts. During the COVID-19 pandemic, concerts have been streamed live from
Excellence in the Community is accomplishing its goal. "The achievement of Utah musicians is good for economic development, good for tourism, good for children," says Whiteley. "Quality music enriches the soul."
Before COVID-19, Excellence in the Community put on nearly 20 big-band dances each summer at Salt Lake City's Gallivan Center.
Window of Light
With an expanded view of the world, a family looks outward.
By Kayla M. Spencer (BA '21)
Don and Carole Walter Jones (BA '96) knew their 13-year-old son, Jonathan, was severely colorblind, but they had no idea just how much he was missing. But when Jonathan's principal at his Minnesota school let him try out a pair of spectrum-shifting EnChroma glasses, Jonathan saw vivid color for the first time and was overcome with tears.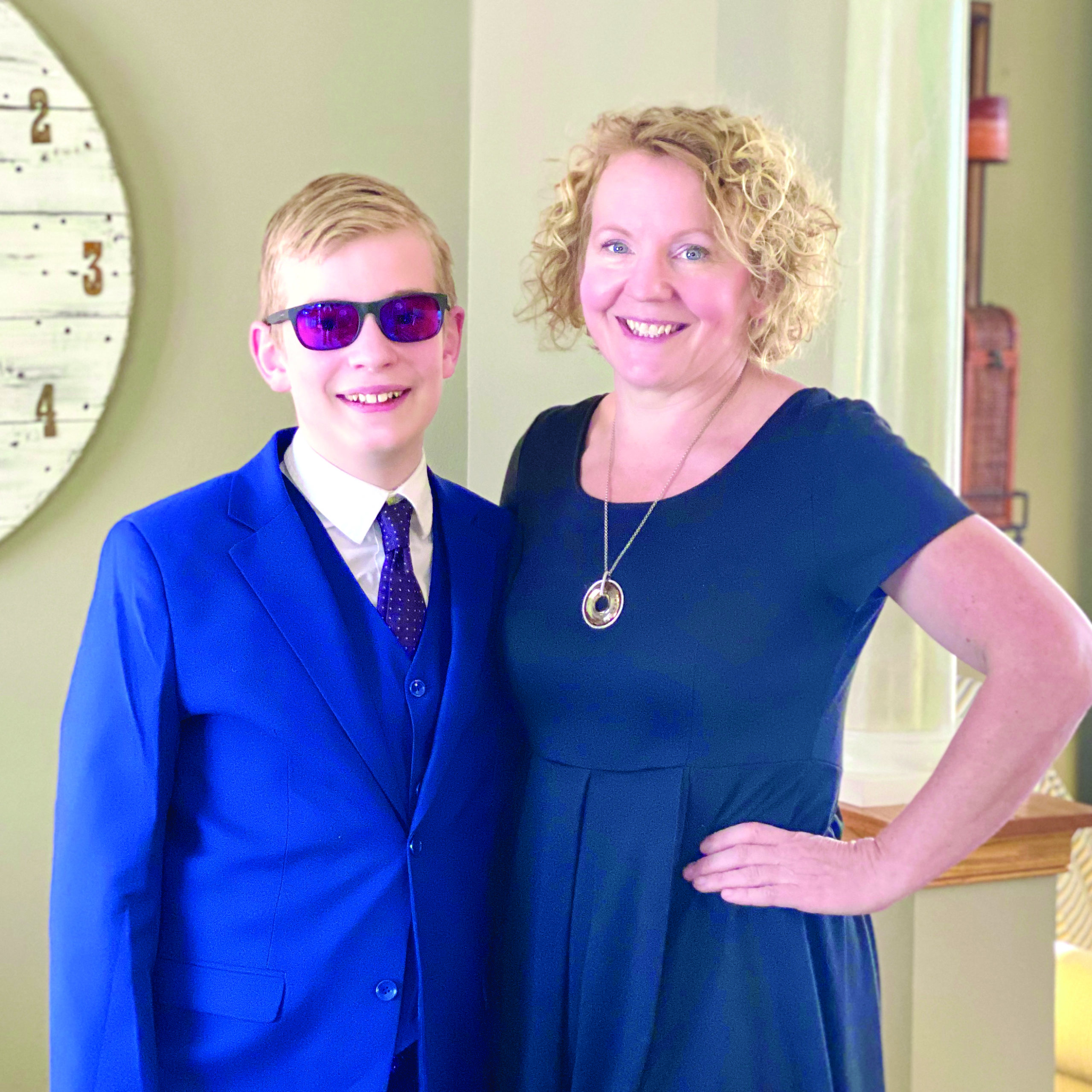 Captured on video, Jonathan's emotional reaction went viral, and soon family, friends, and strangers were offering to help him get his own pair of the glasses. Jonathan's family was able to come up with the money themselves, so instead, they created a GoFundMe account to raise $350 to buy glasses for Jonathan's colorblind classmate. But over the course of only a few months, the account raised more than $38,000, allowing the Joneses to bless many more colorblind K–12 students who couldn't afford the glasses. And EnChroma agreed to match every pair of glasses the Joneses purchased.
Countless invites from the media and requests for glasses kept the Jones family busy, so the motto "It isn't about us" became their war cry. "God gave us this small window of light and attention," Carole says, "and we could've just sat back and reveled in it, but He showed us a way to turn that light toward others."