Meet alumni enriching their communities through service.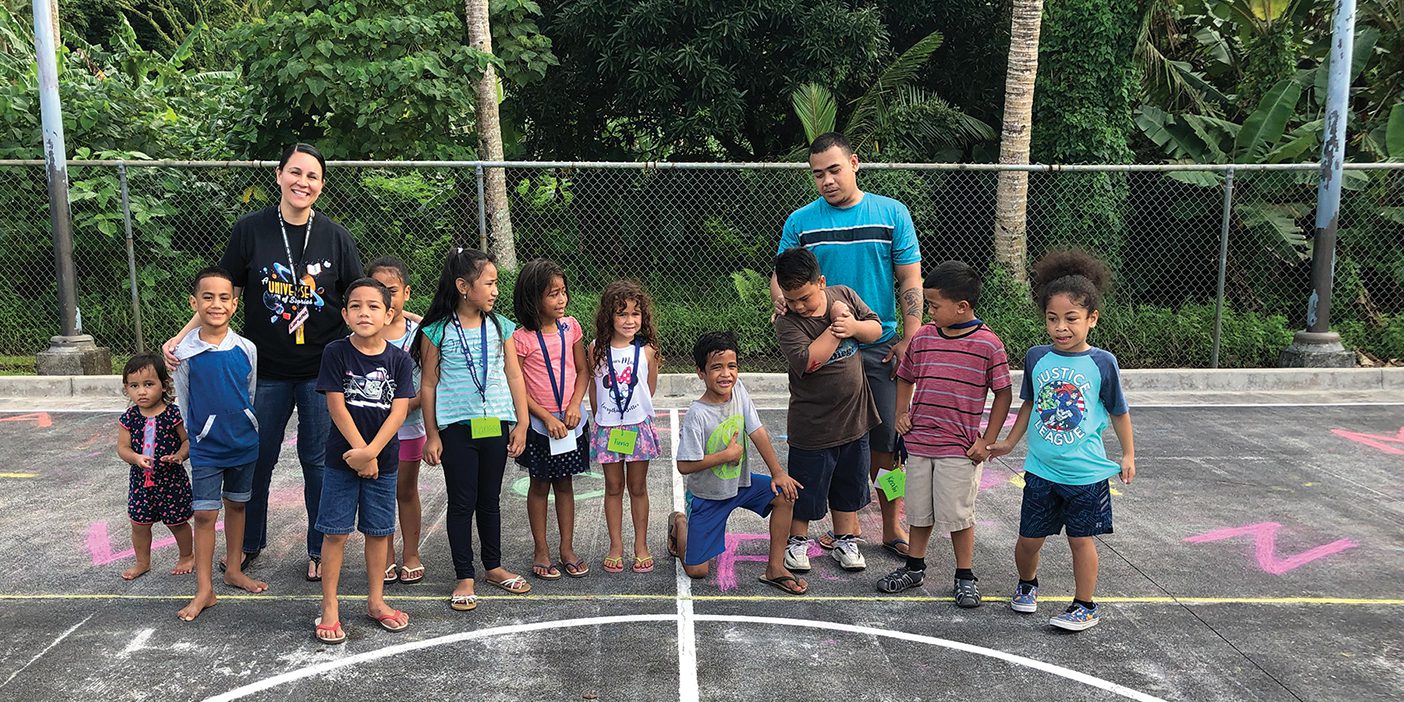 Reading Time with Miss Luisa
There's a knock at the door of Louise "Luisa" Su'esu'e Kuaea's (BS '13, MBA '15) home in Pago Pago, American Samoa. It's a handful of village kids, school notebooks and pencils in hand, hopeful looks on their faces. They need help with their homework, and they know Miss Luisa is willing.
It's a well-earned reputation. Realizing that many of the schoolchildren in American Samoa struggled with reading, Kuaea reached out to the Feleti Barstow Public Library in Utulei to see what she could do. With no library on the west side of American Samoa, Kuaea had the idea to bring the books to children there through a summer literacy program.
Partnering with the library and American Samoa Community College (ASCC), in 2017 Kuaea set up the first five-week program, held in the Malaeimi Stake Center and staffed by BYU alumni, missionaries, other members of the Church of Jesus Christ, and ASCC volunteers. "We started planning approximately three weeks before the launch date and had no idea how it would be received," Kuaea later shared with the Church's newsroom site. "We had no budget and very minimal resources. All we really had was a whole lot of faith and love for the children of our island."
The response was overwhelming, as more than 200 children ages 5 to 12 converged on the meetinghouse that first summer. And Kuaea says the program has grown with each succeeding year, books and volunteers pouring in. She says what touches her most is the children's excitement to share all the new words they've learned with "Miss Luisa."
She's gratified her team can make a difference: "All it took to make a change was just having that desire and then asking how we could help."
If You Can't Speak, Sing
Lean on me, when you're not strong, and I'll be your friend. I'll help you carry on." Choir members sway, clap, and joyfully belt out the lyrics. Sung by a choir of stroke survivors to a room full of hospital faculty in Provo, Utah, some who personally cared for the choir members themselves, the words carry new meaning. More than half the members of the choir suffer from aphasia, an impaired ability to understand or produce speech and language.
When asked if he was nervous to perform, BYU grad, stroke survivor, and choir founder Michael D. Ray (BS '91, JD '96) says brightly, "There's not much that makes me nervous anymore."
Six years ago Ray suffered a severe stroke while traveling in England. He was hospitalized for nearly two months as doctors determined the extent of the injury and the road to recovery. The stroke had affected nearly 25 percent of his brain, and Ray could no longer move his right side, walk, or speak. But one of the things his wife, Lynette Patterson Ray (BS '94), missed most was hearing Mike sing.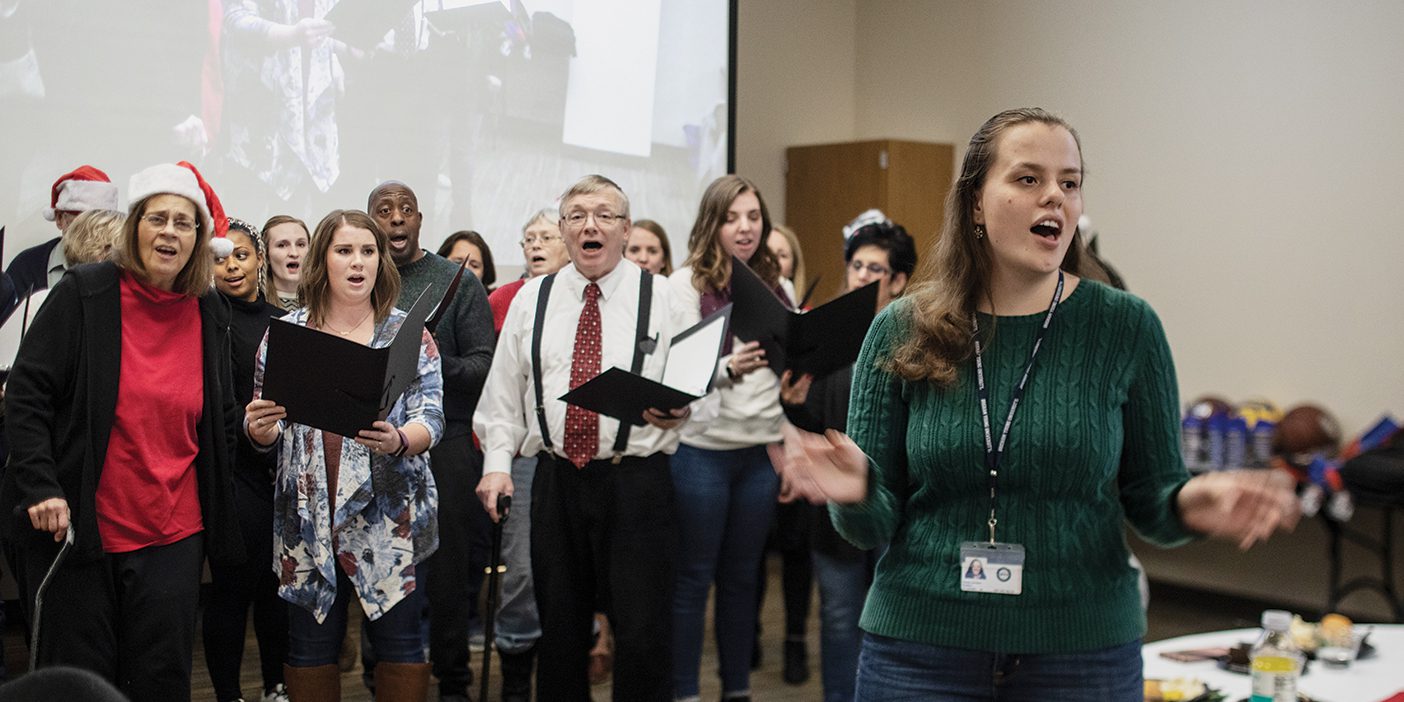 During Mike's various efforts to regain functions, the couple discovered music therapy. They learned that singing, which involves patterns, rhythms, and repetition, can bypass damaged neurons and open the doors to speech for many who suffer from aphasia. Mike began attending ward choir, but eventually he and Lynette determined to do more—for himself and for others like him. In 2018 the couple turned to BYU clinical educator Tracy Wilson Liu (BS '90, MS '94) and other faculty at the BYU Speech and Language Clinic for help to organize the Utah Valley Aphasia Choir.
Open to singers of all musical abilities, the choir is a place for support and healing. "Every choir member has an incredible story that strengthens me," says Liu. "I come away feeling blessed." Having worked for years as a speech therapist, Liu feels joy whenever she hears the group of resilient singers fill the room with song. "Each performance," she says, "is such a rewarding experience that will never stop being special to me."
Special Delivery
Four low-riding, weighed-down minivans pull up, and, to the excitement of the residents of Oakridge Neighborhood in Des Moines, Iowa, the vans open to reveal stacks of boxes loaded with children's books. Children, mainly refugees and other immigrants, emerge from the community's central building and join local kids to carry boxes and push carts up the ramp and inside.
J. Gregory Welch (BA '02) first heard about Oakridge Neighborhood, a nonprofit organization that provides housing, education, and training for the immigrant community, when the ad agency he works for agreed to do pro-bono work for the charity earlier in the year. Later, as he brainstormed service opportunities with board members of the BYU Alumni chapter in Des Moines, Oakridge Neighborhood came to mind.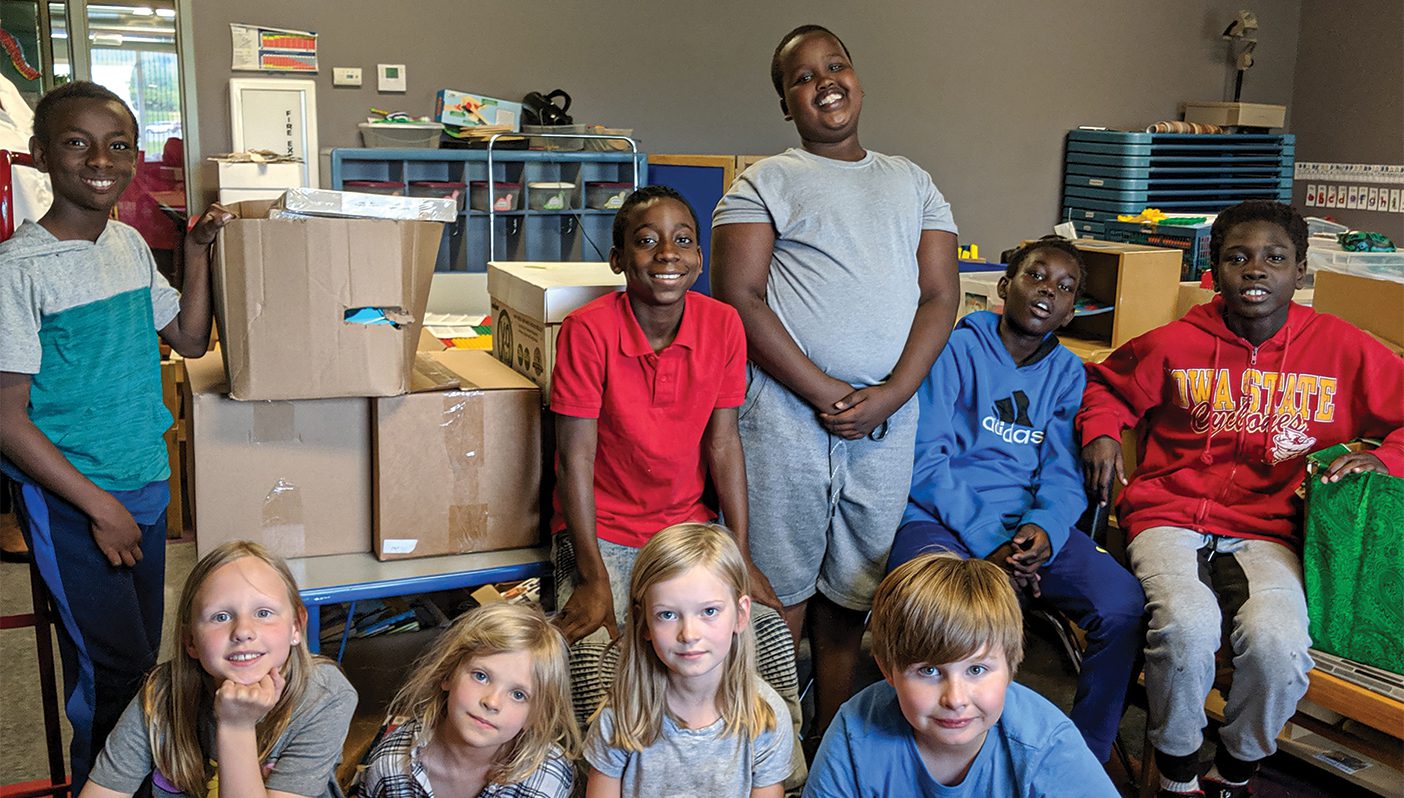 Organizing a book drive, the chapter sought ways to involve the larger community. As alumni reached out to their networks, they were able to place donation boxes throughout Des Moines, including at an eye clinic, the YMCA, local schools, and the city library.
For chapter chair Gregory C. Finch (BS '98), what stood out the most was learning about the heritage of the refugees and immigrants living in Oakridge Neighborhood, as displayed on a world map in a hallway. It featured cutout pictures of scores of the neighborhood's children, with strings linking them to the countries they'd come from, in Central and West Africa, Europe, Asia, and Latin America. "It really made us stop and realize what we were doing," he says, "bringing books to the children of the world."