---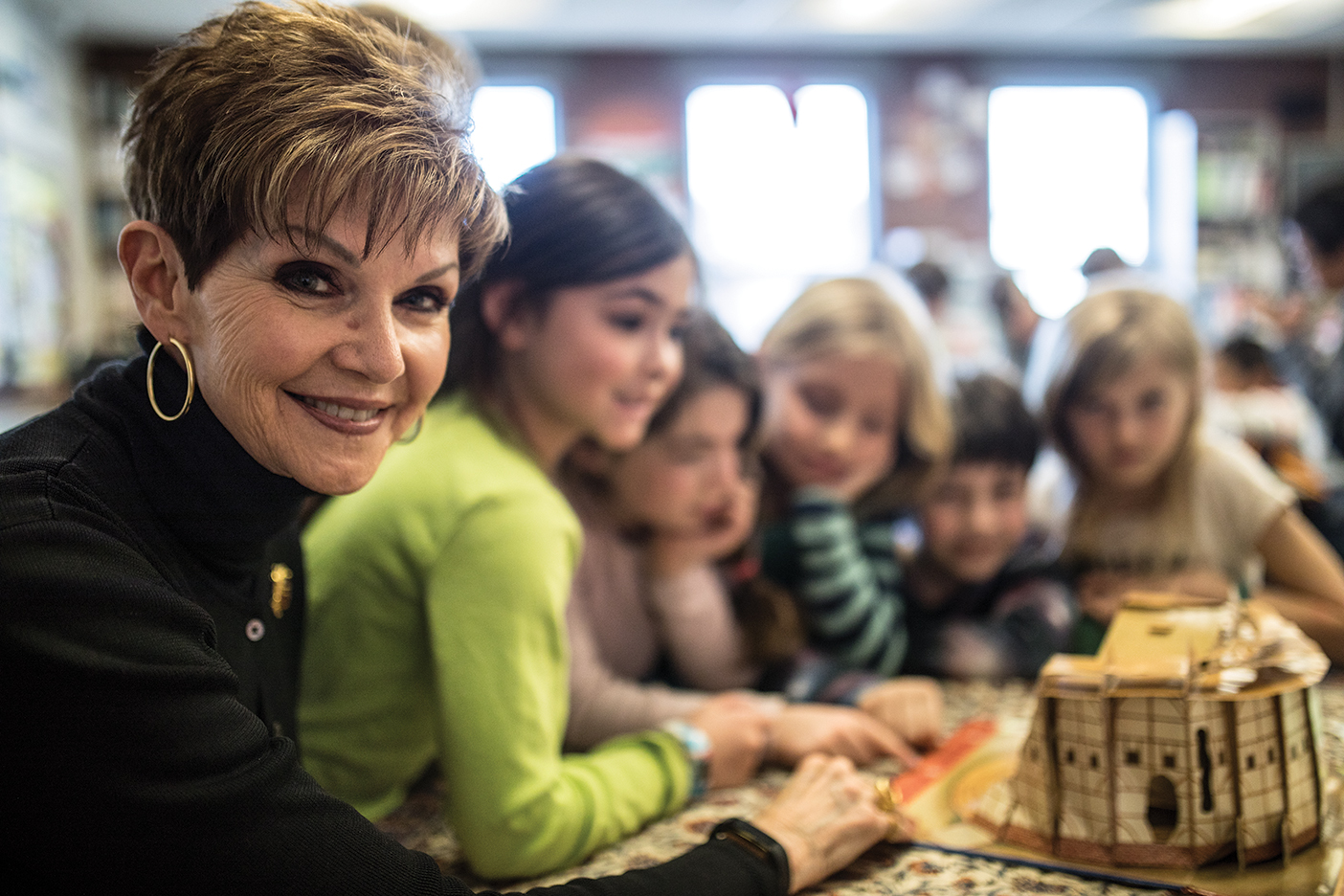 When you're in a war zone, your faith increases exponentially," says Leslie Hinchcliff Edwards (BS '71), a sociology and history grad who lived with her family in Saudi Arabia for 22 years and witnessed the First Gulf War up close. Working for Saudi TV and radio and as an on-site coordinator of NBC's war desk during that conflict, she kept track of journalists and of U.S. troop movements. Edwards returned to the States in 1999, and, after another high-octane role setting up NBC's news bureaus for the 2002 Olympics, her professional life took a turn that surprised her just as much as it did others: she became a third-grade teacher—and an award-winning one at that. It was a decision shaped by her faith as well as her willingness to make unconventional choices.
Prior to the war, Edwards, her three children, and her husband, Jack, an engineer for Saudi oil company Aramco, lived peacefully in Saudi Arabia for several years. Then, while the family vacationed in the United States, war loomed, and they had to reevaluate their situation. "We prayed and we fasted as a family, and the answer was given to all of us that we should return to [Saudi Arabia] to serve. So we all went back. . . . I had some second thoughts, but I always had the immediate thought that you can't second-guess the Lord: 'You prayed for an answer. You got an answer. What more do you want?'"
When the Gulf War erupted in 1990, Edwards recalls, "we lived right next to the airbase. . . . We had Saddam Hussein launching his Scud [missiles], and the Patriot [missiles] would be shot by American troops to intercept the Scuds. The ground would shake and there would be this huge 'ka-boom, boom, boom!' It was earthshaking and so loud." She remembers the sky "filled with flaming debris."
Edwards's family channeled their anxiety into service to U.S. soldiers. "Those men and women would come into our home and, for the first time, they could launder their clothes. They could take a shower. We fed them. They were craving reading material; we didn't have a single Church book or a magazine left," says Edwards. "It was such an honor to have them in our home, let them call home on our phone, serve them food and bake cookies for them, and share the gospel with them in some small way."
Later, after the family moved to Utah and Edwards began working with NBC to prepare for the Olympics, Edwards agreed to visit a friend's junior high class to talk about her experiences in the Middle East. The inquisitive students captured Edwards's attention. She soon extended her speaking to elementary schools. On one such visit, a teacher of a second-grade class took ill and had to go the hospital. The principal asked Edwards to cover for the teacher. To Edwards's surprise, the principal invited her to return the next day. As the principal completed her paperwork as a substitute teacher, Edwards had a realization: "It was like an epiphany that that's where I should be. . . . I finished the year with those second graders . . . and decided that I was going to start taking classes so I could be a teacher."
In 2013 Edwards won Utah's prestigious Golden Apple Award. Today she teaches for a third-grade Gifted and Talented program in Salt Lake City. From arranging visits with astronauts to writing grants for her school to improve geographical and international learning, Edwards has lifted her students with her energy and experience. Like her decision to return to the site of an impending war, Edwards stands by her unconventional career change, which, like her other endeavors, has been an unconventional success.