---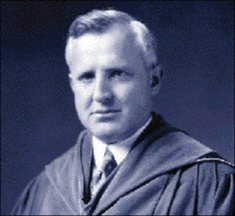 By Charlene Winters

When Franklin Stewart Harris became president of BYU in 1921, LDS President Heber J. Grant voiced his approval by saying, "We feel we have the right man in the right place." Over time Harris became known as "Mr. BYU" and remained the university's president for 24 years, the longest tenure of any BYU president.
The former university leader is also the "right man" for Homecoming 1998. His legacy will be honored during Founders Day on Oct. 6, the opening Homecoming event in a week of activities tied to the theme "On the Wheels of a Dream."
Harris arrived on campus as president at age 36, armed with a doctorate from Cornell University, a national reputation in agronomy, a love for the arts, and a vision of crafting a great university. In his inaugural address, President Harris outlined an ambitious plan to lead BYU to considerably higher academic levels. Although Brigham Young Academy had granted degrees as early as 1897, had begun awarding four-year degrees in 1900, and had changed its name to reflect university status in 1903, the unaccredited school was still essentially an intermountain denominational college when Harris assumed the presidential helm. In fact, the university had more high school students than college students. Harris was determined to raise the standards of the 46-year-old school, an ambition that remained constant throughout his presidency.
In his new position, however, he also encountered a faculty with some misgivings about the future of BYU. According to his granddaughter Janet Jenson, who was on the BYU library faculty for 20 years and who recently completed a biography on Harris, financial challenges were a continual concern but did not deter his dream of making BYU a superb center for learning that compared well with other universities. His secretary, Kiefer Sauls, articulated Harris' vision and educational philosophy: "He immediately charted an ambitious course for the destiny of BYU as he envisioned it and set sail. I once heard a faculty member philosophize about a young man with grandiose plans; it was thought the young man's sail was too big for his rudder. President Harris's sail was big, but the rudder proved adequate. . . . Dr. Harris believed in a well-rounded education. He had one. He had a better working knowledge in more fields of learning than any person of my acquaintance. Though his major field was science, he loved the classics in literature, art, and music and knew of the accomplishments through the centuries of the great artists in these areas."
According to Ernest L. Wilkinson, BYU president from 1951 to 1971, Harris "energetically worked to make Brigham Young University the great university he envisioned in his inaugural address." This he did in spite of national economic difficulties following World War I, during an uncertain period when financial considerations forced LDS Church President Heber J. Grant to reassess the entire educational program of the Church, and, later, amid the greatest depression in modern history.
Within five years of being president, Harris organized five new colleges–education, arts and sciences, commerce and business, applied science, and fine arts. He also added graduate and research divisions as part of his goal to upgrade the scholarship and academic standing of the university.
Wilkinson said Harris' objective was to introduce BYU students, faculty, and trustees to the world of a modern, well-organized university. As a lover of the arts, he encouraged the first college of fine arts in the West, which was established at BYU. In handwritten notes in the B. F. Larsen papers in BYU's Lee Library, Harris is attributed as saying, "I use my knowledge of science to make a living. But through my interest in art I live." The legacy of that love is reflected in the Franklin S. Harris Fine Arts Center that today houses the School of Music and the departments of Visual Arts, Communications, and Theatre and Media Arts.
With faculty salaries consistently inadequate and facing the increasing need to construct facilities and build up the academic base of the university, Harris could have characterized many of his years at BYU as lean years, but still the campus grew. During his tenure, the student body expanded from 450 to about 3,000 students. The library grew tremendously, from 19,000 to 120,000 volumes. Despite an extremely small budget, he spared every possible cent to purchase land surrounding "Temple Hill," the school's upper campus. And Harris–along with other persons dedicated to the BYU dream–managed to keep the university alive during the Great Depression.
"He had a wonderful gift," wrote the late Gerrit de Jong, Jr., a former dean of the College of Fine Arts. "He could make every faculty member feel that the university was a school of destiny, that great things were bound to happen, and that it would be a distinct pleasure to have a hand in all the growth and development that was to be."
"Harris' rapport with the faculty was one of the hallmarks of his administration," Jenson said. "Many faculty members who could have gone elsewhere stayed with BYU because they trusted President Harris and knew he believed in them. He traveled the state extensively and became so well-known he was often referred to as Mr. BYU."
He also traveled the world–for his profession, his university, and his church–and according to Jenson, he always made it a point to stop and visit the libraries and universities wherever he went. "Everything he did is traceable to making BYU as excellent academically as other, longer-established universities."
Oxford University scholar Karl Young summarized Harris' achievements by writing, "A life could be written of F. S. Harris the Humanist, or of Harris the World Citizen, or of Harris the Educator, or of Harris the Man of Religion, or of Harris as the Big Brother to All His Fellows. But Franklin Harris' greatest work in life was in education."