---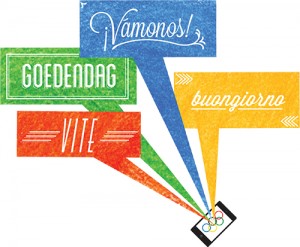 When London welcomes the world for the 2012 Summer Olympic Games, visitors and volunteers will face a linguistic challenge. Never fear, says BYU Creative Works director Giovanni Tata (BS '77, MA '80)—there's an app for that. Tata and BYU student programmers created BYU Translator, a smartphone app that keeps Olympics-goers from getting lost in translation.
It sounds like technology from the future: volunteers type or speak into their phones, and a written translation appears in one of up to 60 languages, from Arabic to Indonesian to Turkish. The recipient responds in his or her own language, and the app translates that response back into the volunteers' tongue. Voilà, instant cross-language communication.
Tata was invited to develop the app by volunteers for the London Olympics, who noted his work in language training during the 2002 Games in Salt Lake City. He consulted with London security and emergency personnel to design the app especially for Olympic volunteers.
"We didn't want to duplicate the efforts of programs that were already out there, like Google Translate," explains Tata. His app builds off of—and improves upon—Google Translate, which uses machine translations that are often inaccurate. Instead of relying on machine translations, Tata's app taps the BYU community.
He and his team developed a database of 6,500 phrases, then native speakers of dozens of languages—primarily BYU students—translated the phrases. "We have a large population of native foreign-language speakers," explains Tata. "That is why this tool is something we could create here at BYU."
If there is no approved translation for a phrase in the app's database, it returns Google Translate's recommendation, which users can edit, rate, and send back to the BYU Translator's database. "If enough people say it is a good translation, it will get our approval," explains Ryan F. Lee ('13), a student programmer on the project.
The BYU Translator is available for free until the Games are over. After the Olympics, Tata hopes to adapt the technology to help senior missionaries learn and use foreign languages.