Alumni revive memories of campus places that are no more.
The Center of Campus
By Doris Skyles Moir (BS '55), Salt Lake City
Fall quarter of 1951 I entered Brigham Young University. The Eyring Science Center was one year old and the Smith Fieldhouse was brand new. But the center of the campus—and the location of many significant memories for me—was the Joseph Smith Building.
Here all Church members at BYU met for meetings in the Campus Branch. On fast Sunday numbered cards had to be handed out to a lucky few to facilitate testimony bearing. I remember giving the "sacrament gem" with Elder Ezra Taft Benson (BS '27) sitting behind me on the stand. It was there that I became the second BYU student to become a member of the Relief Society when that organization was established on campus; I raced to the front of the chapel to pay my 50-cent dues.
In this building I learned the Book of Mormon under the tutelage of Reid E. Bankhead (MT '49), counseled with Hugh Nibley in his amazingly messy office, and experienced Church history with Ivan J. Barrett (MS '47).
It was while standing at the ticket booth in the Joseph Smith Building foyer that I met the man I would later marry. We had our first date dancing in the ballroom there. It was while I was giving the closing prayer in a sacrament meeting in the auditorium that my husband knew he wanted to marry me. It was in that same auditorium that he blessed our first baby.
One spring evening my freshman year, I went up on campus for some reason. The night was pitch black—no moon, not a star showing, absolutely silent. The campus seemed to be entirely deserted except for me. As I approached the Joseph Smith Building, suddenly the high, pure strains of "He, Watching Over Israel" came floating from that building. I stood transfixed. The stunning moment seemed made just for me and was imprinted on my heart and memory forever. My heart filled to bursting and tears streamed down my face as I realized how powerfully in love I was with BYU. I still am.
PDA Police
By William L. Farra (BA '75), Salt Lake City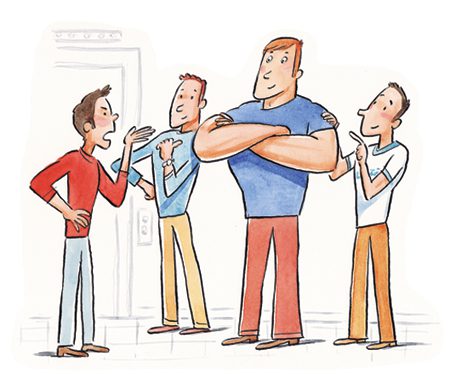 In 1975 I lived in Deseret Towers for the spring and summer sessions. One evening my roommate and I looked down from our sixth-floor room and saw a young man and lady engaged in public displays of affection below on the lawn. We started whistling and hooting to get their attention. Agitated, the young man looked up, arose, and walked toward the building.
A few other residents had seen what had happened, and we all went to stand in front of the elevator, with me right in front. The elevator door opened, and the young man stepped out and asked who was yelling at him. Everyone pointed at me. I guess at 6 feet and 220 pounds I looked a bit bigger than he had expected because he said, "No, it isn't him. Tell me the truth. Who did it?" Everyone pointed at me again, and I just stood there with my arms crossed. The young man then turned, pushed the elevator button, and was quickly gone.
The guys got a good laugh out of it, and I was glad there was no trouble. Safety in numbers, I guess.
Frére Jacques
By James R. Donat (BS '82), Brigham City, Utah
In early 1976 I received a call to serve a mission in France, and my siblings started calling me Frére Jacques (Brother James). In April I reported to the Language Training Mission, which was housed in various buildings around the BYU campus, including the old Knight Mangum Building. Twice a day we went to B-30, a dilapidated old building east of the power plant, to practice French with each other. We were the last group to use the building before they tore it down.
My brother, Terry D. Donat (MM '77), was attending BYU at the time, and even though we weren't supposed to see each other, he found a unique way to say hello. The carillon tower was new then, and he was the first student to serve as an associate carillonneur. To play it, he had to climb a long flight of stairs to the carillon keyboard just below the bells. From his vantage point, he could see most of campus, and he would keep an eye out for any groups of missionaries. If he saw one, he would suddenly break into the song "Frére Jacques" in hopes that I was in the group. I heard Terry's hello several times while I was there, and I'm sure there were many who wondered why on earth that song was played so often!
A Campus Playground
By Owen D. Wright (BS '66), Pleasant Grove, Utah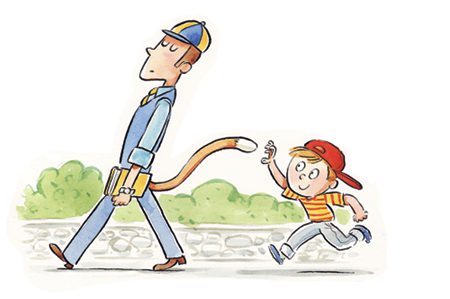 As a boy, from 1947 to 1954, I lived across the street from what is now Brick Oven Pizza (then a grocery store, lunch counter, and watch-repair shop). This corner was on the main line for students passing between classes on the Upper and Lower Campuses. New freshmen were required to wear distinctive beanie hats and cougar tails during the first week, which made them a favorite target for us boys, who would pull their tails.
As buildings sprang up on Upper Campus, the broad expanse of wide, smooth sidewalks made a great place for us to use our steel-wheeled, clamp-on roller skates. Construction sites provided lumber scraps for making stilts, tree houses, and roof timbers for underground huts. Exploring the buildings under construction and the heating and utility tunnels beneath the sidewalks was a never-ending adventure. When the foundations for the Smith Fieldhouse were dug, water pumped from the big hole left a gigantic puddle of the slickest mud where the Tennis Courts Building now stands. We neighborhood boys had a blast slip-sliding in that mud, then running up to the canal to rinse off.
I remember BYU as the playground of my youth.
The Nutcracker Suite
By LaRue Hemsley Weaver (BA '67), Idaho Falls, Idaho
In September 1945 my parents brought a friend and me to BYU. Someone directed us to the Upper Campus Dorm (UCD), where we were going to live. It was a long, cinder-block building with a plain wooden door in the middle on the south side. We tried the door, and it opened into a huge room—half the building, in fact. It boasted about seven widely separated 9-by-12 rugs, each of which contained a couch and a pair of armchairs. We were told it was the reception room.
The house mother took us around the long separating wall into another huge, open room. Distributed about the room were clusters of furniture—each with four bunk beds, a pair of clothes rods, and four chests of drawers. We were informed that the room was divided into 12 sections of eight girls each. There were no walls—no privacy at all.
We were the first girls assigned to section 10. Soon three Ogden girls joined us, and three other girls completed our section. Appalled by the lack of privacy, one roommate suggested that we buy muslin to cover the back of our clothes racks and to create a doorway into our section. Others followed suit, and soon there were 12 "rooms." We called ours the Nutcracker Suite.
The dorm had just one old-fashioned standup black telephone. When it rang, which was often since there were about 100 girls there, the nearest person would answer it and then yell out the name of the person being called. A new industry in Provo had a similar number, so for a time it was common to hear shouts of "Geneva Steel! Geneva Steel!"
The UCD eventually became the lower floor of the Knight Mangum Hall. The eight of us in section 10 became very close friends, and we considered 1945–46 to be one of our best years ever.