---
By Richard H. Cracroft

Insights into Joseph Smith, his "Beloved Emma," and inspiring sermons from Elder Packer and Elder Holland.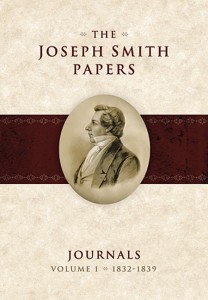 The Joseph Smith Papers, Journals, Volume 1, 1832–1839 (The Church Historian's Press; 504 pp.; $49.95) by general editors Dean C. Jessee (MA '59), Ronald K. Esplin (PhD '77), and Richard L. Bushman, is the first of 30 projected volumes. The Joseph Smith Papers Project is, according to LDS Church Historian Elder Marlin K. Jensen, "the single most significant historical project of our generation" (publication announcement). The Joseph Smith Papers Project will "publish or calendar every extant document written by Smith or by his scribes in his behalf, as well as other records that were created under his direction or that reflect his personal instruction or involvement" from 1828, when the Prophet Joseph Smith began his work on the Book of Mormon, at age 22, to his death in 1844, at age 38 (p. xvi). This monumental collection of 6000 items, gathered from the archives of The Church of Jesus Christ of Latter-day Saints, the Community of Christ, and other repositories, will provide future readers a grand window into Joseph Smith's lifetime of "marvilous experiences" (p. xv). The professional editing and documenting efforts of many scholars engaged in the project have earned the endorsement of the National Historical Publications and Records Commission.
The project will publish six series of papers: the Journals series (10 vols.); the Documents series; the History series; the Legal and Business Records series; the Revelations and Translations series; and the Administrative series. This first volume of the Journals series includes a general introduction to The Joseph Smith Papers; an introduction to the journals; the journals themselves, including entries from Nov. 27, 1832 through Oct. 15, 1839; source and editorial notes (which identify the various scribes); and clarifying footnotes. In addition to a number of location maps and illustrations, this volume appends several useful helps: "Chronology for the Years 1832–1839"; "Geographical Directory"; "Biographical Directory"; "Ecclesiastical Organizational Charts for the Years 1835–1839"; and "Glossary."
Only a tiny proportion of the Prophet's papers were penned by Joseph himself (p. xxxvii). Instead, he dictated the entries (and his revelations) to various scribes. Joseph seemed never to speak from notes or a prepared text, and since it is estimated that only "one-fifth of his sermons were reported in any detail—most from the last years of his life and most in highly abbreviated form by clerks or listeners who took notes," our access to Joseph Smith's mind and speaking style is always one step removed through scribes and through such note-taking clerks as Wilford Woodruff and Eliza R. Snow. If this volume is any indication, it will still be enough for "millions to know 'Brother Joseph' again."
Read more and view sample documents from the series at josephsmithpapers.org.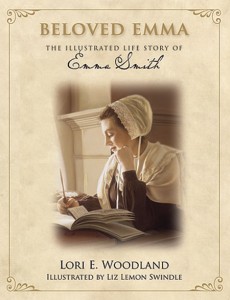 Since Emma Hale Smith's eventful life (1804–79) was hand-in-glove with the remarkable life of her prophet-husband, Joseph Smith, Jr. (1805–44), reading Beloved Emma: The Illustrated Story of Emma Smith (Deseret Book; 194 pp.; $24.95), with illustrations by Liz Lemon Swindle, necessitates a familiar but refreshing journey through the foundational years of the Church. In recounting that journey from Emma's point of view and extending the story through the 35 years she lived after Joseph's death, Lori Echevarria Woodland (MA '80) brings Emma Smith out from her husband's long shadow and adds perspective to a number of issues affecting Emma's image among Church members. Woodland places these matters in context of the life of this remarkable and admirable woman who stood indomitably at the side of her often besieged husband; who put up with ostracism and persecution; bore and reared his children; suffered the loss of six children; endured mob violence, underwent the anguish of a husband in jail, of trekking across Missouri in the midst of winter, of dozens of lawsuits and ignominious attacks in the press, of the trials of plural marriage; and then buried the bodies of her murdered husband and his brother. Then, as a widow, gave birth to her last-born son, David, reared her five remaining children, and cared for her mother-in-law, Lucy Mack Smith, for over a decade. She also took into her charge the rearing of the out-of-wedlock child of her second husband, Louis H. Bidamon, and eventually housed that child's mother as well. Emma Smith endured it all in faith, goodness, and dignity, and continued to bear fervent testimony of the Restoration of the Gospel, the truth of the Book of Mormon, and of the prophetic calling of her late husband, Joseph Smith. Even Bidamon, whom she married two-and-a-half years after Joseph's death, said that he believed that Emma's "former husband was a prophet of God. And I believe she is honest in her convictions. She tells so many things that took place in connection with the writing of the Book of Mormon, that I can't help but believe there is something in it. . . . I believe Joseph Smith was an honest man . . . [and that] my wife wrote a part of the Book of Mormon as Smith translated it from the plates he had found" (p. 163). Shortly before her death, "Beloved Emma," was blessed with a reassuring vision in which she conversed with Joseph about their future as he stood beside "a personage of light, even the Lord Jesus Christ"(p. 173). Her dying words were, "Joseph, Joseph!"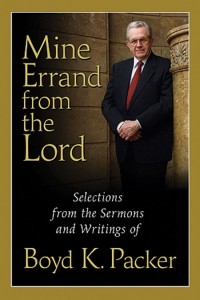 Mine Errand from the Lord: Selections from the Sermons and Writings of Boyd K. Packer (Deseret Book; 632 pp.; $34.95), by President Boyd K. Packer (EdD '62; Honorary PhD '85) and compiled by Clyde J. Williams (BS '74), is a welcome addition to the short list of titles that should be on every Latter-day Saint's bookshelf. This compendium contains a spiritual feast of 28 chapters of topically arranged excerpts drawn from more than 400 of President Packer's sermons and three of his books. His opening chapter, "The Great Plan of Happiness," is one of the most powerful presentations of the plan of salvation that I have ever seen—it is the gospel in a nutshell. His chapter, "Revelation and Spiritual Experiences," is the best instruction on recognizing the voice of the Spirit that I know of. This book is laden with profound insights that stick to the soul, taught by a master teacher who conveys gospel insight and wisdom directly and by use of parable and imagery (think of "The Parable of the Mediator," or "spiritual crocodiles," "the mind is like a stage," or "the gospel plan is like a three-act play"). Typical of his teachings is his advice to grandparents: "Keep the fire of your testimony of the restored gospel and your witness of our Redeemer burning so brightly that your children can warm their hands by the fire of your faith. That is what grandfathers and grandmothers are to do!" Elder Packer's "careful, thoughtful, and spiritual preparation," writes compiler Clyde J. Williams, "make [his teachings] of inestimable worth"(p xxi) to all of us.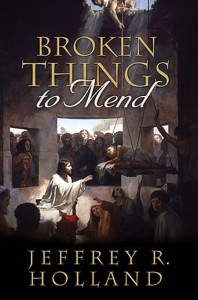 In Broken Things to Mend (Deseret Book; 230 pp.; $24.95), Elder Jeffrey R. Holland, of the Quorum of the Twelve, has adapted and organized 24 of his general conference and other addresses into a wonderfully readable collection which moves, inspires, and edifies in Elder Holland's inimitable way. Grouping the sermons into six sections centered on the theme, "Broken Things to Mend," he demonstrates, in powerful illustration and enriching and fresh application of scripture, the healing power of the life, gospel, and atoning sacrifice of Jesus Christ and the restoration of that message and authority. Here is a book which will minister to the spiritual needs and strengthen the faith and resolve of every sort of Latter-day Saint. You won't be the same after Elder Holland teaches you, for instance, about faith and works and Stanford and Belle Smith muscling their wagon down the cliffs at "Hole in the Rock" or about Samuel Claridge and his daughter Elizabeth answering the call to serve in the desolate "Muddy Mission."
---
Richard H. Cracroft is the Nan Osmond Grass Professor in English, emeritus, Brigham Young University.
---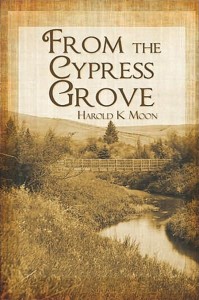 Cracroft's Picks: Three to Read
In From the Cypress Grove (Publish America; 213 pp.; $19.95), Harold K. Moon (BA '57) concludes his Mormon historical novel trilogy (Horse Stone House, The Leah Shadow), following the lives and times of the Glendrakes and other LDS colonists in Chihuahua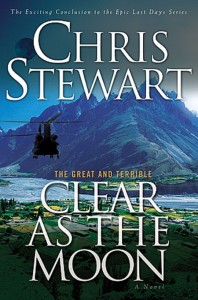 , Mexico, during the Mexican Revolution.
Clear as the Moon (Deseret Book; 332 pp; $22.95): Volume 6 of The Great and Terrible series, by Chris Stewart, concludes the cliff-hanging adventures of Sara Brighton, her sons, and others amidst the chaos of nuclear devastation and the electromagnetic pulse which has shut down America.
Set in an 1840s English village, the Jane Austen look-alike romance Throstleford (Deseret Book; 377 pp.; $19.95), by Susan Evans McClo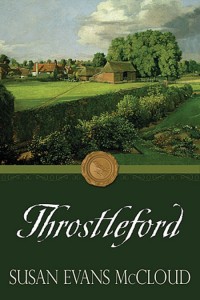 ud, explores the consequences to Esther, lovely daughter of a Church of England vicar, as she, her father, and the entire village are introduced to the Book of Mormon and are confronted by the difficult and life-changing choices which everyone, rich or poor, great or humble, must make in accepting the gospel.