---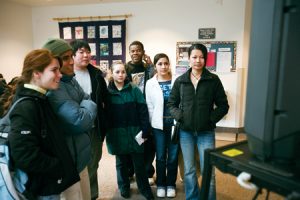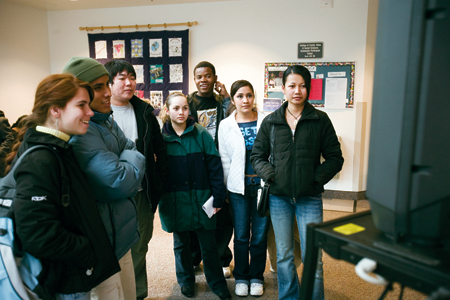 BYU is renowned for its foreign language programs, but the tables are turned at the English Language Center. Though the center is populated with students from Armenia, Korea, Mexico, Russia, and more than 30 other countries, students are asked to speak nothing but English.

The English Language Center (ELC) is an intensive English program under the joint direction of the Department of Linguistics and English Language and the Division of Continuing Education. It was established in 1980, and its purpose has always been to teach students English, to produce cutting-edge research, and to provide teaching opportunities for master's students and recent graduates of the Teaching English to Speakers of Other Languages program. It is a positive teaching environment and an ideal laboratory for research in second-language acquisition.

"There is no other place on the earth like the ELC," says ELC coordinator Neil J. Anderson (BA '79), professor of linguistics. Sure, there are thousands of other intensive English programs, but the ELC is unique in its strong link between academics and research, and it has an unheard-of advertising budget: zero.

Instead, the reputations of the Church of Jesus Christ and BYU and the recommendation of former ELC students who have returned to their countries are the center's best advertising tools. ELC alumni connect with their country's BYU Alumni Association chapter and share their experience with children, colleagues, and friends, who in turn keep ELC admissions busy with more applicants than it can accept each year.

During the 2006 fall semester, almost 300 students—ranging in age from 17 to 55—enrolled in the ELC. When students arrive, they are first tested for placement in one of five proficiency levels. They take classes Monday through Thursday; study reading, writing, grammar, listening, and speaking; and prepare for the TOEFL test. Students can also join an ELC choir and learn about the Book of Mormon in a religion class.

ELC students have access to native English-speaking tutors and a cutting-edge computer lab. Although ELC students are not students of the university, many are motivated by the goal of someday going to BYU, and all are required to live by the Honor Code.

Classroom space at University Parkway Center, where the ELC is housed, isn't wasted when students go home; the building doubles as a Church meetinghouse on Sundays and is used on weeknights for community English classes for local immigrants.

Along with various signs reminding students to speak only English, the walls carry a prophetic reminder for teachers. President Spencer W. Kimball remarked in a 1975 devotional address, "There is no reason why this university could not become the place where . . . the teaching of English as a second language is firmly headquartered in terms of unarguable competency as well as deep concern."

Over the years, buildings and faces have changed, but the part of "deep concern" has remained the same for teachers and employees, says Joyce W. Kohler, who has been employed at the ELC for 19 years.

"I just love the students," Kohler says. "You learn so much about their cultures, and you see them learn so much too."

More information can be found at elc.byu.edu.