---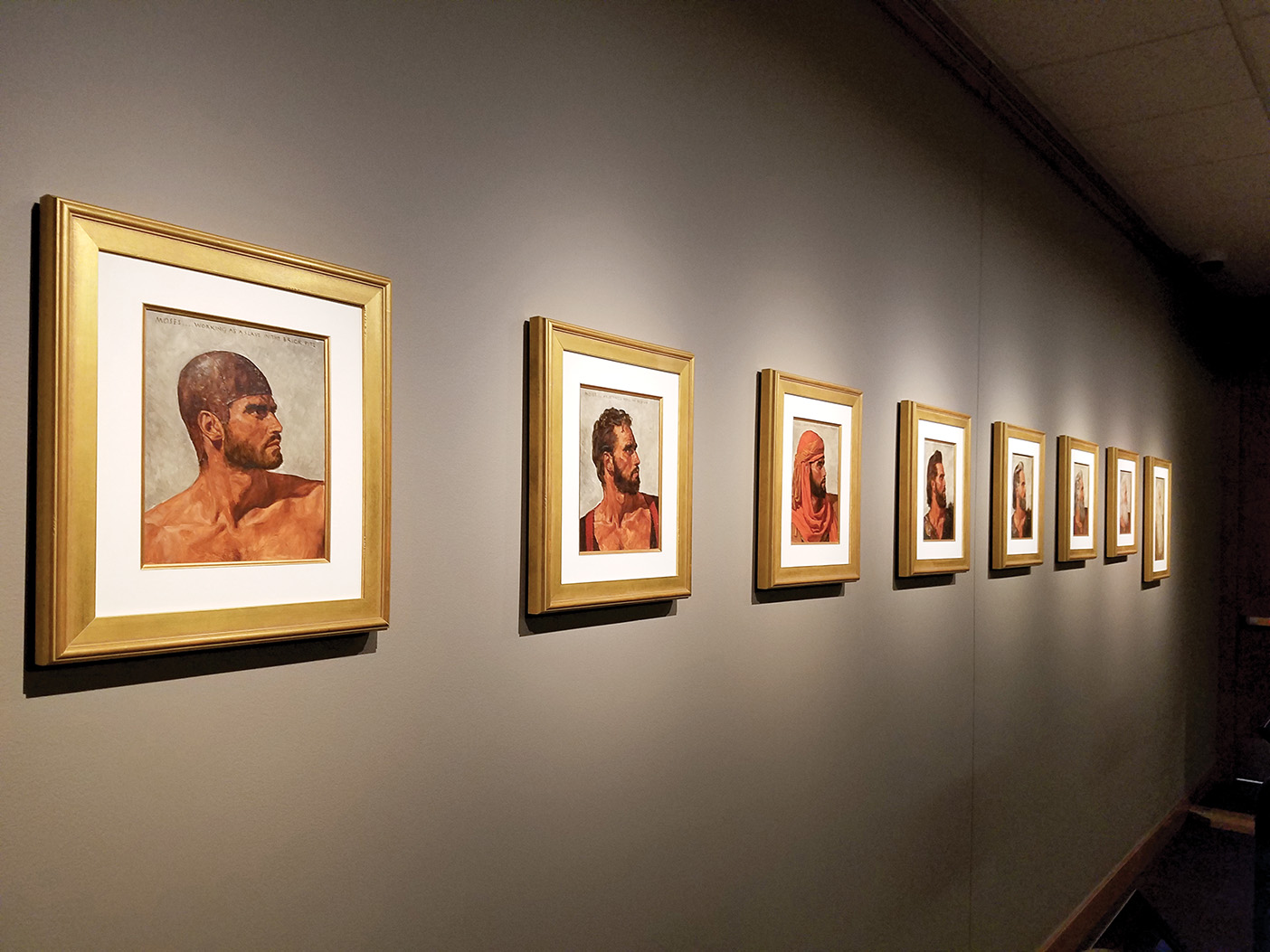 Down the wall of portraits, Charlton Heston transforms from a young and rugged Moses to a white-bearded prophet.
In one portrait, Moses . . . Before Seeing the Burning Bush, the prophet wears his dark brown hair long, matching his beard. Next-door, a change has taken place. Moses's complexion is brighter, his eyebrows more determined, his hair and beard streaked with white. He has now stood before God.
The oil portraits, created by LDS illustrator and painter Arnold Friberg, depict eight critical periods of Moses's life and were used by makeup supervisor Wally Westmore to replicate the hair and makeup for each scene of Cecil B. DeMille's The Ten Commandments. A recent acquisition of the Harold B. Lee Library's L. Tom Perry Special Collections, the pieces were displayed publicly for the first time this summer.
While it was typical of 1950s film companies to contract artists to create storyboards, makeup guides were unusual, says recently retired Special Collections curator James V. D'Arc (BA '78, PhD '86). In a 1970s oral history, Friberg shared that the guides "were followed very closely." With scenes shot out of order, the wigs, beards, and makeup were done "just exactly like the paintings."
Very few people knew the guides existed until D'Arc found the paintings four years ago in an auction of Westmore's estate. He knew the paintings belonged at BYU with the Cecil B. DeMille Archives.
D'Arc says that in his four decades as a film curator, he's never seen evidence of a director-artist relationship like the one between DeMille and Friberg. "This was an extraordinary relationship," he says.
It started out one-sided: As a child Friberg watched a special viewing of DeMille's black-and-white The Ten Commandments (1923). The movie inspired Friberg to become a religious artist, says D'Arc. When DeMille sought an artist for his 1956 version, he came across Friberg's work (including some of his classic Book of Mormon illustrations) and commissioned Friberg to paint 12 large scene renditions for the film. D'Arc says Friberg's extensive Biblical knowledge made him instrumental in helping DeMille create the aesthetics of The Ten Commandments.
By the end of the film's production, Friberg's hands were in everything: participating in story conferences to write the script, creating the credit sequence, designing costumes, and producing a film souvenir program. At the end of filming, DeMille gave Friberg Moses's robe as a thank-you for his contributions.
"Arnold Friberg's work has been an inspiration to all of us," DeMille wrote in the official souvenir program for The Ten Commandments. "He has accomplished a real missionary service in bringing the truths of the Bible to a wider understanding, appreciation, and acceptance."