---
In a life devoted to education and BYU, George H. Brimhall left a lasting legacy.
George H. Brimhall (1877) did not think he was up for the task when President Joseph F. Smith asked him to lead BYU shortly after the academy became a university in 1903.
He told his colleagues, "The university needs a strong, young man at its head. I have neither health nor youth." With chronic pain in his back, chest, and abdomen, he was plagued with ill health and often said the hymn "A Poor Wayfaring Man of Grief" was his remedy.
Yet because the prophet's invitation was for an acting president, Brimhall interpreted it as a temporary post and accepted. Following his April 16, 1904, inauguration, the 51-year-old educator took courage and began a tenure that extended more than 17 years. Fortunately, his health improved, and he credited God as he strenuously served the school.
Brimhall, it turned out, was an excellent choice to be the university's president. He had been among the first students at the academy, and his passion for education had helped him become an outstanding teacher and administrator. And he loved BYU. He served as its first Alumni Association president, and when the association was struggling to build the Maeser Building in 1909, he sacrificed substantially for the effort. Many teachers donated 10 to 15 percent of their salaries to the building, but Brimhall contributed half of his salary for the memorial to his mentor.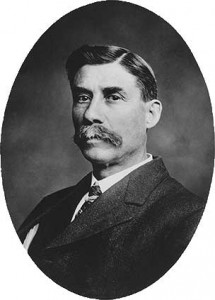 BYU will honor Brimhall's legacy of courageous service during Homecoming 2013 with festivities that will include opening ceremonies, student activities, dances, reunions, BYU Spectacular, races, a parade, and a football game against Georgia Tech.
From his roots of childhood poverty, Brimhall had come to believe that education enriched one's life. He was the oldest of 10 children in a Utah pioneer family that had scrambled to make a living. While farm work was an option, he craved learning; Brimhall often declared that the greatest turning point in his life came when his mother insisted that he go to school.
He enrolled in BYA, using beef from his parents' winter food supply for his tuition. He toiled as a school janitor and weekly walked nine miles from Provo to his home in Spanish Fork for chores.
Inspired by the master teachings of Brigham Young Academy principal Karl G. Maeser, Brimhall decided to teach, declaring he wanted to "move men's minds." Bryant S. Hinckley (BPd 1885) wrote, "George H. Brimhall was a born teacher. He had great native ability. I do not call to mind any who had greater. . . . In great teaching there is an intangible something that leaps from soul to soul like electricity from a dynamo. He had in a high degree that quality, and he won an immortal place among teachers of his day."
Benjamin Cluff Jr., Maeser's successor, also encouraged Brimhall, hiring him onto the BYA faculty and twice turning over the professional reins to him: in 1893, when he left to pursue a master's degree in Michigan, and in 1900, when he left on a scientific mission to South America.
As the new president, Brimhall built on the legacies of Maeser, a distinguished teacher with a firm hold on spiritual principles, and of Cluff, who saw value in strong academic rigor.
"The university was young, and in my view, the Lord was adding line upon line in establishing the foundation, which was formed by the important contributions of both men," says John C. Lewis (BA '77, MBA '79), BYUassociate advancement vice president and chair of the Homecoming executive committee. "Brimhall then became the perfect architect for taking all the good [from Maeser and Cluff] and, through his own administration, charting a university course that encompassed the sacred and secular in a clear and meaningful way."
Brimhall's thoughtful approach to educational structure was just one of his important contributions to the university. As someone who had affiliated with the academy and university from its beginnings, he well understood student and faculty concerns. He increased the size of the faculty and student body, supervised the construction of several buildings, expanded the library collection, and added land to upper campus, where the university now stands. He also organized the curriculum to make it possible to confer bachelor of science, bachelor of arts, and master's degrees.
Yet his influence on students and future leaders may have been his greatest personal legacy. Bryant Hinckley said Brimhall possessed the "capacity, the training, the inspiration, and the understanding of the pupil." U.S. Congressman Don B. Colton (1898) said he had "never met anyone who had more 'heart power' . . . [for] causing others to know, to grow and to feel." And student Annie Pike Greenwood (BS 1900), who composed the university's official "College Song," wrote that Brimhall "knew how to unlock the secret doors of our beings."
Brimhall was probably best known for his weekly short addresses at student devotionals. These four-minute sermons, as they were called, provided practical guidance and specific instructions for school work. He took upon himself the role of academic advisor, personal counselor, and character builder. His frequent personal counseling, for example, persuaded many discouraged students to remain in school.
Ongoing health concerns led to his official release as president in 1921 but did not end his service. He was named president emeritus and placed in charge of the Theology Department and Church seminaries. He kept an office on campus for 11 more years, continued his weekly devotionals, and had an open-door policy for students. Upon his death in 1932, some 2,000 mourners crammed into the Provo Tabernacle for his funeral, and BYU president Franklin S. Harris (BS 1907) compared his passing to the "falling of a mighty oak."
"I am humbled when I read about the life of George H. Brimhall and the way he courageously dealt with professional and personal challenges to help forge a solid future for BYU," Lewis says. "Brimhall's life inspired our 2013 Homecoming theme, A Season for Courage. Never has it been more important for each of us to show the same brand of courage as we forge our personal and collective futures."
— Charlene Renberg Winters (BA '73, MA '96)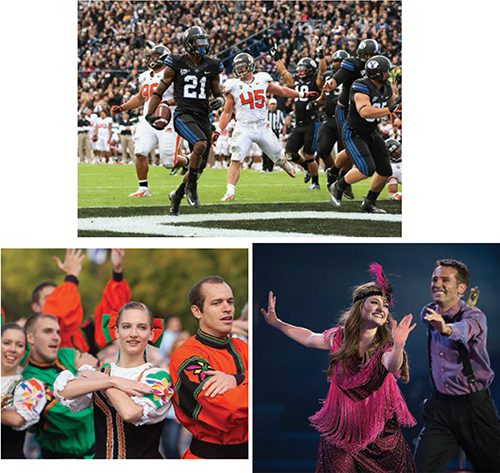 Web: For schedules and other information about Homecoming 2013, see homecoming.byu.edu.