---
For the third time in five years, the Cougars stepped up to the volleyball net fighting for a national title. With a 22-6 season and the top-seed position putting power in their spikes, their eyes were on another victory.
The decision was made on the court in Long Beach, Calif.—a third BYU championship was not to be. In a major upset May 3, the Lewis Flyers took home the title, edging out the Cougars 44-42, 27-30, 21-30, 30-23, 12-15.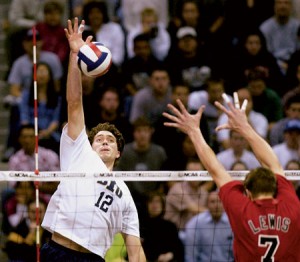 "It was an emotional Final Four and an emotional last match," BYU head coach Thomas L. Peterson, '78, said. "We were up and down and the momentum kept shifting. They ended up on top at the end, but it could have gone the other way. Lewis has a good team; they played very well."
Of course, taking second place in the NCAA Tournament is nothing to complain about. Rafael Paal, '04, lead the Cougars with 20 kills on the attack and a BYU-record 5 aces and 10 digs. "I felt good afterwards because I thought we fought hard, even though we didn't perform well enough to win the match," says Paal.
After the game, Peterson met with his team: "I just thanked our guys in the locker room for making this year a great experience."
A great season means great players. Opposite-side hitter Jonathan A. Alleman, '04, setter Carlos H. Moreno, '05, and Paal were named to the all-American teams. "We had a deep team, and we lost only three players. Even though these three were key players, BYU will replace them well enough to have a strong team next year," says Paal.
Though disappointment marked the end of the 2003 season, the Cougars are looking ahead for a chance to reclaim the elusive championship title in 2004.