---
By Tom Johnson

The U.S. women's volleyball team arrives in a foreign country several days before the tournament, hoping to become acclimatized before competition begins. As game time nears, BYU alumna Amy Steele Gant, in deep anticipation, slowly pulls on her kneepads. While stretching her arms and legs, she feels her adrenaline rise. One by one the players' names are announced in an unfamiliar tongue. The referee blows his whistle once, raises his hand, and the game begins.
Amy Steele Gant is the kind of athlete little kids dream of becoming, the kind that makes competitors groan and wince, the kind that inspires college recruiters to make lavish promises–and, if all goes well, the kind that will win medals at the 2000 Olympics in Sydney, Australia.
After leading the BYU women's volleyball team through four successful years and earning numerous awards (including recognition as a top-10 finalist for the NCAA 1998 Woman of the Year), Gant was recruited to the U.S. national team in 1998. She says being on the team is "like going pro but without as much money." Now she's playing matches in places like Switzerland, Thailand, and Australia–and looking forward to the 2000 Olympics. During an Olympic year the national team becomes the U.S. Olympic team.
Gant and the 14 other national team players live in Colorado Springs, Colo., where the Olympic Training Center is perched at 6,000 feet. Every day from 8:30 to 11:30 a.m. and from 2:30 to 5:30 p.m. they are training hard in the thin air.
"I'm really excited about the possibility of traveling to Sydney," Gant says. "But since only 11 players travel, I could conceivably be player 12 and remain at home. So everybody is fighting for a spot–not literally, but we all are working hard."
"I like being surrounded by great players because they make me better," she adds. "When the whole team is playing together and beating a team we shouldn't, that's when I have a good time."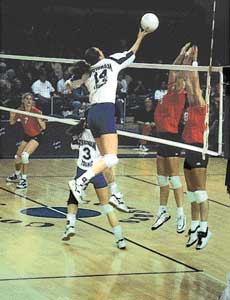 It's hard to imagine Gant having a good time without some kind of athletic activity. She grew up in Orem, Utah, playing every sport she could find. When her friends joined a swim team, 10-year-old Amy immediately signed up, and before the season ended, she was ranked in the nation's top 20 for both backstroke and butterfly.
During her sophomore year in high school, Gant discovered volleyball, and when some of her friends started playing club ball, she joined as well. Her mother does not remember seeing Amy much during high school because she was always out playing ball–anything with a ball, anything on a court. Within three years, Gant became such an elite middle blocker that more than 100 colleges tried to recruit her. But she came to BYU.
BYU women's volleyball coach Elaine Michaelis quickly recognized that Gant was one of the most diligent workers she had ever encountered. Never satisfied with her performance, Gant always worked hard to be better, and in this, Michaelis says, she provided a great example to the team.
During her second season, Gant suffered a shoulder injury but kept playing. It meant limiting practice and reducing the number of swings she could take, which frustrated her. She had surgery to correct the problem after the season. In retrospect, Michaelis says the injury was a benefit in disguise because it improved Gant's swing. After she recovered, she went on to become the WAC's elite middle blocker.
Awards poured in. During her college career she was named WAC Player of the Week seven times. In 1995 she was an American Volleyball Coaches Association (AVCA) second team All-American, and in 1997 she was an AVCA first team All-American. In 1997 she was also a First Team Academic All-American. She was twice named WAC Player of the Year and AVCA National Player of the Week, and she was awarded a $5,000 post-graduate scholarship from the NCAA. Ever a team player, she won the Leona B. Holbrook Spirit of Sports award from the BYU Cougar Club and served her junior and senior years as team captain.
Her performance was equally excellent off the court. Michaelis says Gant often spent time with children who came to watch the team play. She volunteered at volleyball clinics for youth groups and led Easter egg hunts for the mentally ill. She was also an excellent student, finishing her degree in sports medicine with a 3.82 GPA.
Gant even met her husband, Jesse, on the volleyball court. He was a setter for the BYU men's volleyball team from 1991 to 1995 and played with the U.S. men's volleyball team in 1995.
The couple now lives in Colorado Springs, where Jesse is pursuing an MBA at the University of Colorado at Colorado Springs while Amy plays international volleyball.
---
The Alumni Association has launched a new Web site (https://alumni.byu.edu) designed to help alumni reconnect with each other, find chapter activities in their areas, and conduct successful job searches. The site also includes profiles of some interesting BYU graduates. The story above is the first such profile. New profiles are posted monthly.