---
Education
Alum of the Year: Instructional psychology and technology professor David A. Wiley (PhD '00), the recipient of a National Science Foundation CAREER award and one of Fast Com-
pany's top-100 creative people in 2009, is Marshall University's 2013 distinguished alumnus for his innovative work in the expanding fields of open educational resources and online learning communities.
Engineering and Technology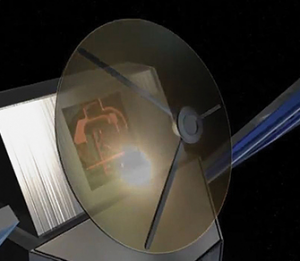 Space Money: NASA has awarded fellowships to two mechanical engineering graduate students: Thomas J. Hardin (BS '12), for his research on improving metals' strength and durability, and Ezekiel G. Merriam (BS '11), for his research on using 3-D printing to reduce space-mechanism cost.
Family, Home, and Social Sciences
Healthier Ever After: Happy marriages make for healthier individuals, according to a 20-year study by family life professor Richard B. Miller (BS '82, MS '84) published in the Journal of Marriage and Family. Miller explains that happy spouses encourage each other to sleep better, participate in healthy activities, and get checkups more often.
Fine Arts and Communications
Y Day: The Universe's "Day in the Life of BYU" project, a web gallery of over 700 pictures from student and faculty submissions, won the General Excellence Award in the National Newspaper Association's 2013 Better Newspaper Contest.
Kennedy Center
Grading NGOs: BYU's Project Evaluation and Assessment Team (PEAT) internship opened in four new countries this year—Cambodia, Malawi, Paraguay, and Peru—sending students from a variety of disciplines to evaluate the performance of nongovernmental organizations.
Humanities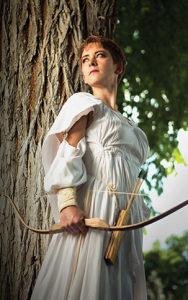 Greek Alphas: Six BYU undergrads, including Clara Carnahan ('14), pictured here, placed in the top 20 in the National College Greek Exam. Out of participants from 40 universities, BYU's David C. Delbar ('15) and Courtney L. Hansen ('16) tied for second.
Law School
Hungarian Externship: Jess D. Winn ('15) completed a 10-week externship at the U.S. embassy in Budapest, Hungary. The first BYU law student to be placed in this region and with the Department of State, Winn arranged diplomatic visits, interacted with government officials, and acted as an official representative of the United States.
Life Sciences
One Big Magnet: BYU now has its first MRI machine, a Siemens scanner with a 3 tesla magnetic field. The scanner, which will aid cross-disciplinary research on everything from autism to breast cancer to how people process risk, is housed in the new MRI Research Facility, a nonclinical facility in the McDonald Building.
Marriott School
Medaling in Auditing: Accounting professors Steven M. Glover ('85) and Douglas F. Prawitt (BS '88, MAcc '88) received the 2013 American Accounting Association/Deloitte Wildman Medal for their publication "Elevating Professional Judgment in Auditing and Accounting."
Nursing
Including Alumni: In an article published in Nurse Educator, five BYU nursing faculty members proposed a solution to a problem faced by various nursing schools: staffing study abroad programs. The proposed solution, used by BYU nursing study abroad programs in the past, is to use alumni and graduate students as affiliate teachers.
Physical and Mathematical Sciences
Electron Deviance: Physics and astronomy professor Justin
B. Peatross's (BS '88) article on radiation and quantum photo­emission was featured on the May cover of the American Journal of Physics. The takeaway of the article is that "classical electrodynamics can get approximately the right answer for radiated light only if one treats electrons as point particles as opposed to quantum waves."
Religious Education
Kindly Correspondence: Ancient scripture professor David M. Whitchurch (MEd '82, PhD '91) and Church history pro­fessor Richard N. Holzapfel's (BA '78) new book, My Dear Sister, makes available more than 200 letters between President Joseph F. Smith and his sister, Martha Ann Smith Harris. The letters span six decades and reveal new stories about the prophet's life.