Members of the BYU community weigh in on a question of the day.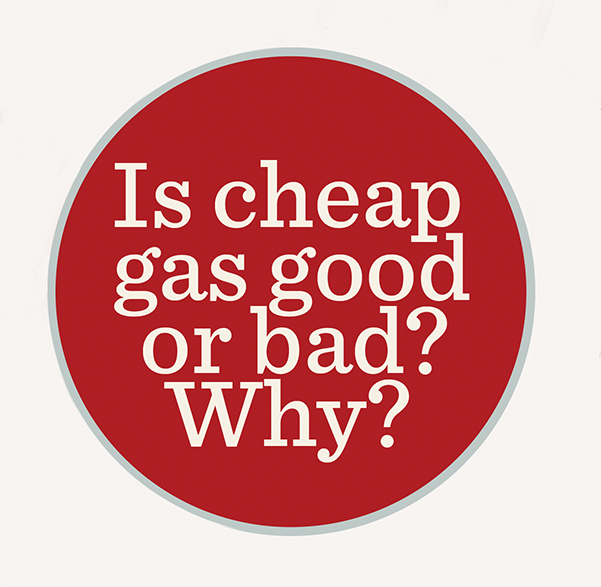 Look at your investment portfolios and you'll realize just how bad it really is. When gas prices tank so does the stock market. So ask yourself, "Would I rather save $1 on gas or lose 20 percent of my portfolio balance?"
—Melissa A. Jackson, Human Resources Services Benefits Counselor
Good for families on a tight budget. Bad for research development and innovation of alternative forms of energy that we'll eventually need.
—Samuel B. St. Clair (BS '98, MS '99), Plant and Wildlife Sciences Associate Professor
I remember 15 years ago when experts talked about how rising fuel prices hurt businesses as costs increased for transportation, heating, etc. So why can't the reverse be a benefit to the economy?
—Andrew R. George (BS '00, MS '06), Manufacturing Engineering Technology Assistant Professor
Cheap gas is one of the greatest economy boosters we can have. It lowers the cost of other goods by making transportation cheaper, it encourages extra travel and tourism, and it increases consumer confidence and willingness to spend in the economy.
—Jason M. Gabbitas (BA '16), Economics Grad
It's good because it keeps more money in my pocket. It's bad because I spend all that extra money on BYU Creamery ice cream and keep gaining weight! (We need higher gas prices to force me back on my bicycle!)
—Tony M. Nisse (MA '08), Office of Information Technology Training and Professional Development Coordinator
Cheap gas = more driving, with associated air quality and other impacts on the earth. We need to care for the earth and manage our resources wisely.
—Bryan G. Hopkins (BS '90, MS '91), Plant and Wildlife Sciences Professor