---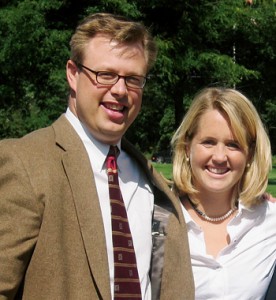 Since becoming chairs of the Alumni Association's Boston chapter, Clark G. Gilbert, '94, and his wife, Christine Calder Gilbert, '94, have actively worked to find out what BYU means to Boston-area alumni.
"When I was growing up, I thought being an alumnus meant going to football games," Clark says. "But we came out [to Boston] for grad school, and then I took a job at Harvard . . . and there are just no football games for alumni out here. People here want to be actively engaged with BYU too, so we had to tap into what BYU meant to them."
The Gilberts have recognized a new energy and enthusiasm permeating the Boston chapter, and they attribute that to a desire among alumni to give back to BYU. "Most of us who get involved in BYU now do so because of how it changed our lives while we were there," Clark says.
When the Gilberts assumed their leadership roles, they quickly identified three keys that have helped the Boston chapter gain and maintain momentum.
First, the Gilberts wanted to establish capable, shared leadership—not just between themselves but among a board of strong, involved BYU alumni. They assembled an extensive board with all members actively involved in planning activities and assuming leadership.
Second, the Gilberts have worked to develop a "culture of replenishment," where replenishment is not an afterthought, but a way of life. Clark says that both he and Christine were impressed by comments made by former BYU president Rex E. Lee, '60, about replenishment grants: "We have all drunk from wells that we did not build."
Third, the Gilberts outlined some organizing principles for the chapter, including planning activities that work in conjunction with the mission of the Church and that involve alumni, Church members, and the general community.
Clark says he has been pleased with the direction of the chapter thus far. "We have a lot of momentum right now," he says. "We want it to keep building."