---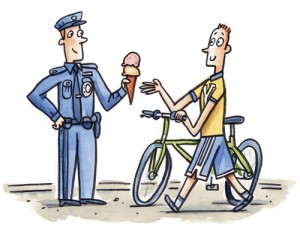 Creamy Citations: Rule-keepers are in for a treat—a frozen treat. Last year BYU Police started rewarding students caught following the rules, like walking their bikes during crowded class breaks, with coupons for free ice cream cones from the Creamery.
New Philanthropies Director: Tanise McIntire Chung-Hoon (BS '89) is now a director at LDS Philanthropies as well as executive director of development for BYU. Her predecessor, Bruce M. Snow (BS '70), retired after 35 years of service.
Replacing the Tree: The deteriorating 36-year-old Tree of Wisdom sculpture was taken down in fall 2011. A sturdier replica of the Frank J. Nackos (BA '65) work will be completed this spring.
Room to Grow: New greenhouses constructed southeast of the Law School, next to Kiwanis Park, now serve the College of Life Sciences. The greenhouses feature upgraded environmental controls, a room set 10 feet into the ground for tall tropical plants to grow, "exclusion rooms" for pest- and disease-control studies, and more.