---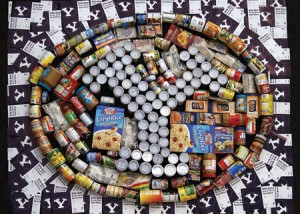 In a switch from tradition, BYU raised the most money and the University of Utah gathered the most food during the 2008 BYU/University of Utah Food Drive. This is the first year in the 15-year history of the drive that the roles have been reversed.
BYU collected $43,392 and 122,449 pounds of food. The U of U raised $35,667 and collected 212,082 pounds of food.
"Both schools had tremendous results," says Joseph R. Nance ('09), president of the BYU Student Alumni Association, which coordinated the drive for BYU. "We exceeded both of our former records at BYU. Last year,
for example, we raised $20,227 and took in 104,000 pounds of food. We're happy we could do so much."
The BYU Bookstore, Creamery, and Cougareat sold $1 Y cards, which generated much of the money raised. "We also had generous donors who gave up to $1,500," Nance says. "Our average donation per person was about $20."
Curtis C. Isaak (BA '92), Student Alumni Association advisor, attributes the increase in dollar amounts to cooperation from on-campus entities as well as the generosity of the local community.
"I'm amazed that even in these hard economic times, students and the surrounding community were so generous both in terms of food and money, " Nance adds. "We appreciate all the donations but are especially happy for money because it goes further. A dollar can buy anywhere from 15 to 25 pounds of food. We made a real drive for money among the students, and it appears we were successful."
BYU launched its food drive on campus with a pancake breakfast at Legends Grille in the Student Athlete Building. The community effort began at the Provo Macey's grocery store. Organizers arranged for people to conduct food drives in their neighborhoods and placed food bins throughout campus.
The food drive takes place every year for two weeks before the BYU vs. U of U football game. All money and food raised through BYU are distributed in Utah County through Community Action Services, and the Utes' efforts support Salt Lake County.