---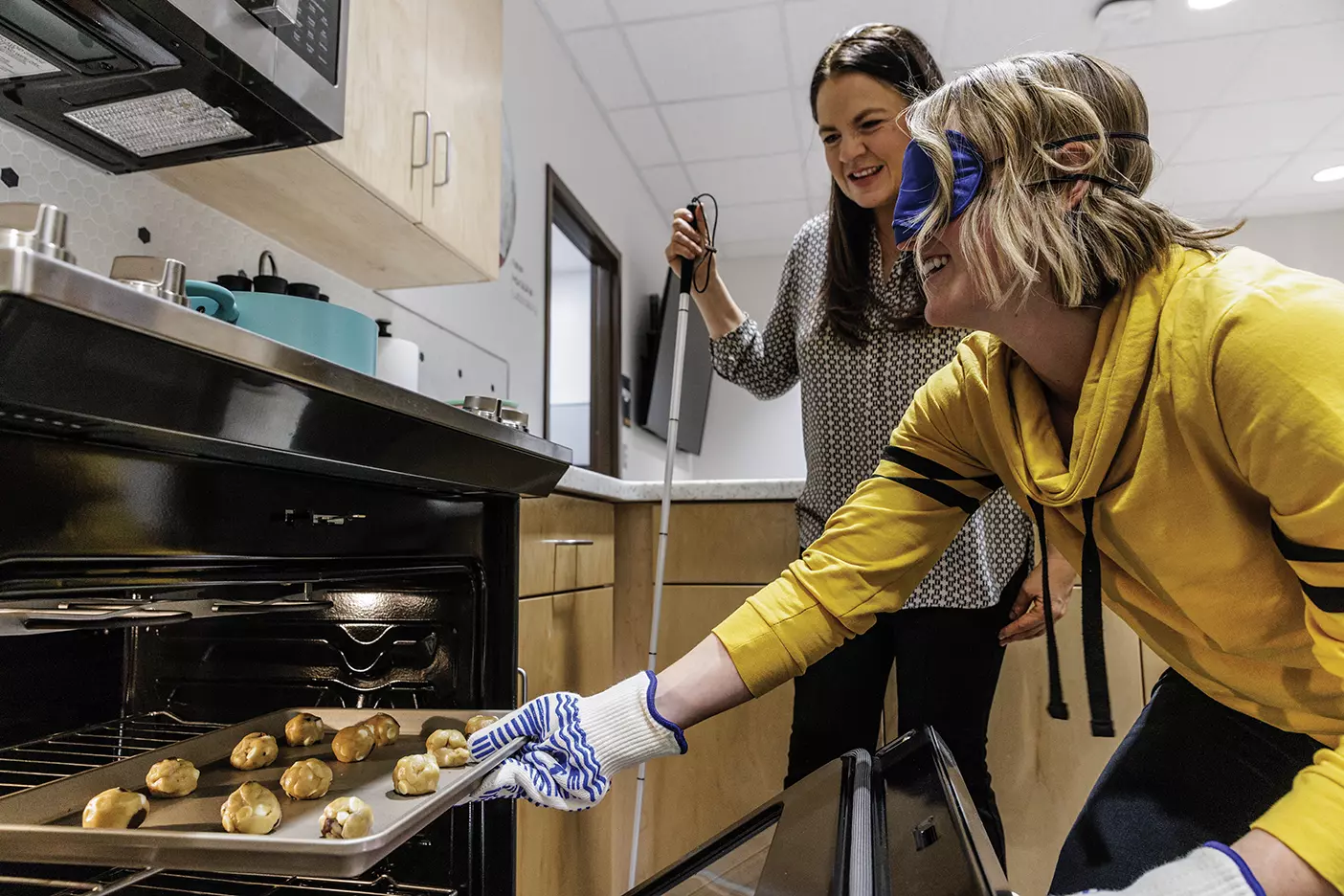 Cake batter in a pan on the counter, nursing professor Corinna Trujillo Tanner ('91) opens the oven door and waves her hand around, checking for pans stored inside and the positioning of the racks—before hitting preheat. "There's nothing worse," she says, than moving a piping hot rack that you can't see. 
In her New Horizons Lab, which opened on the second floor of the Richards Building in January, Tanner designs curricula to teach home-management tasks to people with new vision impairments—including cooking, which is why the lab has a fully functional kitchen.
Tanner, who has been legally blind since adolescence, says cooking with limited eyesight "is just a matter of an order of operations and special techniques for doing things safely," like checking the oven before preheating it. "There are also techniques to help people use [any] remaining vision optimally," she says, such as placing a dark bowl on a light placemat for contrast.
As COVID-19 precautions are lifted, Tanner will offer classes for community members who are adjusting to new sensory loss. For now Tanner is working with nursing students Marinn Graves Smith ('23) and Jadison N. Christenson ('22) to film training videos for nurses who aid older adults with sensory impairments.
The focus is on preserving independence, Tanner explains: "Whatever it is that they might be afraid of losing"—self-sufficiency, security, self-worth—"they can still keep those parts of themselves."
Tanner joined the BYU nursing faculty in 2019. Along with developing curricula, she researches post-traumatic growth and how family connections can protect older Hispanic adults with sensory impairments from social isolation and cognitive decline.
About 15 years ago, driven by the need to provide for her family as a single mom, Tanner took up to 24 credits a semester for five years and graduated with two bachelor's degrees (a BS from Metropolitan State University and a BSN from the University of Colorado), a master's degree (University of Colorado), and a doctoral degree (University of Utah).
Christenson, who is hard of hearing, says Tanner gives her confidence to pursue a nursing career:
"Meeting [Tanner] . . . affirmed the fact that nursing doesn't need to look one certain way." Smith adds, "She's using her expertise to work as a nurse in a setting that is untraditional—not scrubs, not IVs, but helping people with vision impairments live a better life."