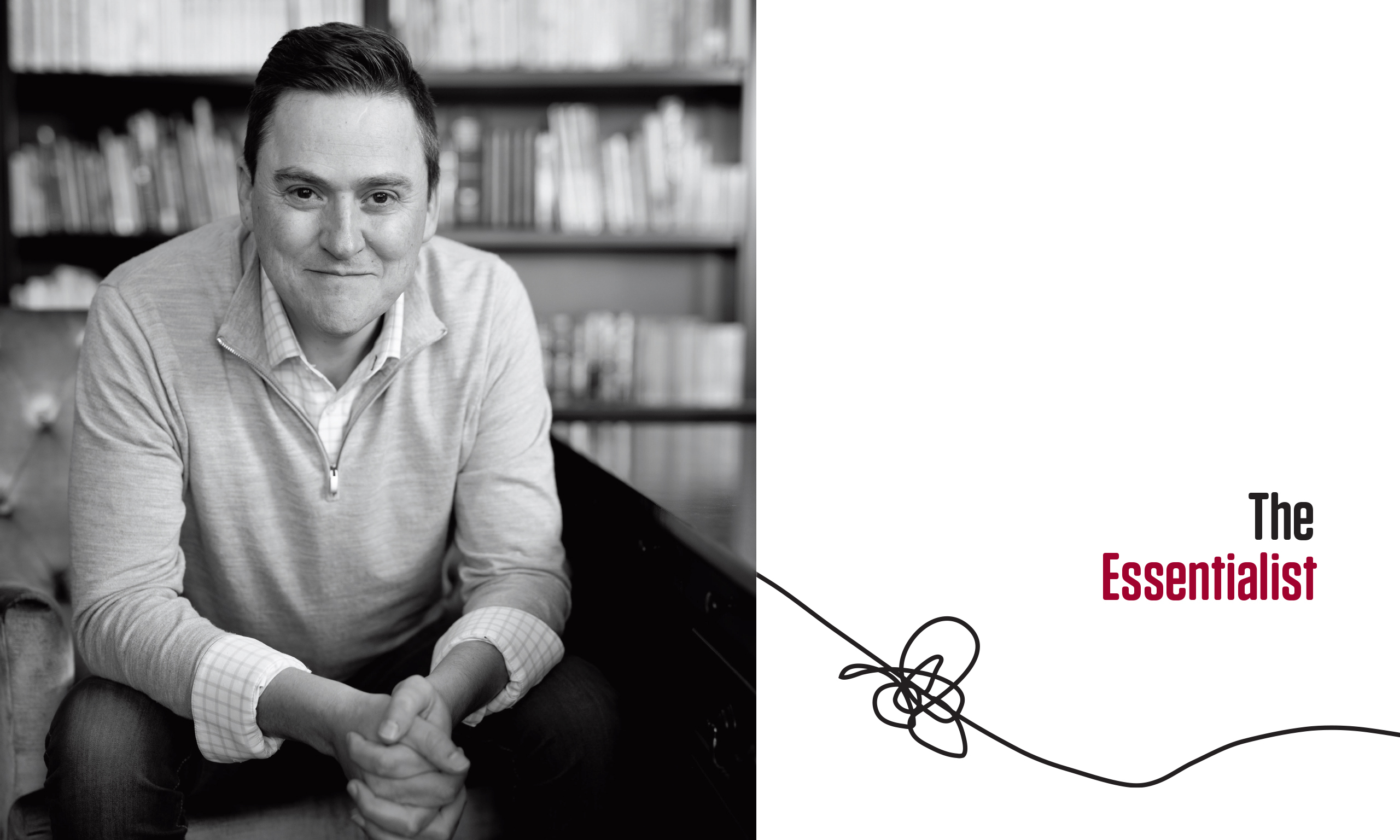 Through his own struggles with an overextended schedule and an overflowing inbox, Greg McKeown has helped millions learn to live the essential life.
---
By Denya I. Palmer (BA '16) in the Spring 2022 Issue
Photography by Bradley H. Slade (BFA '94)
It all began with an epic fail.
On a sunny winter Friday in California, hours after the birth of one of his daughters, Gregory J. McKeown (BA '03) slipped away from the side of his wife, Anna Worthen McKeown (BFA '02), and their new baby to attend a client meeting at work. Phone out, laptop open, the hardworking and loyal London native spent the first day of his daughter's life trying to do it all, vacillating between family and work, distracted and unable to truly dedicate his attention to either.
After the work meeting ended, McKeown's manager said, "The client will respect you for the choice you just made."
McKeown wasn't so sure. "It's clear I made a bad trade-off," he says."I violated something essential for [something] nonessential." The painful lesson he learned that day—"If you don't prioritize your life, someone else will"—is something he's shared with millions.
Greg McKeown would be a fraud if he weren't so upfront about his failings. It turns out that the New York Times bestselling author of Essentialism: The Disciplined Pursuit of Less struggles along with the rest of us in the frenzied modern pursuit of it all—wanting to do everything, please everyone, and multitask his way to success. McKeown may be the expert, but that expertise was won through a lot of trial and error.
Even when they don't cast him in the best light, McKeown is happy to harvest his failures to communicate the concepts of essentialism—ideas that, in many ways, grew out of McKeown's own struggle to live a more purpose-driven life.
His wife, Anna, says that very struggle just might make McKeown essentialism's best teacher. "Those who were naturally born with talent don't necessarily know how to teach it because it comes so naturally, . . . whereas those who had to study or work through problems over a period of time, those are the best teachers," she says. "Greg is so good at explaining and talking about essentialism because it's a challenge [for him]."
In his writing (including his follow-up New York Times bestseller, Effortless: Make It Easier to Do What Matters Most), a popular podcast, and trainings, McKeown is helping people figure out what is most essential in their lives and learn to say no to everything else. "I get to teach and write . . . on encouraging people to design a life that really matters," says McKeown. And if helping others means exposing all that is nonessential in his own life, he's okay with that.

Finding a Mission
According to McKeown, the essence of essentialism is doing less, but better. It begins with prioritization and elimination. "The word priority came into the English language in the 1400s, and it was singular," says McKeown. To be an essentialist, you first have to determine your priority—in the singular—and be willing to make trade-offs to stay true to what's most important to you. Essentialism, though primarily a business book, has broad applications to the office, the home, and life in between.
The ideas behind essentialism had been percolating in McKeown's mind long before the birth of his daughter. After serving a mission in Toronto, Canada, McKeown returned to England for law school—which McKeown considered a safe plan that kept his options open. But a semester in, he couldn't ignore a sense of misalignment hiding in the back of his mind. As a missionary McKeown had tasted what it felt like to live each day with a sense of purpose; he wasn't finding that same drive and meaning attending legal seminars and lectures.

McKeown was wrestling with that discontent during a visit to Utah for a friend's wedding. While in town, he met with Elder Gerald N. Lund (BA '65, MS '69) and they discussed Elder Lund's work to help returned missionaries find personal purpose. Elder Lund invited McKeown to join a consultation committee on the topic if he decided to stay in the States. Up until then, McKeown hadn't considered making such a drastic change. Elder Lund's words "were like permission to do something different," he says.
Sitting on a couch in the foyer of the Church Office Building while the sky grew dark outside, McKeown pulled out a blank sheet of paper and asked himself: "If you could only do one thing with your life right now, what would you do?" After 20 minutes of scribbling, he realized that law school didn't appear anywhere on the page. Soon after, McKeown quit law school and applied to BYU. His new purpose? To study print journalism and become a writer, teacher, and public speaker.
The change proved fateful in many ways. For one, McKeown credits his marriage to the Daily Universe, BYU's student-run newspaper. McKeown authored a piece in the paper about finding one's unique mission—or essential purpose—in life. After reading the article, Anna left Greg a note at the MTC, where they both worked, thanking him for the article.
A few months later, it was Greg who happened upon Anna in the pages of the Daily Universe. A profile described how she felt called to major in music dance theatre despite her fears. "Basically, what I read in her article was that . . . she really was living her unique mission and she was serious about that," Greg says. The idea of a unique mission, that essential purpose that needs to be protected and prioritized, is where they first connected. "Even now, [it's] something that's highly unifying for us, something we deeply believe," says Greg.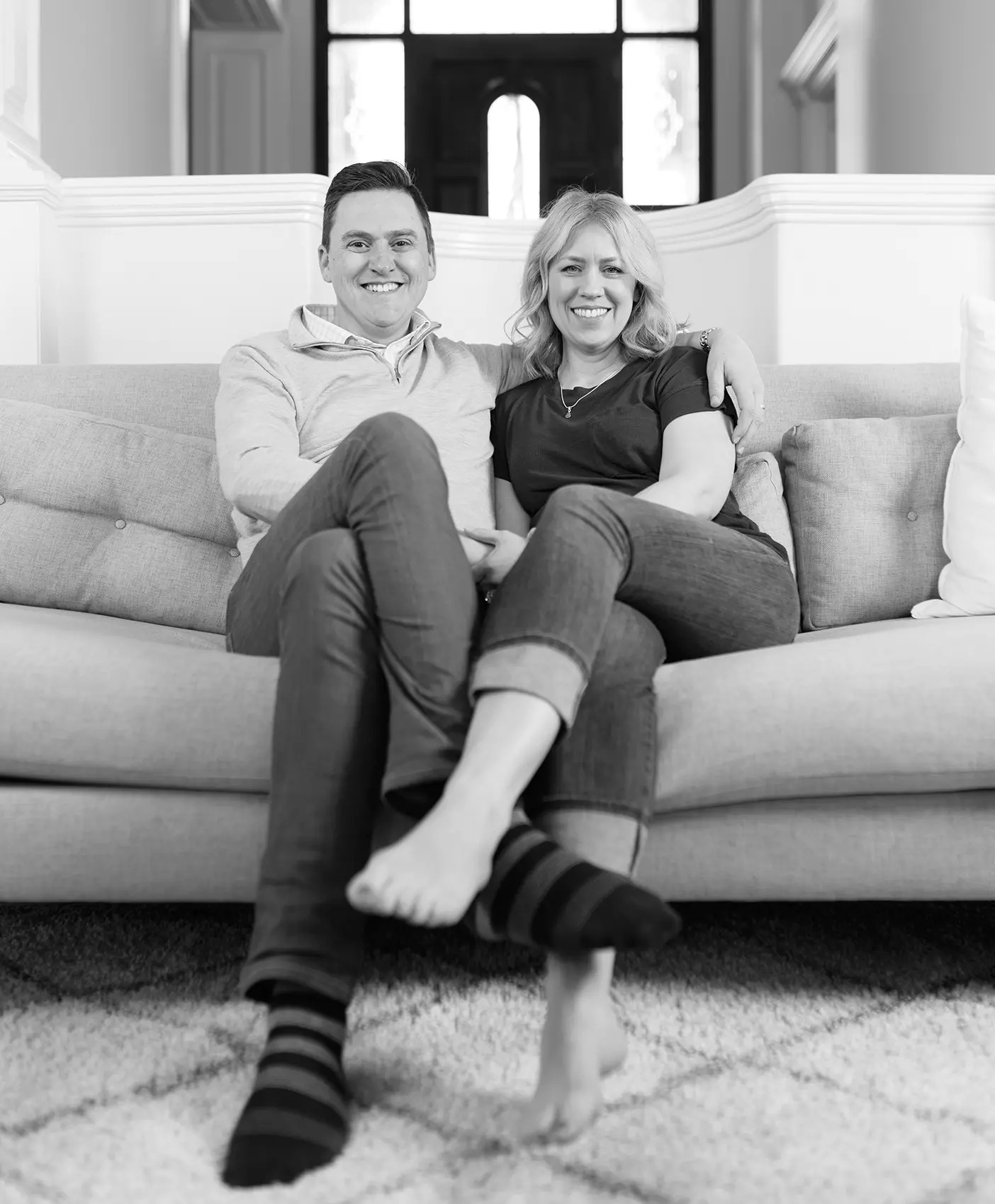 After Greg and Anna started dating, Anna was cast as the understudy for Belle in the national tour of Beauty and the Beast. Trying to be true to her essential mission, Anna deferred school and went on tour, even opening as Belle for the show in Austin, Texas. While Anna was on tour, Greg flew out to propose, and the two were married six weeks later. Greg joined Anna for the rest of her tour before the couple returned to BYU to finish their degrees. Greg later added an MBA at Stanford and went to work in leadership consulting.
In the two decades since their marriage, the idea of an essential mission has become a McKeown family cornerstone as Greg and Anna have worked to help their four children find their own essential mission. As it relates to careers, Grace ('25) wants to be a film director, Eve wants to be a vet, Jack wants to be an engineer, and Esther, their youngest, is still deciding.
Essentialism principles have been ever-present in their family. Grace remembers her parents teaching her to keep things simple so she could add time buffers into her day. "When I need some extra study time or a power nap, or when my friend from out of town calls me, the buffer gives me the space I need to add that in," she says. The family also spent a few years stabling and raising horses before determining that, despite the joy horses brought into their lives, it just wasn't essential to them. So they sold the horses and dedicated the time spent feeding, cleaning stables, and riding to other important pursuits.

The Essence of It
As a leadership consultant, McKeown found himself working long hours and feeling stretched thin advising executives, teaching, and researching. After the fateful birth of McKeown's daughter and the meeting-that-couldn't-be-missed, McKeown took a step back and began his journey into what it means to become an essentialist.
McKeown's understanding of essentialism really began to take shape after he presented on the subject at Stanford's d.school, a renowned program focused on nurturing creativity. Impressed, program leaders invited him to design and teach a course, later titled Designing Life, Essentially. It "was a bit of a workshopping ground that enabled Greg to experiment," says Jeremy Utley, director of executive education at the d.school and McKeown's collaborator on the course.
In creating the course, Utley, a learning experience design expert, brought the how, and McKeown brought the what, the concepts that became the foundation for his book.
Having helped fellow BYU alum Elizabeth Allen Wiseman (BS '86, MOB '88) research and write the business book Multipliers: How the Best Leaders Make Everyone Smarter, McKeown knew what he was getting into when he sat down to write Essentialism. Writing it required him to practice what he was preaching in his draft. For nine months he carved out space for his essential purpose by setting aside the hours from 5 a.m. to 1 p.m. for writing. This pushed him to adhere to another essentialist principle: saying no. While drafting, McKeown turned down international client work and networking opportunities. Waking up early required him to go to bed earlier, which meant sometimes missing out on evening activities. With his family he determined which trade-offs they should make to give him the time and energy he needed to write and publish his book.
When it hit bookstores, Essentialism struck an immediate chord with readers burdened by busyness, stress, and burnout. It offered answers for those struggling with overscheduled lives, unproductive days crammed with back-to-back meetings, and nights spent burning the midnight oil to finish task after task while losing touch with their kids.

"Essentialism was such a hit. . . .People tell me, 'I've read it three times. My copy's so dogeared,'" says Talia Krohn, McKeown's longtime editor. "I've seen people reading it on the subway. It was just really, really rewarding to see how much it has meant to people."
McKeown soon found himself consulting and teaching essentialism principles at organizations like Adobe, Apple, Google, Facebook, Pixar, Salesforce, and Twitter. He became a popular blogger for the Harvard Business Review, and his work was touted in the New York Times, Fortune, and other publications. And invites to speak to audiences of overschedulers, chronic perfectionists, and striving essentialists poured in from around the world.
Amid all the attention, McKeown didn't forget what was most essential, says daughter Grace, who notes that he often took a child with him on his speaking tours. She says it was clear what was most important to her dad—"I always knew that I was essential to him."
Making the Essential Easy
In 2019 McKeown seemed to have it all. Essentialism had been out for six years, and McKeown was in step with the essential purpose he'd crafted for himself when he quit law school—teaching, writing, and traveling the world to speak and consult with senior leaders at major companies. He was doing only the things he deemed essential. And yet he still felt exhausted as he balanced work, family, and church service as a bishop. To free up time and energy, he'd held off on writing a new book, taken a break from teaching, and hit pause on building a new workshop business. But it wasn't enough.
"I felt pretty stretched to my limit," McKeown says. "I was trying to be very selective. I was trying to live what was in [Essentialism]."
McKeown references the big-rocks theory—the well-known object lesson where all of the rocks and sand fit in a jar only if the rocks are placed in first. According to the theory, if we first take care of the most important things—the big rocks—everything seems to fit. But McKeown found himself wondering what to do if the jar just isn't big enough to hold the essential rocks.
Around the same time, the McKeowns' 14-year-old daughter, Eve, got extremely sick. Over the course of a few months, Eve went from running around barefoot, teasing the family's backyard chickens, and jotting down pages-long journal entries to needing two full minutes just to write her own name. "No neurologist could tell us what was going on," recalls McKeown. "This was four months of total free fall."
In the end it was two long years before Eve recovered. This period was terrifying for the McKeowns. As parents, Greg and Anna naturally wanted to spend every waking hour researching medical journals or meeting with doctors, to stay up all night searching for a cure. However, they soon realized that this approach wouldn't be sustainable.
Instead, they shifted their mindset. They thought, "How can we make this challenge easier?" The answer was choosing to let go of the things they couldn't control and focusing on spending time together as a family and being grateful for what they did have. The worry didn't go away, but they found that their actions could make the trial easier to manage.
The two grueling years of Eve's sickness "could have destroyed us," McKeown says, but instead his memories of this time are punctuated with joy: "We prayed together, . . . we got around the piano and sang, we went on walks, and we were grateful for everything we could possibly be grateful for."
Through this experience and in his research for his second book, Effortless, McKeown observed that life—even an essential life—is hard all on its own. What can we do, he wondered, to make it easier? These years taught him that by adopting a mindset of simplifying a challenge, we can lighten burdens and increase our resilience. "You can handle really tough things without making them worse," he discovered, "[and] you can then keep going for a longer period of time."
Effortless, published in 2021, challenges the idea that achieving the important things in life has to be exhausting.
When the McKeowns are feeling overwhelmed, one of them will ask, "How can we make this easier?" It resets their minds and spurs them to think creatively of different ways to approach the problem. "How do we make the things we really value doing just habitual, [as] effortless as possible?" asks Anna.
As a simple example, the McKeowns have decided to hold family prayer every day at a certain time. They've found that it's easier to include that as part of a routine than to try to fit it in on the fly. Another example—McKeown and his son schedule times every week to play tennis. Spending time together is essential for McKeown, but when his son started asking multiple times a day to play tennis, the way to guarantee time for tennis and make it less stressful for everyone was to calendar it.
Living effortlessly, says McKeown, also means knowing what suffices. Do we add extra bells and whistles to a presentation when four or five simple slides would do? Or perhaps we work late into the night, "powering through" on a creative project but are burned out the next day. We might hesitate to even get started on something because our standard is set unreasonably high.
To maintain energy, McKeown recommends that you "don't do more in a day than you can recover from in a day." He shares the story of musician Janice Kapp Perry ('60), whom McKeown calls his foster mom since she took him under her wing when he first came to the States. Perry set out to write a book of the stories behind 100 of her best-known songs—a daunting undertaking. She determined that she would write two stories a week. Even when she had time and energy to write more, Perry stopped so as not to exhaust her energy. Within nine months, her book was finished.
McKeown advocates time-saving shortcuts: reusable checklists (his packing list has him ready to travel in about 90 seconds), automatic payments, meal-planning apps, regularly scheduled check-ins on goals, and more.
In the metaphor of the big-rocks theory, Effortless says it's possible to adjust the size of the rocks so that the most important things actually fit.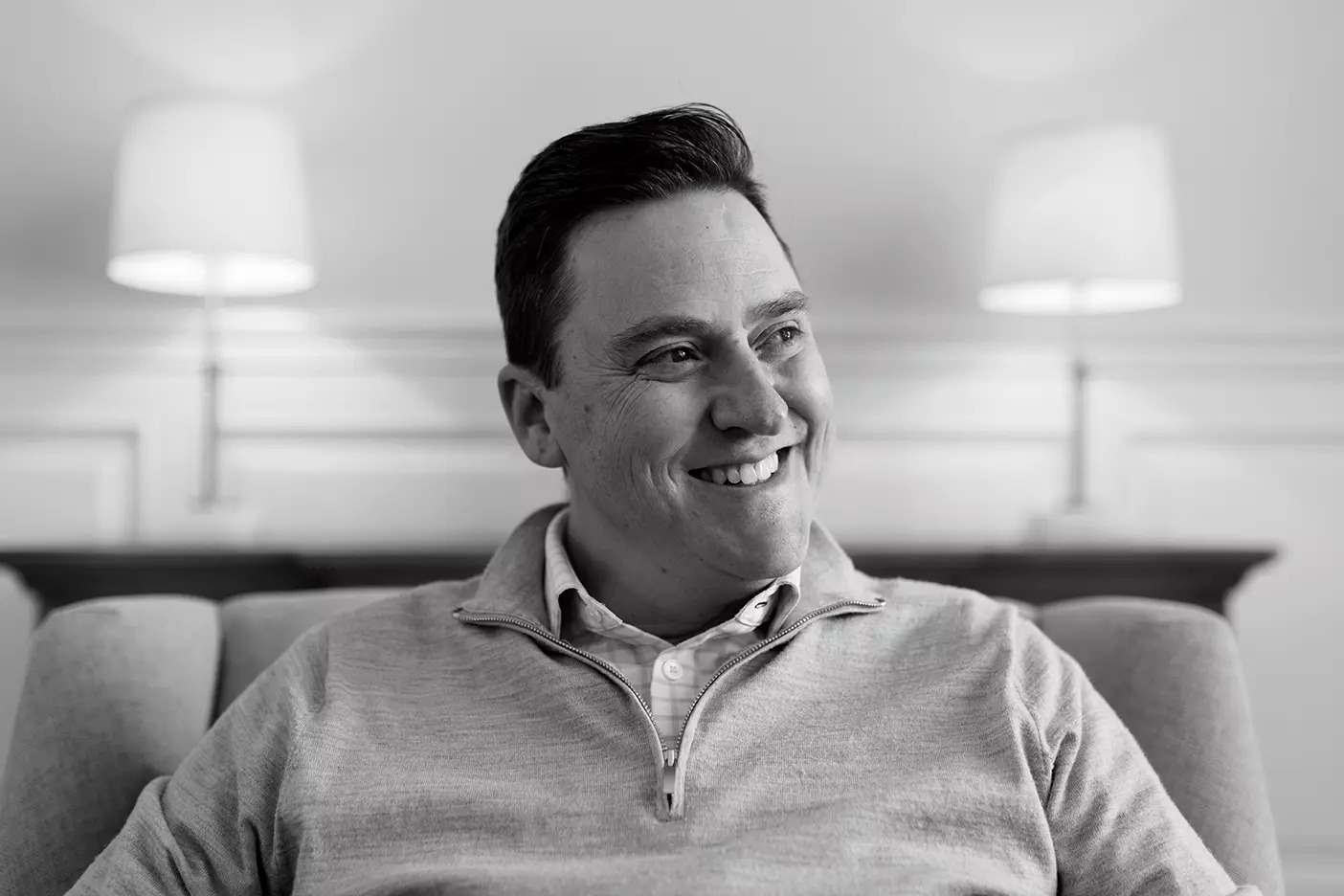 Constantly Striving
Even after all he has learned and taught, McKeown isn't a perfect essentialist. He's always excited to try new things, sometimes biting off more than he can chew. He still wants to say yes when people ask him to do something nonessential. He still has the urge to check his phone and email compulsively.
"I struggle with everything in Essentialism and everything in Effortless. I've got failure stories galore in all of it," McKeown says. But, as he points out, these principles are a life pursuit, not something mastered all at once: "Of course we're going to make mistakes. Of course we're going to get some trade-offs wrong. But we just keep coming back and asking, 'What's the priority?'"
Imperfection notwithstanding, McKeown keeps at it. Utley, McKeown's coteacher at the d.school, was surprised when McKeown turned down the opportunity to teach again for an upcoming semester after several years of teaching together. "He said, 'Hey, it's not the essential thing for me,'" Utley recalls. "I remember thinking, 'Okay, wow! He means this stuff.'"

"One of the greatest compliments you can give someone is 'They practice what they preach,'" says Utley. "[Greg] practices what he preaches. . . . He's ruthlessly applying the skills that he's teaching to others in his own life."
Post-publication of Essentialism and Effortless, McKeown continues to focus on the essentials. For him, that's spending time with his family, connecting with God and following His plan, and, just maybe, working on a future book.
McKeown, ever cheerful, frequently recalibrates to better live what he believes. "There are two kinds of people in the world," he says. "There are people who are lost. And then there are people who know they are lost. And if you admit that you are [lost], you know what to do. You wake up and you get oriented. It's about having those routines in place that keep bringing you back to that priority and adjusting what your focus today should be."
---