---
As a BYU psychology major, Sarah Bertrand Briggs (BS '01) never intended to become a designer. But during a study break her senior year, she impulsively bought a one-way ticket to New York and flew across the country with a suitcase, no job, and no place to live, hoping to find herself in the "city that never sleeps."
Two years and 13 jobs later, Briggs found herself in Philadelphia, working as a nanny for professors who lived across from a bead shop. Curious, she stopped in one day and started making things with the beads—just for fun. When her friends began buying her creations, she thought they were just being nice. It wasn't until she moved to Dallas that she seriously considered making jewelry a career.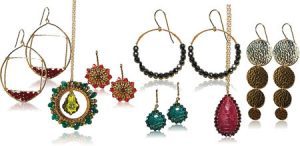 "My first sale was to a lady who owned a little shop," Briggs remembers. "I went in a couple days later to see them in the store. They weren't on display, so I was trying to duck-and-hide my way out. I thought, 'Great! They probably broke or she just gave them to her daughter.' The lady caught me as I was leaving and said they were the first thing that sold in the store." The shop owner then ordered three more pairs like the first pairs and asked to see other designs. "I've never been so excited about selling three pairs of earrings," says Briggs.
Now dealing with vendors, managing employees, and attending New York design shows five times a year, Briggs has more than 500 customer accounts with steady business in Japan, Dubai, London, Milan, and Paris.
"It's incredible to see jewelry transforming people," she says. "I wouldn't say it makes them a new person. I think it helps them to find who they were all along."