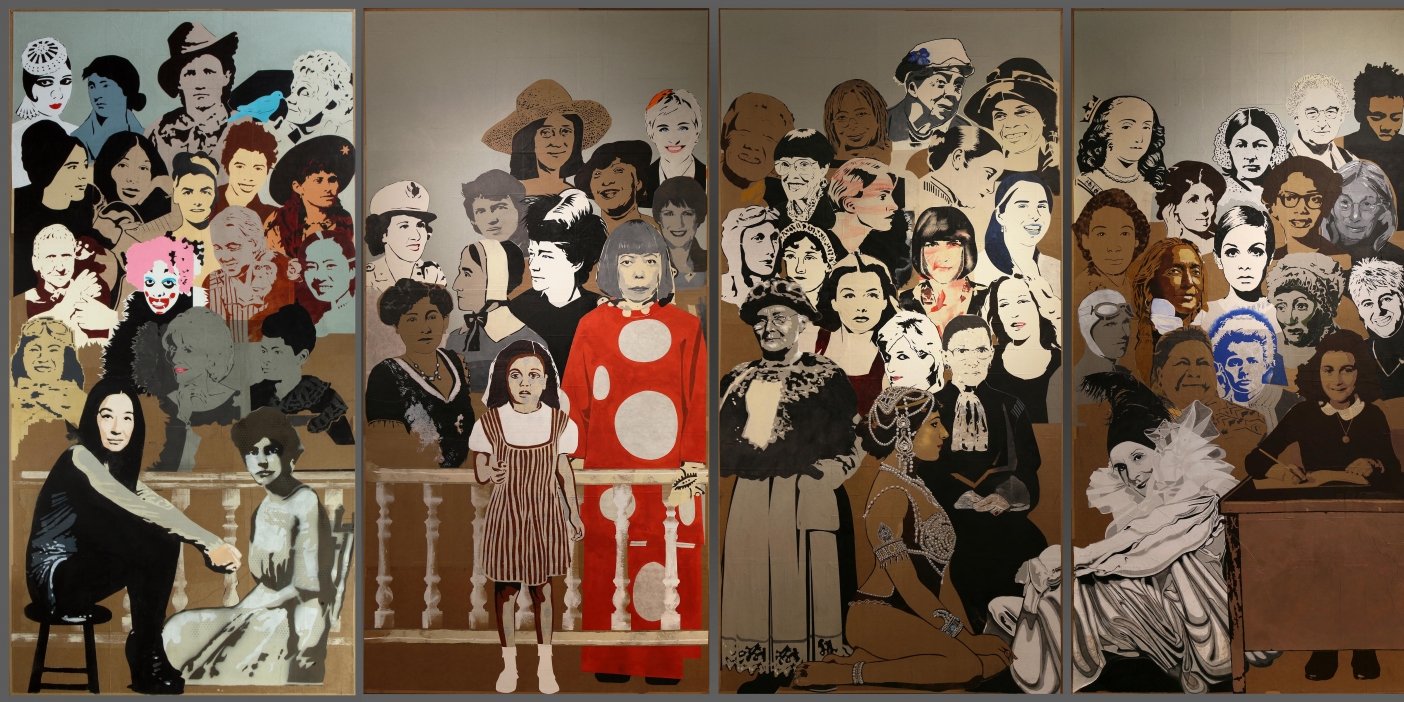 Quick: how many scientists, mathematicians, artists, or activists can you name? Now, how many of those are women?
When asked a similar question, pop artist Jann Haworth felt ashamed to come up short. This sparked the idea for Work in Progress, a traveling mural on display now at the BYU Museum of Art until August.
Haworth, who codesigned the cover for the 1967 Beatles album Sgt. Pepper's Lonely Hearts Club Band, and her daughter Liberty Blake, a collage artist, created the mural to pay homage to women innovators and the fight for gender equality. And the piece, now 40 feet long, grows at every stop on its tour.

Everywhere the work is exhibited, Haworth invites locals to chip in. As of February, BYU students and faculty had created 40 of the more than 150 depictions of notable women.
"I was thrilled to get to create the stencil for and then paint the 12th-century saint Hildegard of Bingen," says BYU Spanish-literature professor Valerie Hegstrom (BA '82, MA '86), who teaches about the medieval European writer in women's studies courses.
"I chose to stencil Lee Bontecou," says artist Eliza Scout Asay ('19), "because her sculptures motivate me to reduce my exploitation of natural and human resources."
Visual arts professor Joseph E. Ostra (BFA '82) selected Clara Barton, organizer of the Red Cross, and Alice Paul, a champion of women's su rage."Both proved to be extremely focused, articulate people who exhibited an uncommon level of courage," he says. "I feel that my life and that of my family have benefited in deep and profound ways as a result of their sacrifice."
The BYU-community picks, from Mother Teresa to Vera Wang, can be found on the bookend panels of the work. They join the ranks of female luminaries on the canvas, from more recognizable figures, like Anne Frank and Harriet Tubman, to others, like Claudette Colvin, an early pioneer of the civil rights movement, who have faded from the collective memory. "We need to fight celebrity," says Haworth, emphasizing the significance of depicting women who are uncelebrated by the world. "There is this terrible seduction of the mind with wealth and beauty— it's really childish. We need to find real worth."