---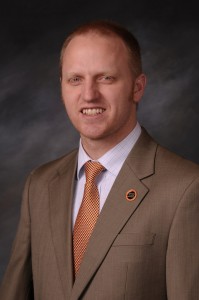 Luke R. Dean (BS '03, MS '05) was recently selected from a pool of 1,200 nominees as one of InvestmentNews's "40 Under 40" influential people in the financial-planning industry. His sphere of influence? The classroom.
After earning bachelor's and master's degrees from BYU, Dean got a PhD in personal financial planning from Texas Tech University. But rather than become a financial planner, he took a position as an assistant professor and financial-planning program director at New Jersey's William Patterson University.
"I knew I could make more money as a practitioner, but I wanted to make a bigger difference," he says. "As a professor, your influence is exponential because you reach thousands of students who will each in turn go out and reach hundreds of clients. That's a lot of impact."
During his six years at WPU, Dean worked tirelessly to improve the curriculum and his students' career opportunities. The results speak for themselves: in 2013, with 80 financial-planning students, he received more than 200 employment requests.
Dean, his wife, Angela Esplin Dean (BS '02), and their four children recently moved back to Utah, where Dean is an associate professor and the financial-planning program director at Utah Valley University.
—Sarah Juchau ('15)