---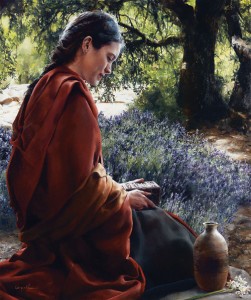 Guided by her family and a BYU professor, 
an alumna has found her way to an unusual artistic 
niche: she paints women of the scriptures. Elspeth C. Young (BA '03) spent a few years after graduation moving from one artistic endeavor to another. "I think many artists go through these waves of interest," she says, "where they feel as if they have found their calling over and over again—where they find themselves saying, 'I will paint fish forever,' but, after their sixth fish painting, grow tired and search for something new."
It wasn't until Young began painting religious art in a serious way that she felt fulfilled. "It sustains my artistic journey in a way I haven't found in anything else," she says. Young is now a successful painter known for her depictions of women in the scriptures.
Today, Young lives in her childhood home. The house, with its delicate garden, antique furniture, and hand-painted murals, resembles an enchanted fairytale cottage in the middle of a normal Orem, Utah, neighborhood. Her father, Al R. Young (BA '76), a self-taught artist, and her mother, Nancy Maas Young ('77), who studied comparative literature, saw to it that Young and her two brothers grew up with imaginations. "Starving artist is not a misnomer," Young says. "When we couldn't afford to travel to Europe or the other places we wanted to visit, we took what we call 'virtual vacations.'"
Together the family has published a bimonthly journal called the Storybook Home for 10 years. It features recipes, handicrafts, songs, and home and garden tips inspired by works of art and literature. Young does photography, design and layout work, and writing for the publication when she isn't painting, her first love.
Young took art classes in junior high and high school and started at BYU as an illustration major. She wanted to illustrate children's books until she took a New Testament class from associate professor of ancient scripture Camille Fronk Olson (MA '86). In one lecture, Olson pled with any art students in the class to consider painting women in the scriptures. Young soon began a directed study with Olson, who helped her research female scriptural figures.
She completed a few religious paintings before graduating in 2003 and, in May 2005, started working on the project again. She does commissioned work for Deseret Book and other publications and has continued to work with Olson in illustrating her books about women in the scriptures. Almost all her subject matter is female and scriptural.
Young took a class from BYU photographer Mark A. Philbrick (BA '75), and she approaches painting with a photographic eye. She photographs models (friends, family, neighbors, ward members, and sometimes even perfect strangers on the street) to paint from. She never uses artificial light and encourages her models to act naturally. "I never make anybody hold some odd pose," she says.
The painting process involves support and help from each member of her family. Her mother has a good eye for prospective models for each painting, and her father's input has been vital for Young's development as an artist, she says. Even Young's grandmothers help where they can by modeling for paintings and supporting her in her work. More at alyoung.com