---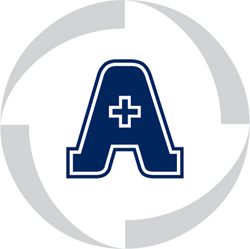 Cougar fans filling LaVell Edwards Stadium this season have no doubt noticed some obvious changes made to players' uniforms, including new gold shoulder stripes. The especially observant viewer may also have noticed a more subtle uniform change on football players this fall: a small, blue-and-white A+ symbol on their helmets.
The insignia is part of a new campaign, kicked off just in time for the football season, to encourage BYU athletes and fans alike to aim for excellence in sportsmanship. A recent BYU survey found that sportsmanship was a major concern among Cougar fans and alumni, and the new campaign, "Sportsmanship: A Class Act," attempts to address that concern. "Our athletic contests provide an opportunity to exemplify what BYU is about, and by showing good sportsmanship, we can represent both the university and the Church well," says Janette L. Penfield, '03, associate athletic director/senior woman administrator.
The campaign logo carries with it five "always" keys the athletics department hopes players and fans will remember when they see it displayed on banners in the football stadium and in other athletics facilities: always friendly, always heard, always considerate, always safe, always true blue. These keys are detailed in brochures given to football season-ticket holders and students with all-sports passes. A BYUSA committee spearheading the campaign will also work to spread word of the keys throughout the year.
"We've received a great amount of support so far," Penfield says. "Any who have attended our athletic contests this year will notice there has been a change, and it's wonderful for our student-athletes as well as our fans."
Read more at more.byu.edu/classact