---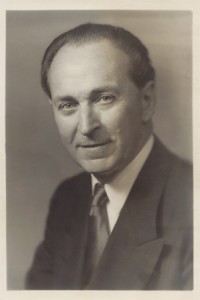 BYU will honor Gerrit de Jong Jr. as its 2011 founder during Homecoming this year, recognizing a man whose commitment to scholarship made him a distinguished university educator and accomplished administrator for more than half a century.
"Gerrit de Jong had a voracious hunger for learning, whatever the subject," says John C. Lewis (BA '77), associate advancement vice president and executive director of Homecoming. "He was a true Renaissance man, immersing himself in science, linguistics, and the arts. As the consummate scholar, de Jong pursued a lifetime of learning that included an unwavering devotion to excellence."
Because de Jong's interests spanned so many areas, it would be easy to suggest he followed the adage "Jack of all trades, master of none." But his colleague, John B. Harris (BA '55), asserted that de Jong proved the old saying wrong, "for he is a master of many."
As a youth in Amsterdam, de Jong studied drawing, and his work was exhibited in Vienna and other centers of culture throughout Europe. His grandfather would take him to the Rijksmuseum, where they studied many of the great masters.
He was also well-known as a musician. He studied organ under Mormon Tabernacle organist Tracy Y. Cannon, sang in the Mormon Tabernacle Choir, directed a 42-piece orchestra, and led a male chorus—all prior to accepting an invitation to be BYU's first dean of the College of Fine Arts in 1925. During his 34 years as dean, he not only served as the college's administrator but also taught piano, languages, organ, aesthetics, phonetics, and religion.
De Jong also distinguished himself in linguistics. "No one in our college would quarrel with the fact that Dean de Jong has demonstrated a rather staggering comprehension, not only of a language, but of languages and of language itself," Harris said.
At age 14 de Jong left Holland's educational system with proficiency in English, French, and German, going on to earn degrees in Spanish and French at the University of Utah and a PhD in German from Stanford University. Later he learned Chinese and Portuguese.
In 1942 de Jong accompanied nine other linguists to Vermont for 10 weeks to learn Portuguese from Brazilians, and in 1947 the U.S. State Department asked de Jong to direct its cultural center in Santos, Brazil. Among his major publications was an anthology of Brazilian literature, and in 1972 Portuguese scholars worldwide honored him at a seminar at UCLA. To many, de Jong was known as Mr. Portuguese.
As significant as these honors were, he considered his translating the temple ceremony into Portuguese the most important assignment of his life.