---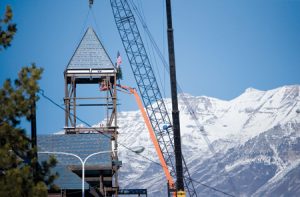 Throughout fall semester, the Gordon B. Hinckley Alumni and Visitors Center grew, beam by beam, 65 feet to its gabled roof and then more than 50 feet higher to the top of the clock tower. The building donor pool has also grown—to more than 64,000. Alumni and student gifts will be matched, and a book of donor names will be given to President Gordon B. Hinckley.
800
Tons of structural steel
280
Building length (feet)
200
Crane boom length (feet)
122
Clock tower height (feet)
83,793
Total square footage


---
Watch the construction progress online at gbhb.byu.edu.

INFO: To donate, call 1-800-525-8074 or visit byu.edu/gbhb.