---
After graduating from BYU and moving to Champaign-Urbana, Ill., Ashley Anstead Bair (BS '06), a former member of the BYU Singers, hoped to find a community choir or ensemble to join—anything to keep her musical abilities alive. "That was such an important part of my life," Bair says. "It was a hole I wanted to fill."
Bair was not the area's only alum itching to use her talents. Tom M. Anderson (BS '05), also a former BYU Singer, dreamed of creating a choir from the area's many BYU alumni, who are drawn to the Illinois cornfields to pursue graduate degrees at the University of Illinois at Urbana-Champaign (UIUC). Dream became reality when Bryson E. Mortensen (BM '05) and Daniel R. McDavitt (BA '06) arrived to pursue doctoral degrees in choral conducting. When the two conductors discovered the talent around them, they agreed to organize a choir.
"We wanted to bring a bit of the BYU choral experience to the area, both for those who miss it and for those who never had a chance to participate," McDavitt explains. The two put their heads together one day in October 2008, and by the end of the evening they had a name, a mission statement, and a preliminary concert program. "We kept saying the word heritage," McDavitt recalls. "We wanted to bring back the BYU musical heritage so many of us had left behind."
The Heritage Singers choral group functions as an audition choir through the local institute and continues to bring together former Cougars: 15 of its 21 members are BYU alumni. But others have joined, including Yale alumna Jenika Beck, whom McDavitt began dating after rehearsals. Three months later they were engaged and are now married.
While choir members range from beginning singers to more experienced vocalists trained in opera, theater, and classical styles, they have learned to blend and create the unified sound characteristic of BYU ensembles. "The director of choral studies [at the University of Illinois] was effusive in his compliments about the choir and the sound," says McDavitt. "Several colleagues in the graduate school have asked me how they could join us or whether we had CDs. I think they are not accustomed to hearing our kind of sound, our blend, or our repertoire." The Heritage Singers have sung in local churches, at Latter-day Saint firesides, for the 2009 Mormon History Association Conference, and at the 2010 UIUC Vocal Chamber Music Symposium.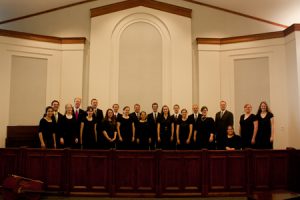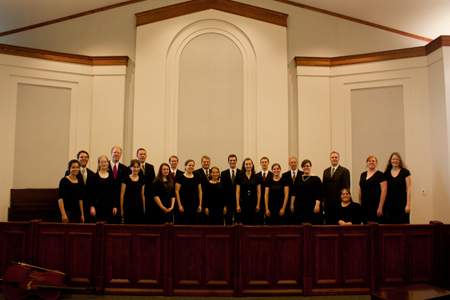 Many choir members are raising young families while attending school. "There are some stay-at-home parents who need some social activity," says McDavitt. "Others spend their days in labs and need a break." Rehearsals are often sprinkled with the sounds of young children playing in the adjacent room, and many choir members rush to campus afterward to meet a study group or finish a lab experiment.
"It's a juggling act," Bair says about the task of balancing school, family, choir, and other activities. "But if it's important enough to you, it's worth the sacrifice."
When Mortensen finished his DMA coursework in 2009 and returned to Utah, McDavitt remained as the choir's sole conductor. In the spring of 2011, McDavitt will also move on, anticipating a conducting post at another university. But he expects someone else will step in to lead the group.
"The Heritage Singers will continue as a supplemental music opportunity for members of the Church," says McDavitt.