---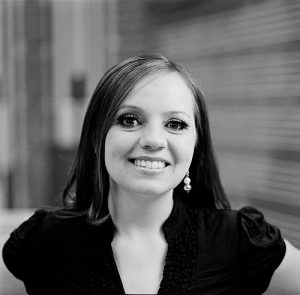 Her voice took her around the world before it brought her to BYU.
Phoenix Luz-Costa ('11) used to listen outside the door and giggle at her sister's operatic exercises, until it was her turn. "I didn't want to do it, but then I started taking voice lessons when I was 13," says Luz-Costa. At first, she sang the lower parts of duets with her sister, but it soon became apparent who had the higher vocal range. Luz-Costa became a coloratura, a soprano known for mastery of difficult runs and trills. "I fell in love [with opera]," she says.
By the time she was 17, the native Brazilian had toured Germany as a soloist with the Collegium Cantorum of Curitiba; performed on Brazilian television; and represented Brazil at the United Nations Meeting for Peace, singing Bachianas Brasileiras for the Dalai Lama.
When W. Lincoln Watkins (AA '82), president of the Ensign Media Foundation, heard of her, he invited Luz-Costa to Utah to record hymns in Portuguese for the Web site Liahona.net, which offers free Latter-day Saint music in 13 languages. Along with her "incredible" voice, "Phoenix was critical because she was the first in the studio," he says. "She gave us the courage to pursue the vision of producing and making available a huge quantity of music." There are now 82 hymns available on Liahona.net performed by Luz-Costa. Her sister, Roberta, and several other Brazilian musicians are also featured on the site, which now has more than 14 hours of LDS music in Portuguese.
"I feel like the best way for me to share my testimony is through music because the Spirit sings with me," says Luz-Costa. "That's why I feel I should keep studying and improving my talents, so that I can bless others."
While Luz-Costa hadn't planned on attending BYU, she met alumni, students, and faculty through Liahona .net; 75 percent of the songs on the site feature BYU talent. She began studying at BYU's English Language Center to improve her English. Then she decided to apply to the School of Music and received support through a BYU endowment established by the Watkins family. Vocal performance professor J. Arden Hopkin (BA '71) also organized a BYU scholarship for her through the John A. and Bonita G. Hopkin Family Society fund.
"While at BYU, Phoenix has continued to gain richness and power in her singing," Hopkin says. Among many performances in BYU operas, Luz-Costa starred as Olympia in Les Contes d'Hoffman, singing "The Doll," a song she liked so much that she reprised it for the 2010 Metropolitan Opera National Council Auditions, where she won the Encouragement Award.
Luz-Costa, now expecting a second child, is challenged with combining her two great loves—family and music. The two have always been connected: her father, a professional musician; her mother, a music-book author; her sister, an opera singer; and her brother, a composer, each influenced her path. "I knew that to be a classical singer I'd have to travel, but now it's hard with a family [of my own]," she says.
"An international singing career is difficult," says Hopkin. "Only the most gifted and tenacious succeed. She has all of the gifts; now time will tell."
"I want to keep studying and always improving my talents," says Luz-Costa. "It might take me longer to achieve a goal, but I want to keep singing."
Phoenix Luz-Costa describes performing at the Curitiba Brazil Temple dedication and more at more.byu.edu/phoenix. Download free hymns performed by Luz-Costa at liahona.net.