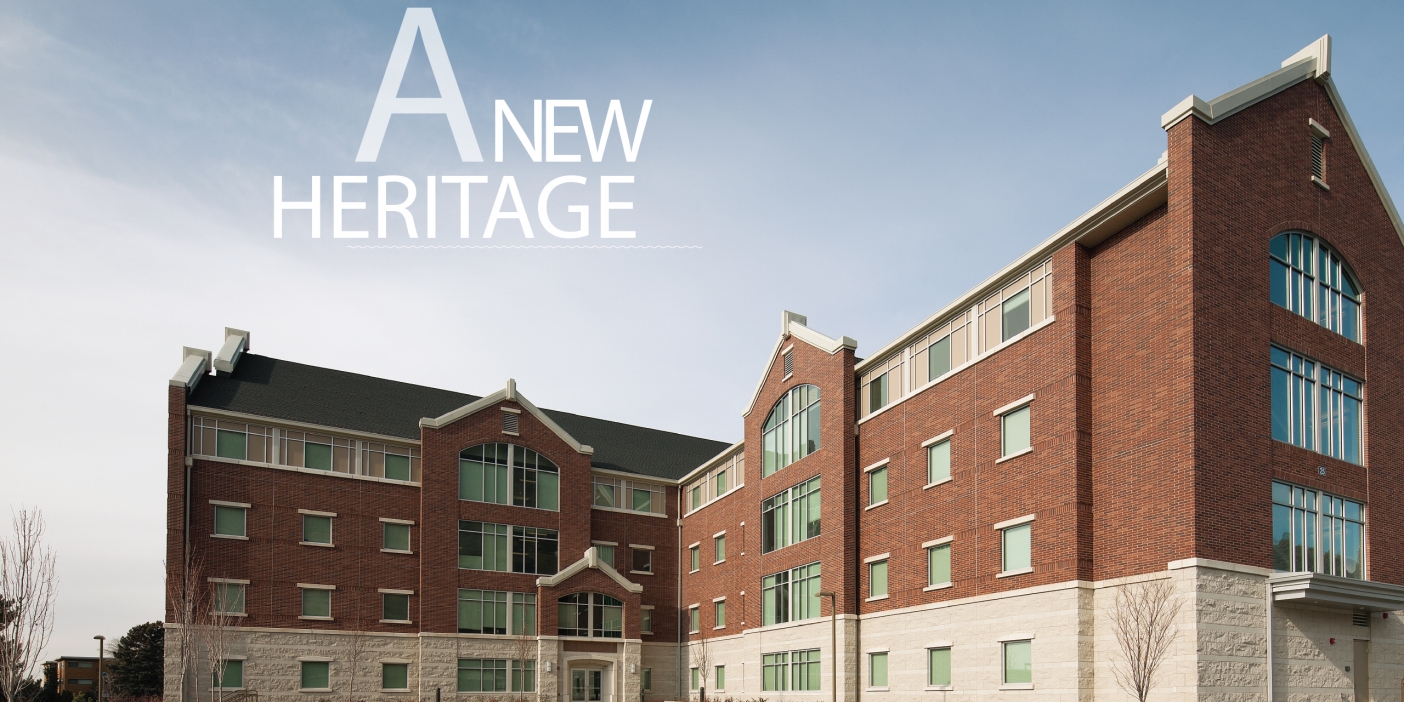 The newest home-away-from-home for BYU students was designed to help students flourish.
---
By Jennifer G. Jones (BA '12) in the Winter 2012 Issue
Photography by Bradley H. Slade (BFA '94)
The kitchen smells like wet, steamy peaches. Roommates Jessie M. Lohberg ('15), Shontai Vance ('15), and Erin K. Wankier ('15) giggle as they peel the boiled skins from the juicy peach meat and drop slices into a Ziploc bag full of raspberries and white sugar. It's Monday night, and the new Heritage Halls are alive with students making desserts, playing basketball tournaments, and preparing family home evening lessons. Some are cramming for midterms.
Lohberg et al. are among the 410 residents enjoying the first two new buildings in Heritage Halls, completed in August 2011. Built on the old Deseret Towers site near the Centennial Carillon Tower and Monte L. Bean Museum, these imposing four-story residence halls are the first of eight new buildings for BYU on-campus housing. In December two more halls were completed and occupied by students moving out from nine of the old Heritage Halls. Those nine recently emptied halls will be torn down and work has already begun on two more new buildings, with two more in the planning stages.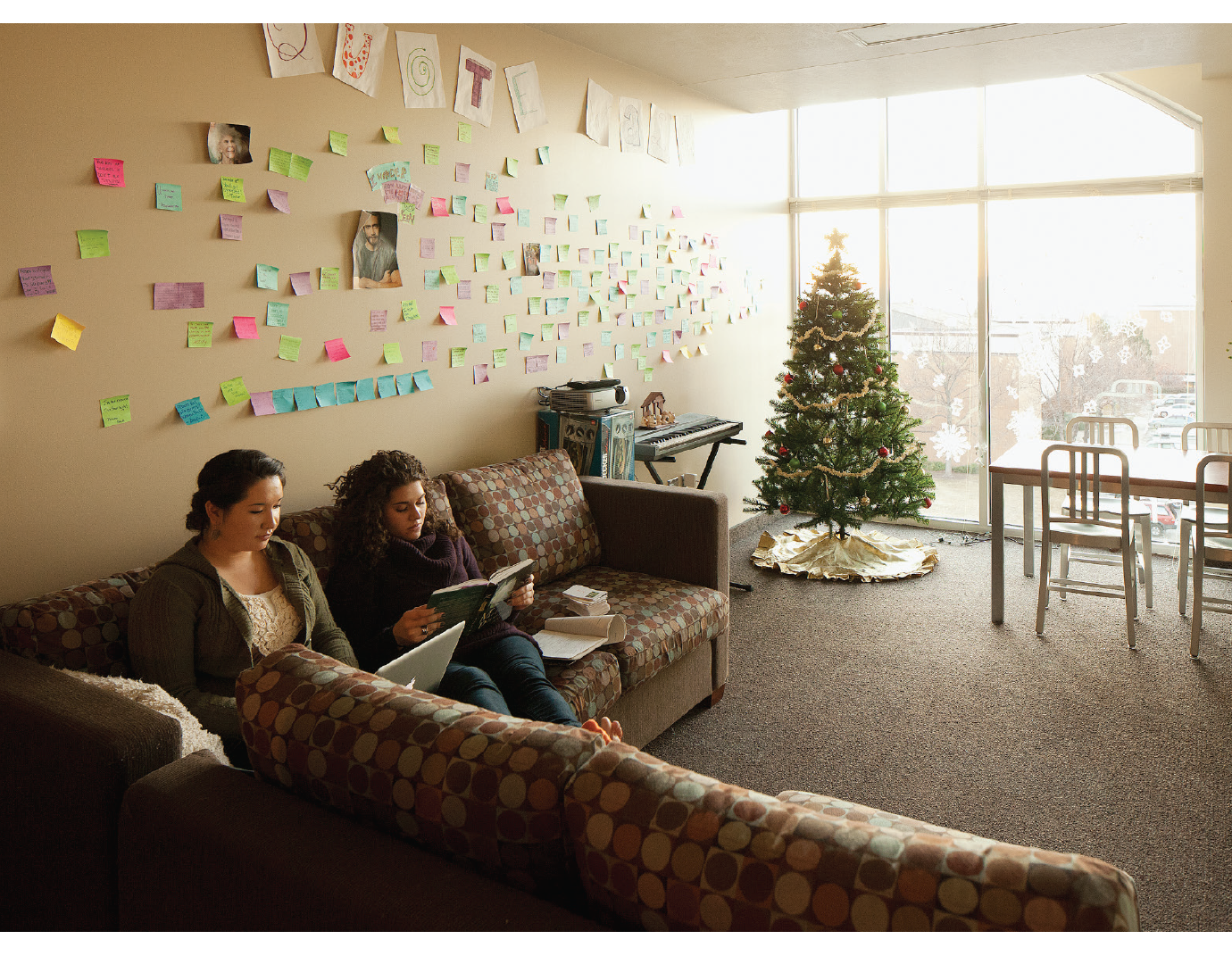 Sporting state-of-the-art technology and East Coast classic design, these redbrick, L-shaped buildings form the corners of a square, a courtyard that will be filled with trees, sod, and pathways in the center. Everything—from the fragile saplings outside to the cherry-stained cabinets and trim inside—is new. Scraps of blue tape signal paint touch-ups throughout the pale hallways. Only the quarter-fed laundry system in the basement feels familiar, but even that offers a high-tech option, and many students put money on their ID cards online instead of filling their pockets with change on laundry day.
Kara M. Lohberg ('13), Jessie's older sister, lived for two years in Bowen Hall in the old Heritage Halls, and moved into the new halls with her freshman sister this fall. Bowen Hall was removed in summer 2011 to make way for work on the utility tunnel. While her sister and roommates concoct cobbler, Kara sits on a couch in the adjoining living room and describes how watching crews tear down Bowen Hall was surreal: "It was like my whole first half of college was just gone," she says. "Home is where you associate your experiences. . . . It was the only thing that really stayed constant my first two years because classes, majors, and even friends change."
BYU's director of residence life, Julie L. Franklin (BA '89), understands Kara's sentiment and asserts that the effect on students of their living environment has motivated this significant upgrade in campus housing. While students often see housing as just a place to live, university studies consistently show, says Franklin, "on-campus housing is the best place, especially for new students, to live."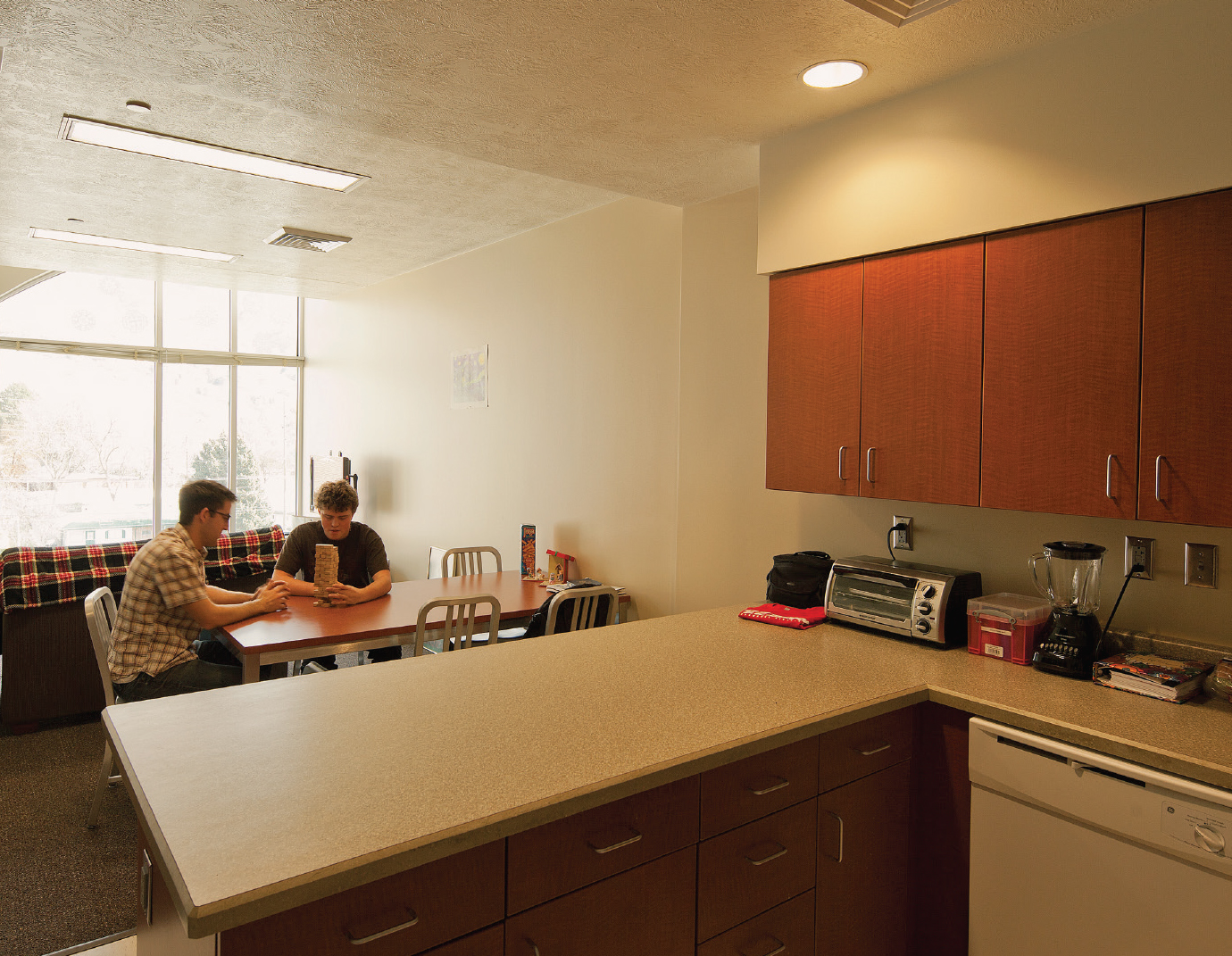 The Heritage of Heritage
BYU's on-campus housing, and Heritage Halls in particular, has a long history. In his centennial history, former university president Ernest L. Wilkinson (BA '21) records the completion of 24 women's housing units in 1956. These halls—called Heritage Halls—were designed to help train women "in proper home life and management," and the administration named them after exemplary pioneer homemakers. The complex housed more than 1,500 women for $20 monthly rent per resident. Ethel J. Horner ('49), one of the first resident living consultants in Heritage Halls, kept a journal of daily activities in the halls, including lessons in low-carbohydrate casseroles, attractive place settings and centerpieces, and managing communal budgets ($30 a week for six women). During this time, men attending BYU lived in dormitory-style Helaman Halls.
Wilkinson tried to provide on-campus housing for 60 percent of the student body, but the higher the quality of on-campus housing, the greater the number of students who applied for spots. Restraints on money and space made his goal impossible. Nevertheless on-campus housing remains a priority, especially for first-year students. In this year's Annual University Conference, President Cecil O. Samuelson asserted that freshmen "do better scholastically and report a more fulfilling educational experience when they live in campus housing."
Assistant clinical professor Thomas Golightly (MS '02), of BYU's Counseling and Career Center, trains the resident assistants in on-campus housing in how to help freshmen adjust. "The transition from high school causes a lot of confusion. . . . It's a type of pressure cooker," he says. Golightly says the housing support for freshmen keeps them from getting lost in the shuffle.
Sitting cross-legged on her bedroom floor, Shontai Vance has finished the peach cobbler and takes a break from writing a paper to explain about the pressures of freshman life. She had never been away from home (other than a two-week visit to her grandparents) before she moved into the new halls. Pressures to choose a major, excel academically, and make new friends without the proximal support of her family overwhelm Vance. "It's so scary," she says. "It's important to balance studying with social life, but it's probably the hardest thing so far."
Vance lives with resident assistant Anna Stewart ('14) and Residence Halls Association president Kara Lohberg, as well as two other freshman roommates, Jessie Lohberg and Erin Wankier. The older students in the apartment facilitate the adjustment for Vance; her two freshman peers empathize. Freshman students like Vance who live in on-campus housing have resident assistants, hall advisors, and a broad base of peers to help them adjust to this sometimes-painful independence.
On-campus housing—and the transition it facilitates—remains an integral part of the BYU student experience. Although Deseret Towers and the old Heritage Halls were appropriate for their times, retro-fitting them for modern standards proved impractical. While Julie Franklin says it is impossible to predict future technological needs, the BYU team attempted to design the new halls with maximum flexibility and adaptability.
Construction for the first two of the new buildings finished on schedule, despite the winter's near-record precipitation and a water-main break that flooded 1.7 million gallons of water into the construction site in November 2010. All the planning came to fruition on Aug. 20, 2011, when construction crews moved out and BYU students moved in—men into one building and women in the other.
More new residence halls are on BYU's horizon. Two new buildings are under construction with two more in the planning stage; fourteen of the old Heritage Halls will remain for the time being. Franklin says the university anticipates the rest of the older halls will all be replaced "as resources are available and timing is appropriate."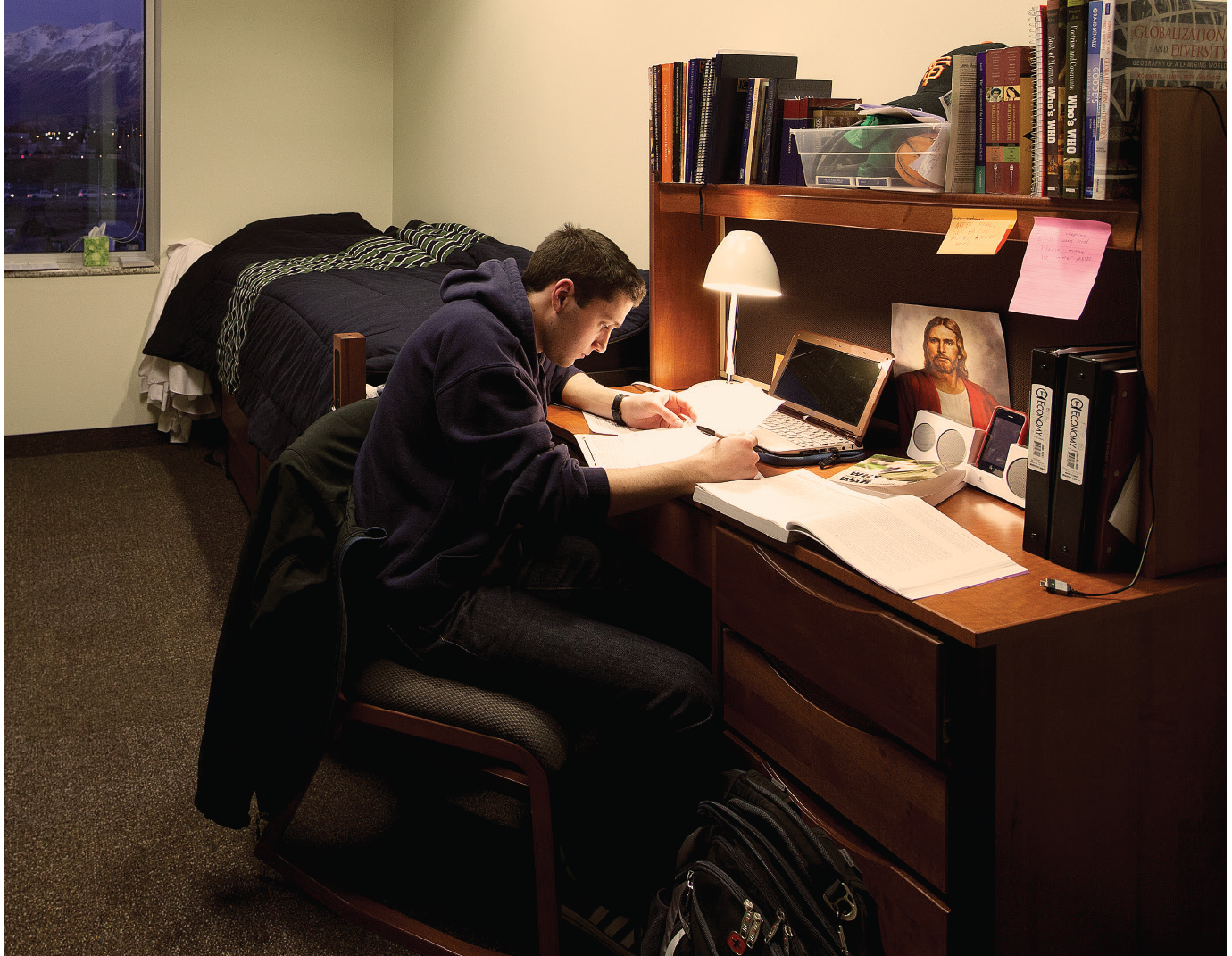 A Vibrant Social Scene
The new buildings have been carefully designed to supply plenty of space for students to flourish socially, both inside and outside their circle of roommates. As with the old Heritage, the apartment-style housing extends visiting hours because of the common (and enlarged) kitchen and living areas, whereas traditional board-and-room-style housing (like Helaman Halls) mandates careful monitoring of visiting hours in bedrooms. Student demand for Heritage-type housing has increased because, as Franklin says, "it feels less restrictive."
Kara, Jessie, and their roommates make full use of their living space and extended visiting hours. Fluorescent sticky notes cover one wall of the living room with favorite quotations from professors and friends. The ceiling is high, the windows are large, and the paint is pale, giving a spacious feel to the room. The corner of the room opposite the sticky notes (dubbed Jessie's corner) has continually rearranged couches, plush blankets, and a laptop or two used for homework—or movies. Peach-cobbler maker Erin Wankier says she can't study at her apartment because she's too busy laughing with her roommates: "It's fun to have four best friends to come home to every day. I have to force myself to study at the library."
As chef-in-residence, Wankier puts the new kitchen area to good use; she's always making something—lasagna, banana bread, caramel corn. "It's a good way to make new friends and meet people," she says. Spacious cabinets and expansive counter space facilitate cooking amidst conflicting class and study schedules. "You can have five people in the kitchen and not feel squished," says Vance.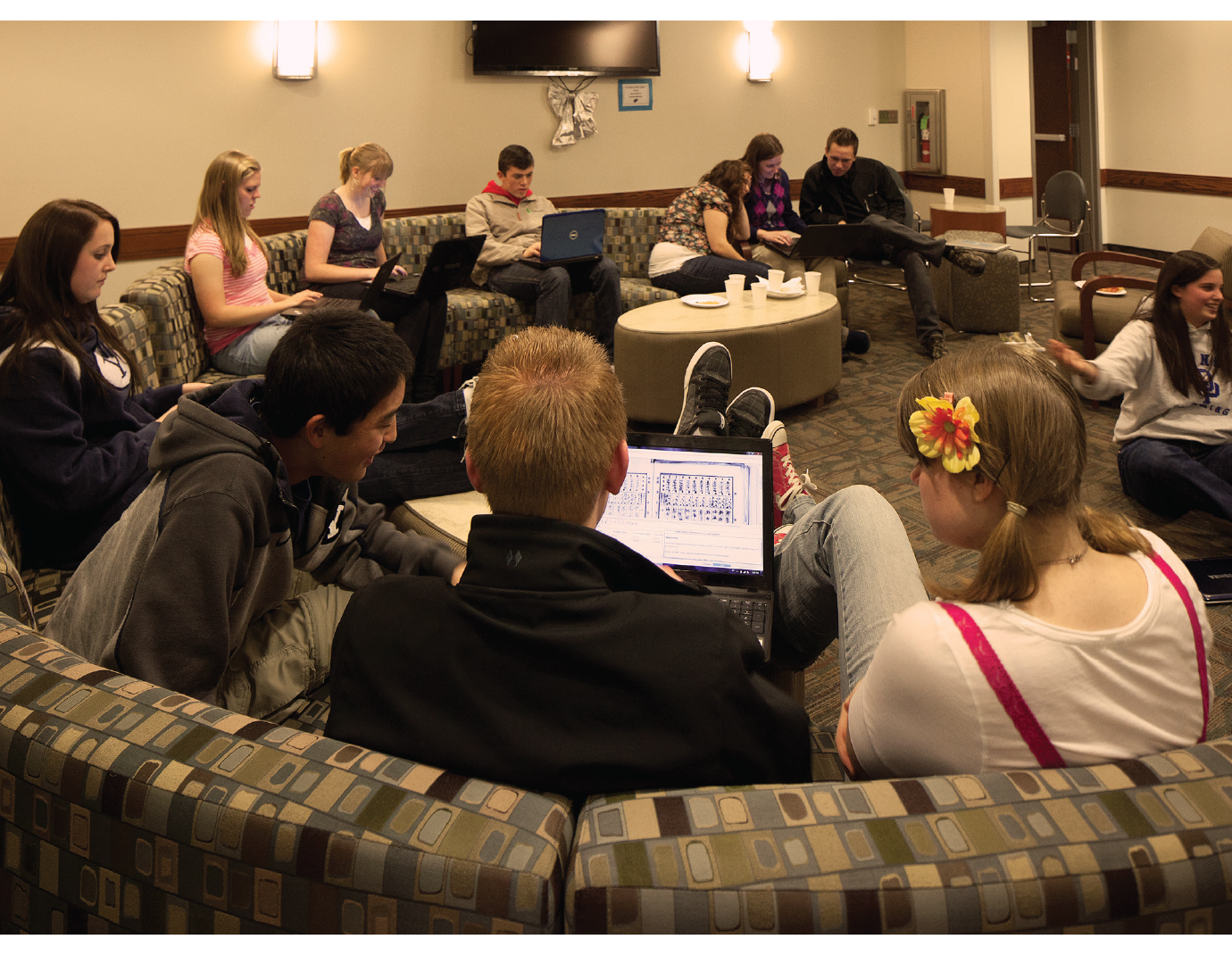 The new apartment design also smooths over friction between roommates. Individualized lighting systems in the bedrooms ease tensions between opposite sleep schedules. The purplish-brownish bleach-resistant carpet in the bedroom and living room both hides any stain and complements any decorating theme—from mauve to chartreuse. The bedrooms are large enough to give each student personal space, and extra storage closets in the hallways and basement also prevent over-crowded clashes. The new buildings offer three different room counts: six-person, four-person, and a limited number of two-person apartments. The six-student apartments each have two bathrooms (equipped with maintenance-friendly granite showers), and the spacious vanity in the hallway gives plenty of room to primp between turns in the loo. The Lohbergs and their roommates almost always have a stray hairdryer or curling iron left out from the morning ritual by the vanity sink.
In addition to their apartments, the buildings also provide students with four sizeable activity rooms, one on each floor of the building in the corner of the L. Two walls of these rooms are large windows, with stunning views of the Wasatch Mountains, campus, or Utah Lake. One wall in each room will boast a large mural of historical photographs of Church history sites. Each building will be themed with a different site—Preston, England; Quincy, Ill.; Nauvoo, Ill.; Martin's Cove, Wyo.—maintaining the Church heritage emphasis begun with the pioneer-woman theme of the old buildings.
The blue-and-brown, maneuverable furniture in these activity rooms morphs constantly to lodge game nights, jam sessions, dance parties, and ward gatherings. The activity room on the bottom floor has a jumbo flat-screen TV hanging on the wall, and students gather in droves to munch on popcorn and cheer BYU sports.
The Lohbergs and their roommates also take full advantage of the expansive grounds surrounding the new Heritage, playing night games and sports with their family home evening group. Once winter is past, BYU landscaping will fill the surrounding area with 2,800 shrubs, 175 trees, and 76,000 square feet of sod (the approximate size of six Olympic swimming pools). Franklin and the rest of the team designed this landscaping with the students in mind, hoping to "enhance the pedestrian nature of campus and increase the amount of green space [because] students don't get the same experience on blacktop."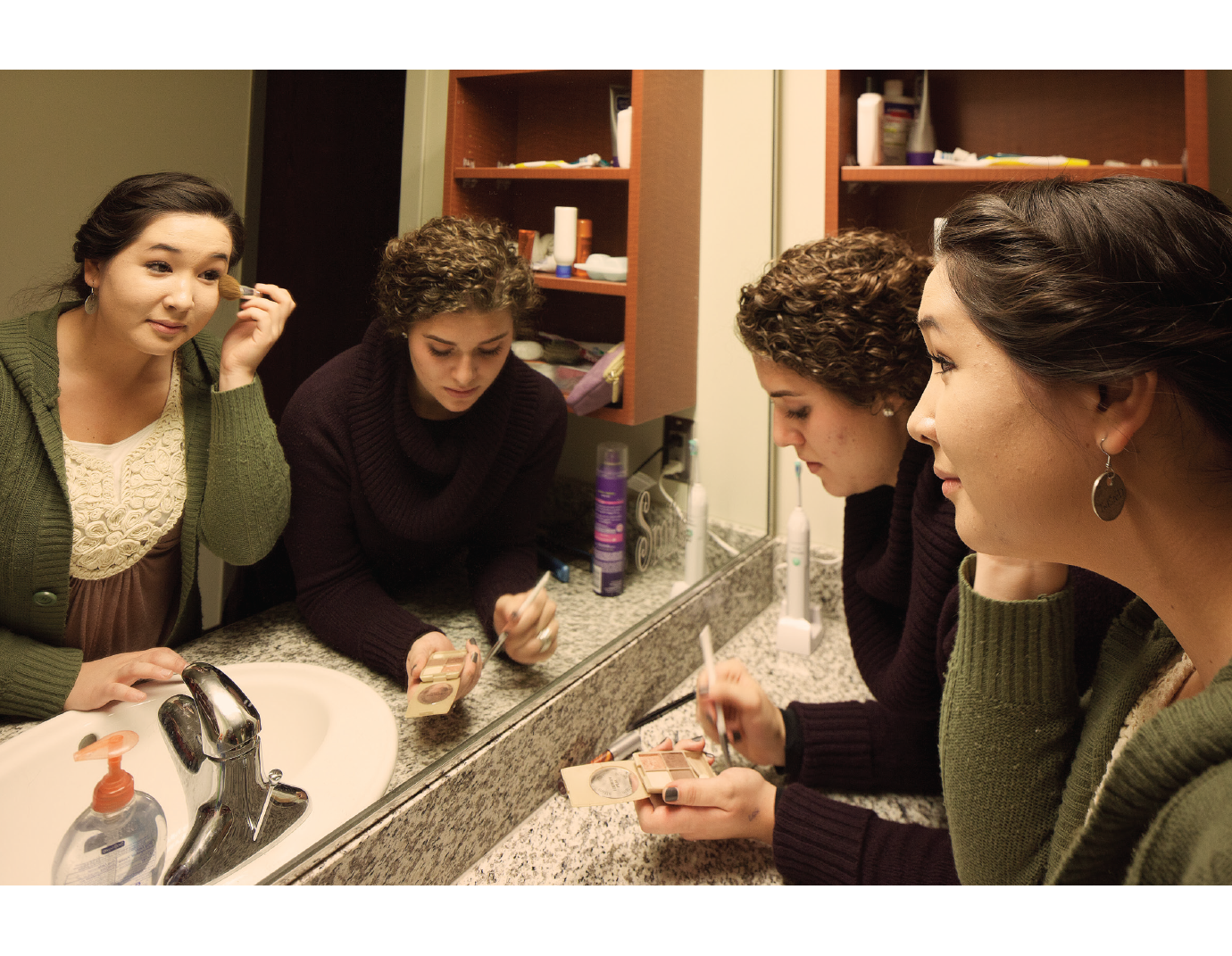 However, the increased green space limits the parking available to students. There is no on-site parking at the new Heritage Halls, and the university encourages residents to leave their cars home. If students need to bring their cars to campus, they can park in the west stadium parking lot. To meet student transportation needs, the university has recently introduced a car-sharing program through Hertz that allows students to rent a car for $8 an hour; Heritage Halls is one of the pick-up sites. And public transportation passes are available at a discounted rate.
Although increased green space means decreased parking, Franklin and her team have designed the outdoor and living spaces to increase social interaction among students. Franklin says these spaces are designed to fit the students' "cascading need to be in places where they can be seen."
Kara agrees about the need for a vibrant social life and encourages her sister to reach out: "I want my sister to be more social because I definitely wasn't that social my freshman year. . . . The way you set up your freshman year says a lot about what you're going to be like the full four years. If you start off great, you just keep going."
So far student feedback about the new buildings is overwhelmingly positive. Kara Lohberg, for one, does miss the old buildings (cork strips and all) because of the memories she made there, but she also expresses excitement for the new buildings and a different set of friends. While the junior political science major says "it's not easy living in a freshman ward," she's also looking forward to growing closer to her sister. "We used to be best friends when I lived at home."
Jessie agrees: "I love living with my sister. We've been together our whole lives so it's the same, but we get along even better now."
Student life vice president Janet S. Scharman says this is the ultimate goal for on-campus housing: "In the end, it's not just about the buildings as a place to live; it's about students building long-lasting relationships."
---